With China lifting restrictions on cross-border tourism, the global travel industry is looking forward to a significant revival post-pandemic - but the recovery will be slightly slower than expected, according to a study by McKinsey.
The world's biggest outbound travel source market (before Covid-19) has been isolated for three years. Now it is finally reopening, but at its own pace - China has resumed outbound group tours to a total of 60 countries worldwide. But how soon visa applications and airline capacity will be fully restored remains to be seen.
For destinations and companies worldwide that are eager to attract Chinese tourists again, they will have to think about questions like How to curate relevant offerings post-pandemic? How to leverage new digital tools to reach the new generation of Chinese travelers? What are the strategies for re-designing customer journeys to better serve high-net-worth travelers?
Seeking answers to these questions, the 2023 TravelDaily Conference & Digital Travel Show event series, themed "Reconnect China" and scheduled for September 5-7 in Shanghai, will gather industry leaders to share insights and supercharge the travel industry's reconnection with the Chinese market, featuring top speakers including senior executives from major travel companies like Trip.com Group, Meituan, Fliggy, JinJiang, etc.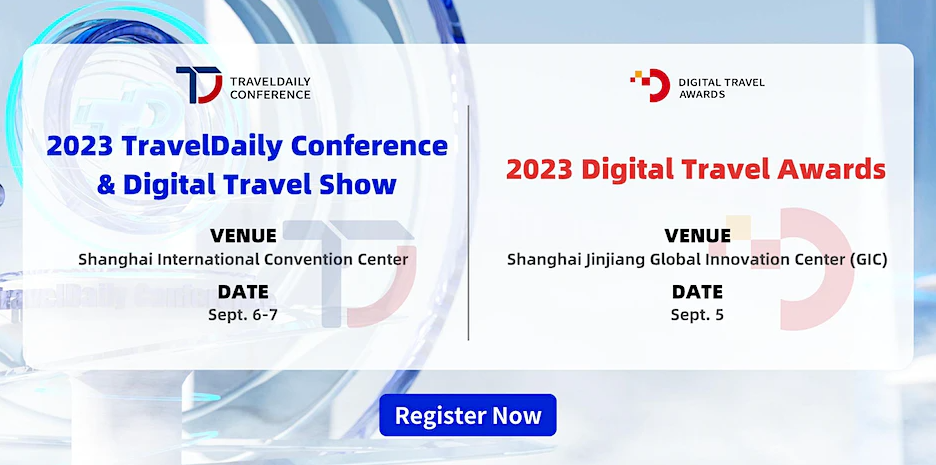 Our event comprises two major parts:
1. TravelDaily Conference & Digital Travel Show includes four forums and one exhibition:
• Four forums:
a) Center Stage forum - TravelDaily Conference (Sept. 6)
b) Breakout forum - China Hotel Marketing Conference (Sept. 7)
c) Breakout forum - China Business Travel Conference (Sept. 7)
d) Breakout forum - China Destination Go-Digital Conference (Sept. 7)
• One exhibition:
e) Digital Travel Show (Sept. 6-7)
Venue: Shanghai International Convention Center
Address: No. 2727 Binjiang Avenue, Pudong District, Shanghai, China
2. Digital Travel Awards (Sept. 5)
Venue: Shanghai Jinjiang Global Innovation Center (GIC)
Address: GIC, No. 222 Longcao Road, Xuhui District, Shanghai, China
Sign up now for this multi-function conference-exhibition event with just one registration!

Learn more: 2023 TravelDaily Conference & Digital Travel Awards
Contact: Echo Zeng
echo@traveldaily.cn