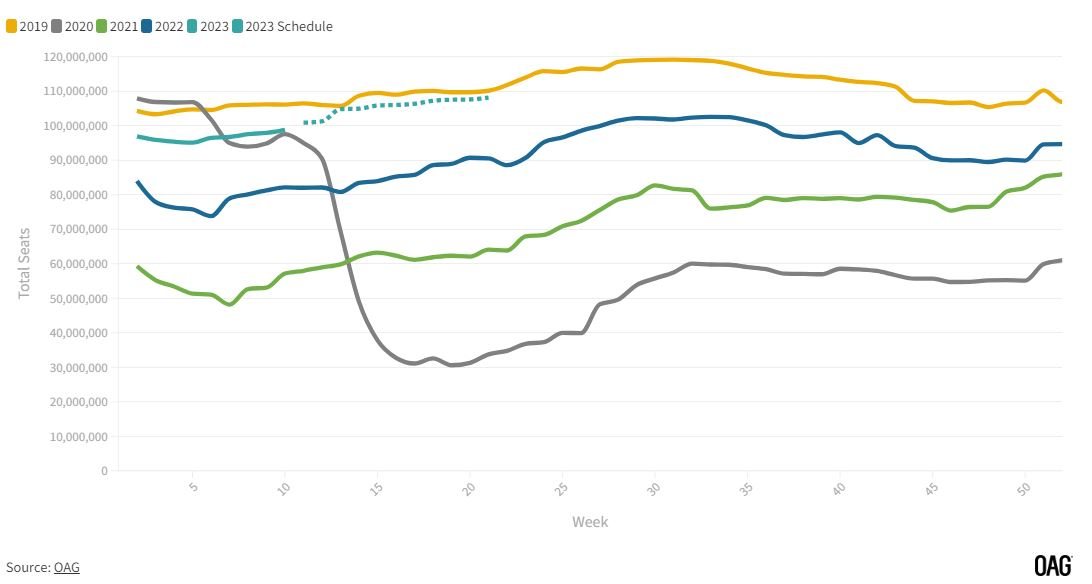 Global airline capacity by seats
Global airline capacity has been steadily growing by 0.4% per week, and is now at 98.7m seats for the week commencing 6th March 2023, with 432,000 seats added this week.
Steady capacity growth is expected over the next 3 months and should reach 108m by the end of May, which would mean that global airline seats would be just 3.3% behind the same week in 2019.
Domestic Capacity Even Closer to Recovery
Domestic airline capacity is just 1.2% below the level seen in the same week of 2019, with 17,000 seats having been added this week. However, we are currently seeing domestic capacity being revised down week-on-week, so the projected increase of 1.8m seats for next week may, in reality, be smaller.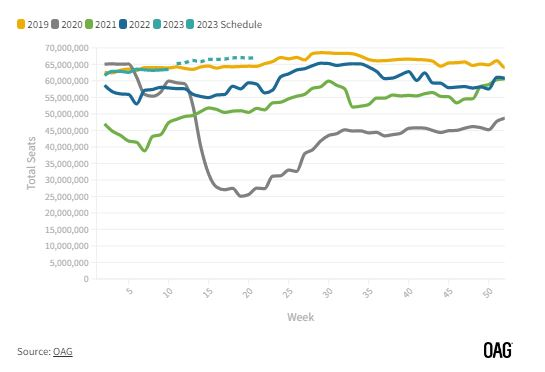 International Capacity to Reach 40m Weekly Seats by Mid-May
International capacity is taking longer to recover, but is doing so steadily, with a 1.2% uplift this week – an increase of 415,000 seats. This takes weekly international seats up to 35m, 16.5% behind the same week in 2019. International capacity is expected to reach 40m weekly seats (see the dotted line on the graph) by the middle of May, which would be 11% behind the same week in 2019.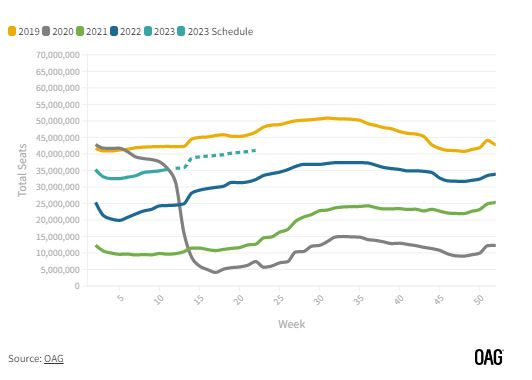 Regional Markets
There have been some notable fluctuations in regional markets this week:
* Carriers in North East Asia have reduced domestic seats by 177,000.
* North American carriers have added 305,000 more seats.
* In Upper South America domestic capacity has fallen by 122,000 seats primarily as a result of the grounding of Viva Air Colombia last week.
* Western European carriers added 353,000 seats
Chinese Aviation Market Analysis
Here's a quick catch-up on statistics from our Chinese Aviation Market Dashboard for February:
* China's big three airlines - China Eastern, China Southern, and Air China - are all now recovered, operating more domestic seat capacity compared to February 2019 levels.
* China's busiest domestic route in February 2023 is Beijing-Shanghai (PEK-SHA) with a capacity of 600,139 scheduled seats between the two airports.
* February 2021 was the lowest month during the pandemic for China's international capacity, dropping to just 475,000 seats. In February 2023, it was nearly three times larger at 1.4m seats.