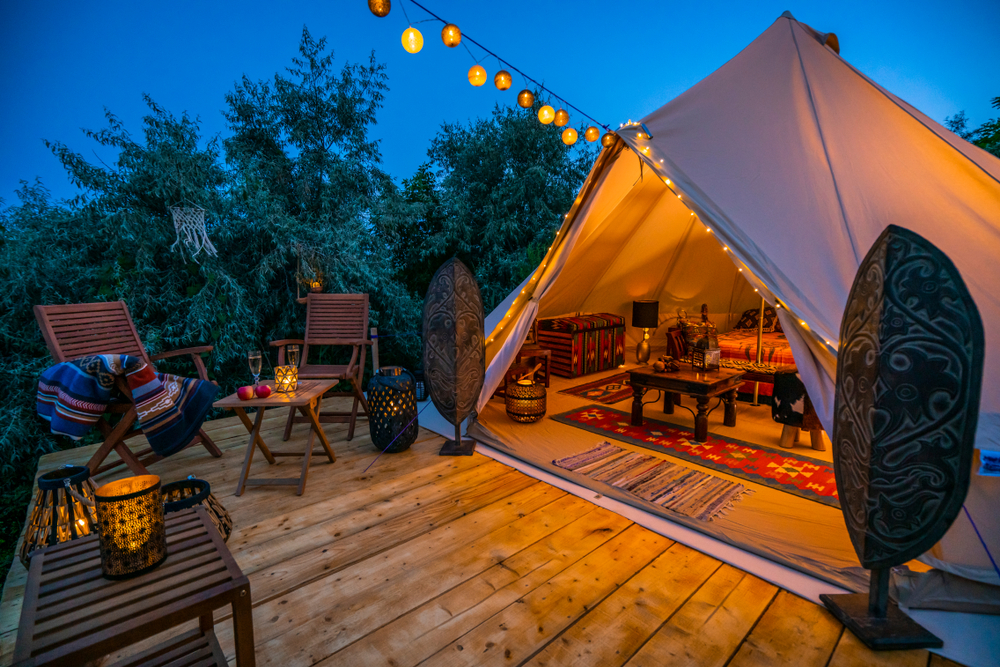 GoSafari, a glamping brand in China, has secured tens of millions of yuan (more than USD 1.4 million) in its latest financing round led by 51Camp. The proceeds will be used for campsite development across the country, expansion of market scale and operation modes, and creation of quality content to bring new experiences to travelers, said founder Weitao Long.
Guangzhou-based GoSafari was founded in 2021 and was formerly a subsidiary of B&B lifestyle brand CosyYazee. Prior to the latest financing round, CosyYazee and 51Camp had established a joint venture 51Camp Guangzhou, into which GoSafari's business and the proceeds will be completely integrated.
Cooperation with 51Camp
With rich experience in vacation rental, GoSafari has set up a dual operation mode that combines standardized all-inclusive packages with personalized service, according to Mr. Long.
GoSafari now operates seven campsites, including one project jointly built by China's Instagram-like platform Xiaohongshu and the local government of Anji in Huzhou of Zhejiang province.
As a chain campsite brand under listed company 51 Credit Card, 51Camp focuses on developing a 2H (2-hour drive) urban camping circle and providing self-service glamping experience.
Since inauguration in April 2022, 51Camp has increased campsite number to 25 by the end of October, and signed more than 40, most of which are located in Hangzhou and surrounding cities within two hours' drive from city centre. 51Camp is exploring expansion in urban areas such as Sanya, Guangzhou and Shanghai.
GoSafari and 51Camp will cooperate to develop new camping products and deliver quality content. Leveraging GoSafari's management network in southern China, 51Camp plans to develop no fewer than 50 campsites next year in the Greater Bay Area with GoSafari as the operator. At the same time, GoSafari will expand its glamping business beyond Guangdong province and add more than 20 campsites across China.
Camping industry is still in infancy
Glamping, a form of camping offering more luxurious accommodation and facilities than traditional camping, quickly gained popularity as an ideal lifestyle post-pandemic, buoyed by influencers' posts on social media. Data from Xiaohongshu showed that the number of camping-related posts in 2020 and 2021 increased by 271% and 1,116% year-on-year, respectively.
Corporate information platform Qichacha's data showed that 15,300 camping-related enterprises were newly registered in China in the first half of this year, up by 51.7% year-on-year. In the industry chain of glamping, equipment manufacturers include Mobi Garden and Naturehike, while GoSafari, 51Camp, Dare Glamping and HaiKing are operators providing one-stop services.
In the past three years, glamping also attracted a large number of investors. In the first half of this year, Naturehike secured nearly RMB 100 million (USD 14 million) exclusively from Eastern Bell Capital. ABC Camping Country announced a million-dollar investment from Cyanhill Capital, and HaiKing also secured about RMB 1 million (USD 140,000) in an angel financing round.
However, in terms of market size, the camping industry is still in its infancy. Data from iiMedia Research showed that the core market size of China's camping industry reached RMB 74.8 billion (USD 10.8 billion) in 2021, up by 62.5% year-on-year, and will go up to RMB 248.32 billion ( USD 35.7 billion) by 2025, taking the whole market size to RMB 1,404.3 billion (USD 202.1 billion).