ChinaTravelNews, Ritesh Gupta – H World Group has introduced the new version of its H World mobile app as well as the new all-brands website as part of its digitalization drive.
The hotel company, which recently launched the 4.0 version of its H World mobile app, shared that one key objective is to focus on offering a gamut of services via multiple touchpoints.
Speaking during the company's third quarter (Q3) earnings call, Jin Hui, CEO of H World, mentioned the team has focused on full digitalization of the guest experience. "(The group has chosen to strengthen) interactive service experiences with guests at different touchpoints on the basis of consistent highly efficient services," he said. Elaborating further, he said the Intelligent Laundry functionality allows the user of the app to make reservation remotely and also check the status of the same in real-time.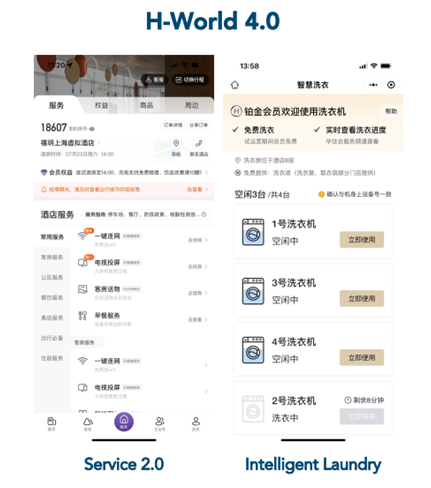 Hui also added that such functionalities in the new version of the app is also expected to strengthen ties with loyal guests. "Such function (is expected to) strengthen the perception of members' privileges and benefits," he said. H Rewards had more than 193 million members at the end of 2022.
The team also shared that engagement and time-spent on the app has also increased this year. "In the first nine months of this year, a total of 99 million customers have experienced our online services, compared to only 27 million customers a year ago. Usage of online services also improved to 71% in October from 21% last year," he said.
Other than working on its app and loyalty program, H Rewards, the hotel company also launched its new website. Jihong He, CEO - International Business, H World, said the plan is to strengthen loyalty of members and the direct booking channel should figure strongly in the same. Accordingly, H World has been working on plans to re-launch its digital guest experience offered based on H Rewards membership (for instance, members are provided with discounts on room rates, free breakfasts depending upon the tier, more convenient check-out procedures and other benefits) and ensuring the same is available via new mobile offering/ websites.
Around 75% of the group's room nights were sold to the H Rewards members in legacy Huazhu (the company excluding Deutsche Hospitality) last year. In terms of distribution. In 2021, around 83% of room nights were sold through H World's own sales channels and the remaining through intermediaries in legacy Huazhu.
Jihong mentioned that the group is rolling out new digital products to improve technology deployment.
H World has already taken lead in this arena in the last couple of years, with its projects standing out for guest service as well as hotels' operations. For greater efficiency in operations, work includes a digital system that essentially cuts down on the time between check-out and check-in of a hotel room and a specific mobile application which automatically assigns cleaning or maintenance staff to a room that needs cleaning or repairs. For guests, H World has capitalized on artificial intelligence, introduced its intelligent AI assistant, described as the first one in the hotel industry in China. Embedded in the group's mobile app, the assistant can interact with guests and respond to their queries. A feature in rooms, "Hello Huazhu", facilitates voice control of room facilities such as lights, television, AC and window shades.
Jihong said, "We are currently focusing on digital leap to further improve efficiency of our budget hotels through technology deployment."
Preference for branded hotel chains
Hui said that looking at the China lodging industry data for the past three years or so, post the outbreak of Covid19, hotels belonging to branded chains exhibited better "resilience" than independent properties. "A lot of independent hotels with (relatively) weaker anti-risk capabilities were closed, with roughly 22% and 13% of independent hotels actually closing in 2020 and 2021, respectively," said Hui. Whereas, H World has closed properties at a lesser rate. "Our closure ratio was 10% and 7% in 2020 and 2021," he said. But he also added that during the same period, H World has been expanding its portfolio of hotels.
Also, the trend of consolidation in this industry is expected to continue. The hotel chain itself has decided not to develop "low-quality soft brands" in the economy segment in the future, as also reiterated by H World's Chairman, Qi Ji during the call. The plan is to exit from this particular segment by retiring existing hotels in the next one- two years,
Ji also shared that group is continuing with organizational restructuring. The goal is to move the organization and management closer to the local market. In Q2, H World established six regional headquarters and shifted from brand-based to regional-based organizational structure for its economy and midscale brands.
Other than being on track for the development of upper-midscale and upscale segments, the topsy-turvy recovery ride continued. As Hui shared, RevPAR recovered to 90% of the 2019 level, buoyed by the leisure travel demand in July and August, as well as a gradual recovery of business travel in late September. But all of this was severely impacted by the resurgence of cases in various Chinese cities and provinces since early October.
"…our October RevPAR recovery slowed down to only 74% of 2019 level," said Hui.
He stated that considering the uncertainty, the near-term focus remains "on cost control and prudent capex (capital expenditure) spending to ensure the company's operational and cash flow safety."