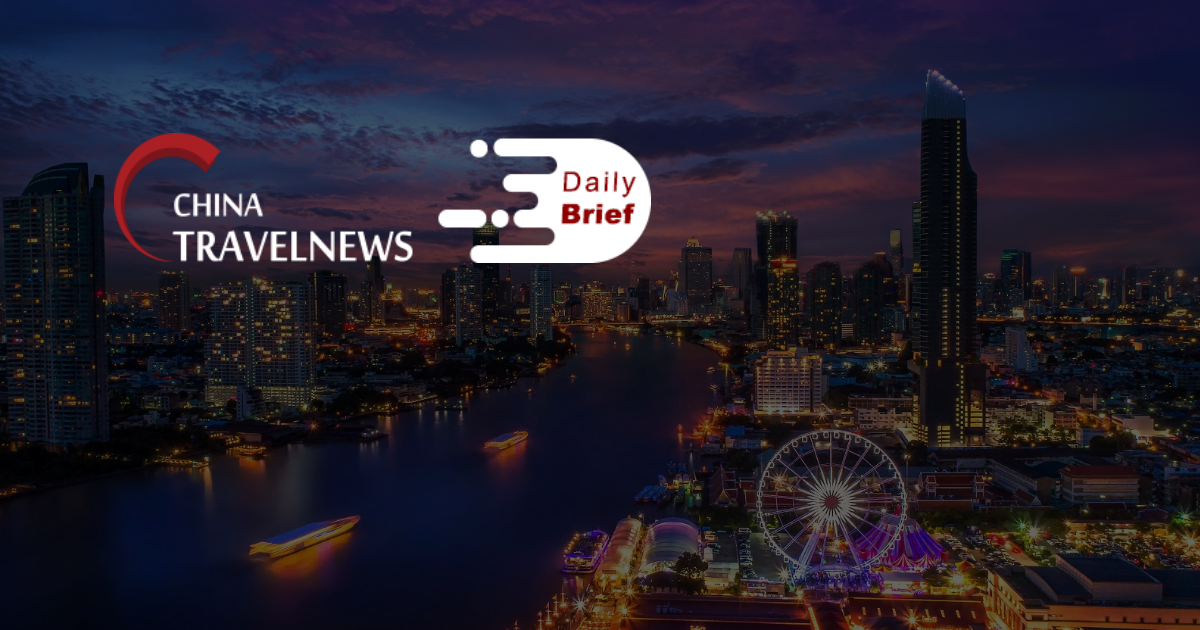 China loosens curbs on travel
>> The Tourism Council of Thailand (TCT) is more optimistic about Chinese travelers returning after the country slashed its quarantine length in half and gave Thai airlines permission to resume two flights to China per week. TCT vice-president Vichit Prakobgosol said even though hopes of a full return of the Chinese tourist market remain limited, with only a 50% chance China's quarantine will be scrapped by December, the loosening of restrictions is the most positive sign in more than two years.
More airlines resume international flights to China
>> More airlines are resuming international flights to and from China, and it is likely that July will see the biggest number of international flights since pandemic restrictions were placed on international air travel in early 2020.
Air China said on Thursday that it will resume a number of international routes to cities in Europe and Asia. The carrier's resumed routes include Beijing to Dubai round trip. Other Chinese carriers including China Eastern Airlines, China Southern Airlines, Hainan Airlines and Xiamen Airlines have announced resumption of international routes or increased frequencies.
Trip.com Group and Iberia join forces on a new solution to optimize NDC sales
>> Trip.com Group has strengthened its partnership with Iberia by implementing a shopping engine solution for the New Distribution Capability (NDC) air ticket sales channel, a first for the partnership and a positive step for the development of NDC.
Trip.com takes a "start-up mentality" in Europe
>> Trip.com operates with a start-up mentality in Europe "building from scratch" but with the backing of 10,000 IT engineers in Shanghai, according to the company's general manager for Europe Andy Washington. The former Expedia, lastminute.com and Cosmos senior executive said targeting expansion in Europe for trip.com was an opportunity for the Chinese OTA giant to invest in its technology and its app.
Major investor Baidu changes representative on Trip.com Group's board of directors
>> Trip.com Group said that Dr. Dou Shen, a director nominated by its investor Baidu Inc., has tendered his resignation as a director of the company, effective on July 1, 2022, and that Mr. Junjie He, a senior vice president of Baidu Inc., has been appointed as a successor director of Trip.com Group following Dr. Dou Shen's resignation.
Shanghai's first post-lockdown group tour to another province sells out in two days
>> Shanghai's first group tour to another province in China following the end of the city's two-month lockdown was booked out within two days of its launch. Tickets for the 22-person tour, organized by Shanghai Spring International Travel Service, to Gannan Tibetan Autonomous Prefecture in China's northwestern Gansu province went on sale on June 23. The holidaymakers are due to depart on July 1.
CTG Duty Free targets $3 billion in second Hong Kong listing attempt
>> China Tourism Group Duty Free Corp., the world's largest travel retailer, is set to relaunch a planned Hong Kong listing that could raise around USD 2 billion to USD 3 billion. The offering could launch as early as August or September.
Online travel become a new engine for China's economic growth: report
>> The online travel, take-out food and mobile game industries, which are based on mobile Internet technology, have emerged as new engines for China's economic growth, according to the Annual Report on China's Mobile Internet Development (2022) issued by the Research Institute of the People's Daily Online on June 29.
Amadeus and TITAN partner to enhance business intelligence insight in China's hospitality industry
>> China-based hospitality provider TITAN Cloud (Fang Cang) has signed a partnership with Amadeus to support hospitality industry recovery with leading market insight and meet the unique needs of China's travel ecosystem.
DidaTravel appointments Gerardo Del Río as CFO
>> DidaTravel, an Alibaba-invested hotel wholesaler and travel-tech platform has announced the appointment of Gerardo Del Río, as chief financial officer of DidaTravel. Effective July 1, 2022, Gerardo will lead DidaTravel's finance team and help the company to further prepare a robust financial system and help on growing DidaTravel's business expansion and globalization strategy.
Four Seasons and Vanzhong Group announce luxury hotel in Xi'an
>> Leading luxury hospitality company Four Seasons Hotels and Resorts and Chinese development firm Spring Garden Company Limited, a subsidiary of Vanzhong Group, announced plans for the upcoming Four Seasons Hotel Xi'an.