Online travel company Tongcheng-Elong said in its latest earnings report that it sees a "continuing robust recovery trend" in the fourth quarter of 2020 for some key metrics.
Despite the pandemic impacts, Tongcheng-Elong managed to remain profitable and outperform the industry with its "advantages in market position, operations and cost control".
The company's average monthly paying users (MPUs) increased by 5.9% year-to-year to 28.7 million in Q4 2020, but average monthly active users (MAUs) decreased by 4.8% year-to-year to 196.0 million in the same period.

Revenue decreased by 7.3% to RMB 1,812.9 million (USD 278 million) in the fourth quarter, almost flattened as compared with 7.2% decline in the third quarter.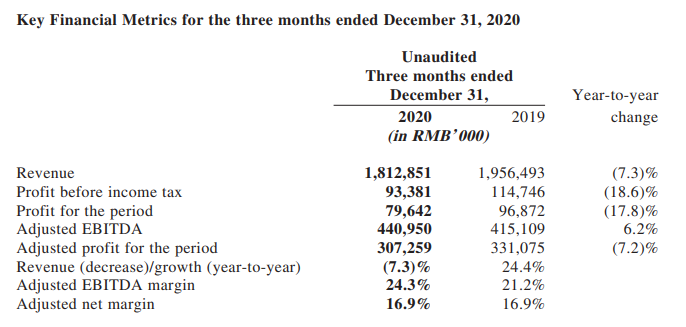 For the full year of 2020, revenue decreased by 19.8% to RMB 5,932.6 million (USD 911 million).
Average MAUs decreased by 6.7% from 205.2 million in 2019 to 191.4 million in 2020, while average MPUs decreased by 14.5% from 26.9 million in 2019 to 23.0 million in 2020.
By the end of 2020, Chinese domestic travel has recovered much faster than the global travel market, but still under the haze of the pandemic. Tongcheng Elong said it recovered quickly and definitely outpaced the industry by leveraging its advantages in lower-tier cities, effective traffic sources, and advanced innovation capability.
The company said it reacted swiftly to market changes and adopted flexible operations strategy, stringent cost control and light operating model, which helped it overcome challenges and seize market opportunities.
Still, full-year GMV decreased by 29.9% from RMB 166.1 billion in 2019 to RMB 116.4 billion in 2020 (USD 17.9 billion). GMV for the fourth quarter decreased by 12.6% year-to-year from RMB 41.3 billion to RMB 36.1 billion, because the average daily room rate and air ticket price were still under pressure.
Leveraging traffic partnership with stakeholder Tencent
During the year, the company had further expanded online traffic sources and also launched offline user acquisition measures in an effective way. In the past year, it further strengthened cooperation with its investor Tencent to explore the business potentials within its ecosystem. The company maintained stable and effective traffic channels from Weixin mini program and continued to deepen cooperation with Tencent.
In 2020, about 80.9% of its average MAUs was contributed from Weixin (WeChat's domestic version) mini-program with majority of the traffic from Weixin Payment portal and the drop-down list of users' favorite or most frequently used mini-programs.
Going further down to lower-tier markets
Tongcheng-Elong further reinforced its position in China's OTA market, especially in lower-tier cities.
As of December 31, 2020, registered users residing in non-first-tier cities in China accounted for 86.3% of the company's total registered users. For the year 2020, some 61.7% of its new paying users on Weixin platform were from tier-3 or below cities in China.
Currently, the online penetration rate of travel business in lower-tier cities is relatively low, signifying immense opportunities for the company. With its strategic focus on lower-tier cities and efforts in offline user acquisition, the company said it has "successfully captured the rebound opportunities in lower-tier cities market" and gained more market shares in major business segments including accommodation and transportation.