Trip.com's live-stream sessions rake in over $2.7 million for Singapore hotels
>> Singapore hotels and attractions are seeing strong demand, especially among outbound Chinese travelers despite the uncertainties amid the prevailing pandemic. Trip.com Group said in a press statement that it recently recorded sales of over 12,000 room nights for Singapore hotels amounting to a gross merchandise value of more than USD 2.72 million over two recently concluded live streams in Singapore and China.
Chinese OTA partners with UK, Italy to spearhead travel recovery
>> To date, the in-destination live-stream series has broadcasted to local audiences of tens of thousands in Japan, Korea, Thailand and Singapore, achieving total sales of around USD 3 million, according to the company's announcement. With short-distance travel in the Asia Pacific showing indications of recovery, destinations and governments across the world are making moves towards opening up travel in stages, starting with domestic tourism. Recently, governments of the United Kingdom and Italy have expressed interest in working more closely with Trip.com Group to revitalize travel.
China, Indonesia talk on travel bubble
>> Chinese Foreign Minister Wang Yi noted that while it would be a protracted fight against COVID-19 globally and that the virus could stay for long, China and Indonesia are ready for an express travel channel. Indonesian Foreign Minister Retno Marsudi said the country hopes to set up a travel link with China as soon as possible, so that businesses roiled by the pandemic could get a boost.
Could US airlines follow China with "All You Can Fly" model?
>> U.S. airlines continue to report dismal earnings for the second quarter, while China is enjoying a resurgence in flying as eight of its airlines have rolled out a promotion called "all you can fly", a pass that, for a single price, allows you to, well, fly as much as you want. China Southern Airlines became the latest Chinese carrier to use the marketing tool. According to Reuters News Service, these deals have been priced around USD 500 in some cases. Industry experts say the costs with such a deal have been offset by the number of empty seats and has helped China recover 80% of lost capacity from pre-coronavirus levels.
Flight search data reveal South Korea's rise in popularity among Chinese travelers
>> Since late March, there has been an increase in the number of flight searches made to South Korea by Chinese consumers, according to Forwardkeys.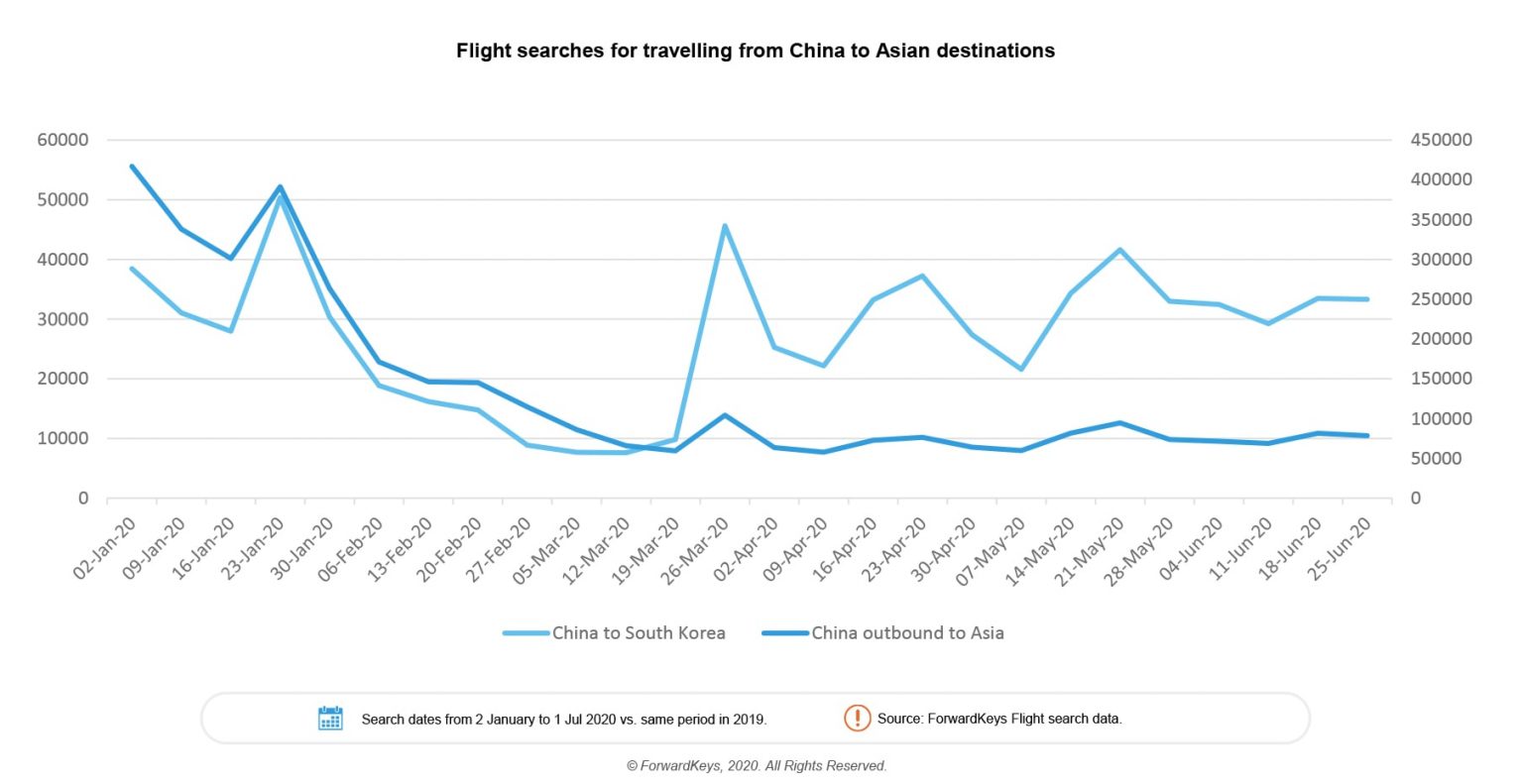 The ForwardKeys flight search tool also found that airfares have jumped dramatically since 2019, yet that hasn't slowed down the number of searches. Indeed, on the week starting June 29 the average airfare was USD 706 while a year ago it was USD 284 – more than double the price.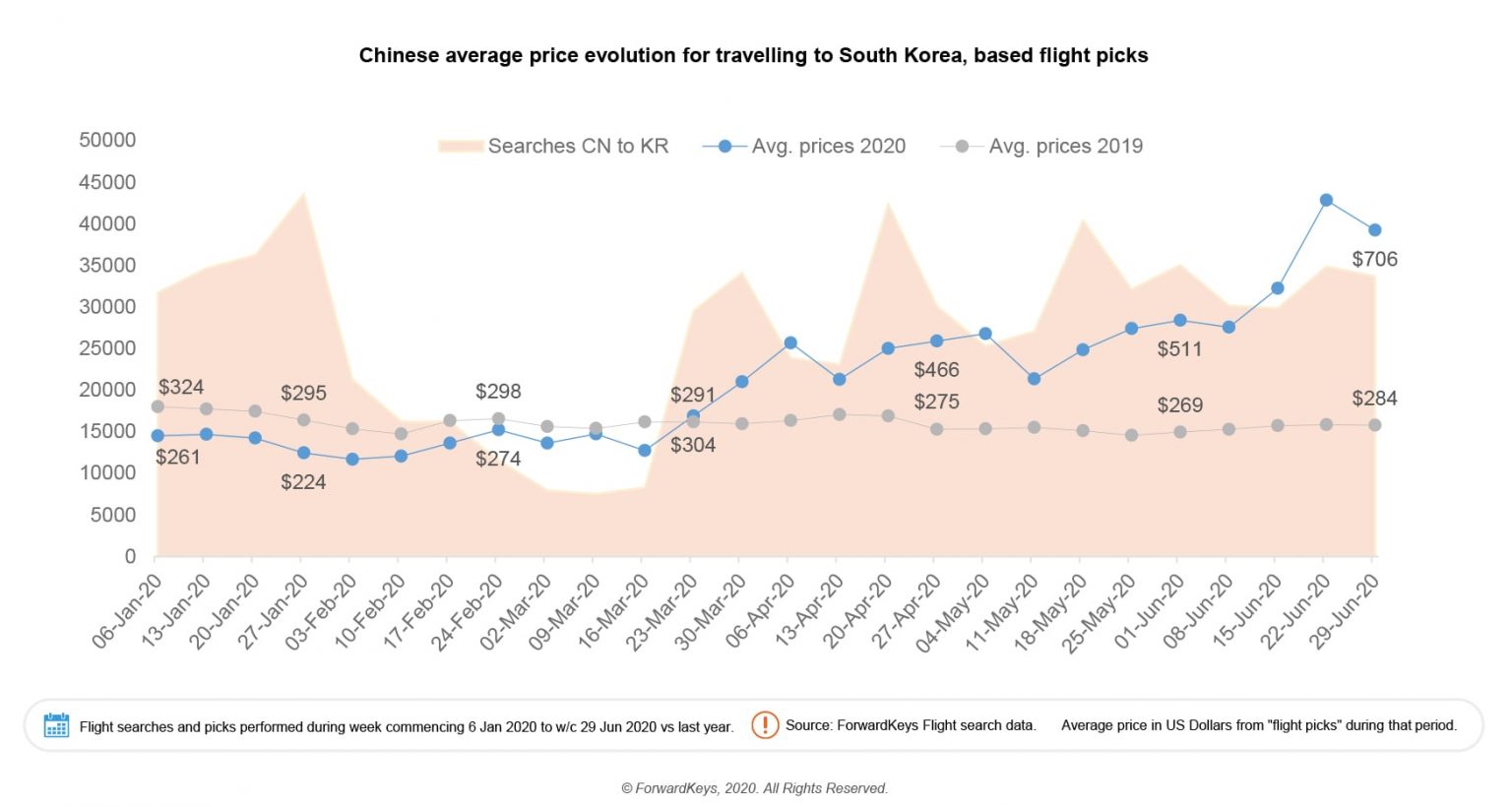 Top consumer fund places big bets on China's tourism revival
>> As the coronavirus forces countries to keep their international borders largely sealed, Joohee An, whose USD891-million Mirae Asset Asia Great Consumer Equity Fund has beaten 96% of its peers over three years, is counting on the enthusiasm of local Chinese travelers and betting on stocks linked to a potential revival in domestic tourism. "They still want to travel," she said.