ChinaTravelNews, Jerry Tang - Clicking the "Reserve" button on a screen to book a hotel room or buy a flight ticket is simple enough for a traveler.
But multiple parties are working behind the scene to make this one-click shopping experience possible. There are technology and connectivity service providers working with hotel/airline operators and consumer-facing agents to bridge the demand- and supply-side platforms.
Technological developments in the travel booking and distribution business serve to deliver a frictionless purchasing experience, as well as improve the workflow efficiency for travel suppliers and intermediaries, to help them scale up and thrive in fierce competition.
Travel inventories are highly fragmented across the world, so linking the right offerings to the right potential buyers will deliver great value in the whole chain.
Aeronology, a recently launched travel-tech company based in Melbourne, announced in May that it has established a global API distribution partnership with China's dominant GDS provider TravelSky. The startup will enable its customers, including travel agencies and corporate buyers, to book most Chinese airlines' international flights to and from mainland China, as well as domestic flights in China.
Connect to improve efficiency
Russell Carstensen, CEO of Aeronology, said the company first answered a request from a Hong Kong-based client which also has business in Beijing and Shanghai, to get direct access to the Chinese airline inventories, instead of going through GDS platforms.
Aeronology took around 12 weeks to file for the direct connection with TravelSky, working with TravelSky's office in Sydney, according to Mr. Carstensen.
The Chinese GDS giant offers technology support and localized services to travel agencies and travel service distributors through more than 40 distribution centers in China and nearly 10 overseas distribution centers worldwide, according to TravelSky's 2019 annual report.
TravelSky's revenues are primarily generated in China, while overseas distribution businesses contribute just a small fraction of its total income. The company does not disclose revenue details of its geographical segments. However, its income tax breakdown offers some hints – in 2019, the company registered overseas income tax expenses of RMB 11.73 million (USD 1.7 million), accounting for only 5.4% of TravelSky's total tax expenses last year. It was still a significant jump from the previous year's overseas taxation, which was just 1.8% of the 2018 total tax expenses.
TravelSky has its own distribution center in Australia, which means that they are distributing China's air services long before Aeronology built an API partnership with them.
So what's the difference between TravelSky's own offerings and the service that Aeronology is providing through its API connection?
Mr. Carstensen said going through the API entries will be much faster and the air distribution processing efficiency is higher.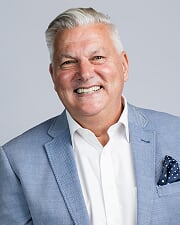 Russell Carstensen, CEO of Aeronology
"When you use TravelSky or any other GDS system's cryptic entries directly for booking, you can only do one entry at a time. With our API, you can have a whole line of entries programmed in the development, so you can issue multiple tickets. You can make bookings and changes, all in one line of code. What would take a travel agent maybe 25 minutes to do, we'll be able to do it in just 2-3 minutes," Mr. Carstensen pointed out.
Aeronology is charging its clients around 75 US cents per ticket.
But connecting to a major GDS doesn't mean getting access to all airline inventories. The airfares of low-cost carriers, for instance, are generally not available on these GDS platforms. Aeronology said it is considering using Travelfusion to access low-cost carriers' contents, like most distribution technology companies.
Mr. Carstensen said they would like to bring LCC contents to their customers. "When travel agents search for a flight between Singapore and Hong Kong, for example one operated by AirAsia, the company will use an API connection with Travelfusion or another organization, or even directly with the airline, to allow travel agents to book, bypassing the GDS platforms, which generally do not have LCC inventories."
Global demand and opportunity
Having built a connection to the TravelSky booking technology, Mr. Carstensen said Aeronology hopes to expand broadly in the global markets. The fledging travel-tech company targets travel agencies and buyers not only in Australia and New Zealand but also in other countries and regions.
"Travel agencies in Singapore, the United States and Europe are interested in getting air booking availability from TravelSky, especially for Chinese airlines," he mentioned. Aeronology has reached contracts with businesses in Singapore and Hong Kong.
Mr. Carstensen is also looking to expand Aeronology's potential in the China market. He plans to study the market and the OTAs in China.
The company currently has around 20 employees at its Melbourne headquarters and Manila office. With global tourism still grounded by the COVID-19 pandemic, travel businesses are generally under great financial and operational pressure. But Mr. Carstensen said Aeronology is financially sound and everyone in the team is working full time.
"We're fully funded and we've got active finance for as long as the COVID-19 issue stays. So we will be running and developing until the rebound happens," Mr. Carstensen commented. Contrary to the industry's downsizing trend, the company plans to recruit more talents to work on product development and increase its rail division and hotel divisions.
In the face of the challenges brought by the pandemic, Mr. Carstensen said Aeronology will first prepare for the resumption of domestic flights in different markets such as Australia, New Zealand and China, before international travel reopens.
"We see COVID-19 as an excellent opportunity for Aeronology's growth," he commented. "Travel businesses had grown massively for the past 15 years, but they haven't put enough time and effort in improving their technologies or productivity. Now that everything has stopped, they want to look for new technology to help them survive."
Challenges and goals
Looking at the long-term prospect of the global travel markets post-pandemic, Mr. Carstensen thinks there will be a large increase in rail traffic before air travel takes off again in China, Japan. USA and western Europe.
"We believe it'll take two to three years for the travel industry to get back to pre-pandemic levels, but the broad trends anticipated by IATA over the next 20 years will still stay in place. They will just take five to seven years longer than expected to arrive."
But as international travel worldwide is at a standstill under the pandemic impact, the company may face a more challenging time ahead.
Mr. Carstensen admitted that international travel is slowing but he is still looking to the potential once rebound happens.
"The growth will be larger than we expected," said Mr. Carstensen. "There are over 4 billion air ticket transactions every year up until the end of 2019. Even if we get just 1% of that, we will be very, very happy. It may take a little longer for us to get to our target, but we expect to reach our target, maybe two or three years later."
The company aims at capturing 1% of the 4 billion air ticket transactions worldwide in two to three years and possibly getting 3% of the global market in four to five years, but this year the company is still focusing on getting more connections within the Asia Pacific region.
"We expect to have 20% of the market in Australia and New Zealand within one year," Mr. Carstensen said Aeronology's product is scalable. "We believe travel companies are all looking for technologies that can make their employees more productive and that they can make more money with fewer people."
Aeronology wants to go beyond airline distribution to facilitate the distribution of ancillary services too.
"We are pulling out all the ancillary services and giving them to travel agents," Mr. Carstensen mentioned. "We will simplify the selling of ancillary services for travel agents. We will connect hotels, travel insurance, car hires, tours and activities to the booking price set through an API."
Mr. Carstensen said OpenJaw is working on NDC programs for TravelSky, and Aeronology is also very interested in working with TravelSky on NDC products.