US to revise Chinese flight ban
>> The US Transportation Department will relax its previously-announced ban on Chinese passenger flights in the coming days to allow some flights to continue, reported Reuters, citing US government and airline officials.
Washington announced earlier that it intended to bar the Chinese airlines from flying to the United States by June 16 due to China's curbs on US carriers. The announcement was followed by China's decision to ease travel restrictions and allow in more foreign carriers.
The US airlines which will be able to resume flights to China starting on June 8 objected to China's plan of allowing only one flight per week, according to a Bloomberg report.
>> Total flights flown from China to US experienced a major decline of 95% year-on-year from 1,542 flights in May 2019 to just 84 flights in May this year, while in January 2020 the decline was only 5%, according to aviation data and analytics company Cirium.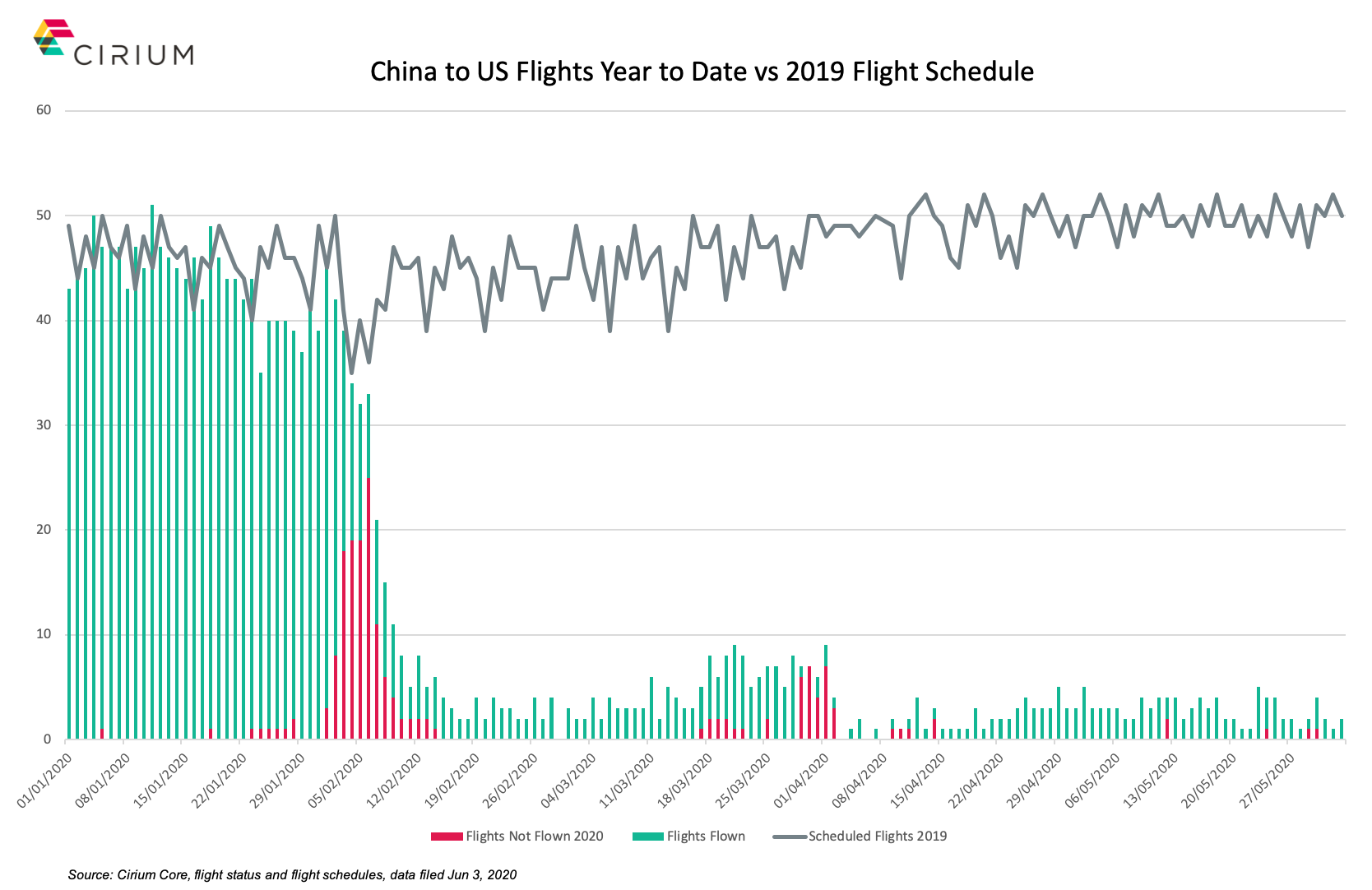 Current flight schedules (subject to adjustment) for China to the US total 152 flights in June and 2,118 flights in July.
Chengdu airport became world's busiest last month
>> Chengdu Shuangliu International Airport became the busiest airport in the world in May, according to the latest data released by flight information service platform VariFlight. The aviation hub in southwestern China recorded 24,032 takeoffs and landings for the month, 70% of the same period last year and 20% higher than April's tally.
Singapore records only 18 Chinese visitors in May
>> The number of visitors to Singapore plummeted to a historic low of 748 in April, the first full month since a ban on short-term visitors was put in place. There were only 18 visitors from China, Singapore's traditional top source market. About 2.7 million tourists arrived here from January to April, a 58% decrease compared with the same period last year.
Swiss resumes Hong Kong flights, Lufthansa plans to follow in July
>> Lufthansa announced that it intends to resume flights between Hong Kong and Frankfurt at the beginning of July. Meanwhile, Swiss International Airlines operated its first flight out of Hong Kong on June 3. The carrier says it will operate its twice-weekly Hong Kong route throughout June.
OCT to invest in Phoenix Valley eco-tourism project
>> Major Chinese theme-park operator OCT is to invest RMB 15 billion (USD 2.11 billion) in the Phoenix Valley eco-tourism project, which is featuring cultural facilities, historical education, a mountain sports adventure park, as well as a business and family entertainment area.
Chinese hotel group GreenTree sees a 33% drop in Q1 revenue
>> GreenTree Hospitality, a major hotel company in China, reported that its first-quarter revenue dropped 33% this year to USD 22 million, having been severely impacted by the outbreak of COVID-19. Net income decreased 110.6% to a net loss of USD 2.0 million. RevPAR plummeted 44.1% and occupancy declined to 47.3% in the quarter.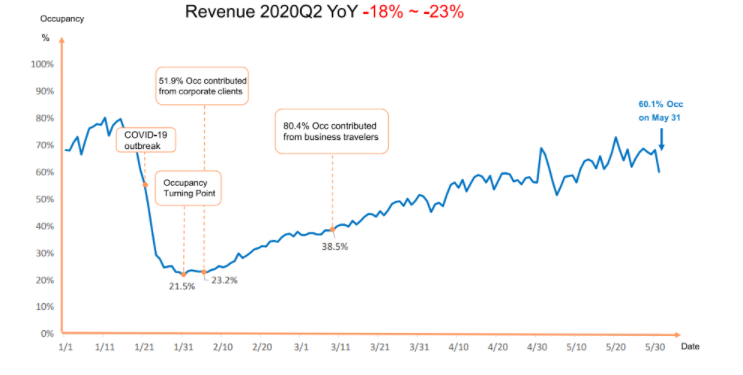 Occupancy rate has rebounded and exceed 65% on average in the second half of May, from a low of 21.5% at the end of January.