China eases flight curbs after US orders ban on Chinese carriers
>> China said it will allow more foreign carriers to fly into the mainland, shortly after Washington barred Chinese passenger carriers from flying to the United States citing Beijing's restrictions on American airlines. Qualifying foreign carriers currently barred from operating flights to mainland China will be allowed once-per-week flights into a city of their choosing starting on June 8. The Donald Trump's administration has barred Chinese passenger carriers from flying into America starting June 16 as it pressures Beijing to let US airlines to resume flights to the country.
Trip.com Group founds a startup-investment firm
>> Chinese online travel company Trip.com Group has set up a new unit to invest in startups and provide investors with consultancy services. The OTA established Xiecheng Entrepreneur Investment on June 3 with USD 14 million in registered capital. Mr. Jay Shen, vice president of the Trip.com Group, serves as legal representative of the new company. The Shanghai-based entity is a wholly-owned subsidiary of Trip.com Group.
Hotelbeds signs ancillary distribution agreement with Trip.com Group
>> Hotelbeds has partnered with Trip.com Group to offer the online travel platform access to Hotelbeds' Beyond The Bed portfolio of more than 18,000 activities in 690 destinations, 25,000 transfer routes in 1,100 destinations, as well as theme-park attractions and entrance tickets for events all over the world. The agreement provides ancillary supplier partners of Beyond The Bed with access to Trip.com Group's 400 million customers via both the Chinese and non-Chinese distribution channels of Trip.com Group.
Cancellation rate of China's domestic flights drops significantly
>> Cirium flight data for June 2 reveals that just over 23% of flights originally timetabled were subsequently removed or operationally canceled. This compares with the height of the coronavirus crisis impact on February 13, when only 1,812 scheduled flights were operated and 11,294 (86%) were removed or canceled.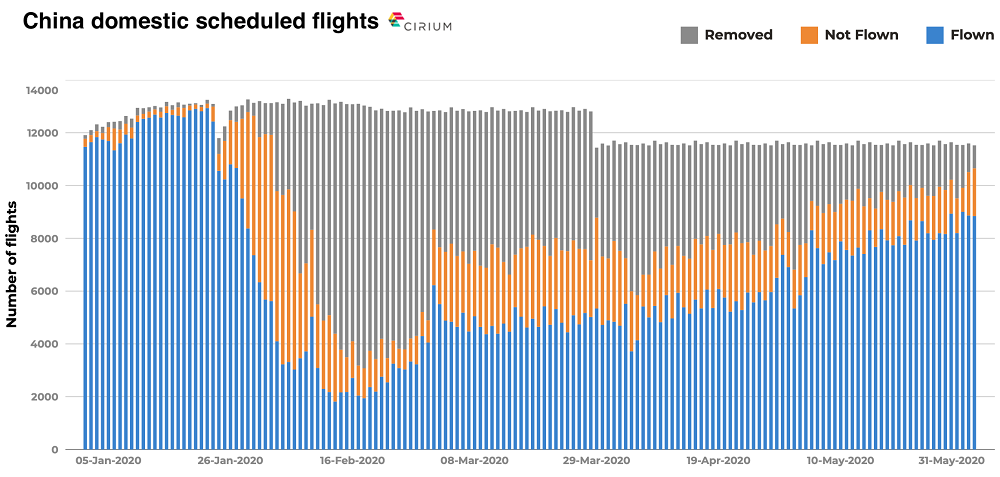 There is still a significant way to go towards restoring normality. In mid-January, Chinese airlines were operating close to 13,000 flights daily, with the percentage cancellation rate in the low single digits.
In all scheduled services operated by Chinese airlines – including international – tracked flights remain down 30% compared with a year earlier. This nonetheless compares favourably with the USA where tracked flights remain down by almost three quarters.
Global searches for flights to China rise substantially
>> Asia Pacific is starting to see some positive developments with the easing of lockdown restrictions, and signs of travel gradually reopening, according to digital travel marketing firm Sojern.
With travel bubbles floating around, flight searches from Asia Pacific countries to China saw a substantial increase in May. There was also a big increase in non-APAC international origins to China. The APAC countries showing the strongest travel intent to China include Australia, South Korea, Singapore, Malaysia, and Philippines.
Even though searches are up, bookings still lag behind. This could be due to the limited supply of flights, so even though people have the urge to travel, they are unable to find suitable flights.
Singapore reveals details for travel fast lane with China
>> China and Singapore have agreed to create a fast lane to facilitate essential business and official travel without a 14-day quarantine from June 8. All travelers must take a COVID-19 swab test 48 hours before departure and undergo another test on arrival while remaining isolated until test results are released, according to the Singaporean Embassy in China.
China's civil aviation authority has approved establishing "green channels" for chartered flights to the Chinese mainland. Eight countries are on the list: Japan, South Korea, Singapore, the UK, Germany, France, Italy and Switzerland.