Trip.com Group launches IHG flagship store
>> Ctrip, the Chinese-consumer-facing unit of Trip.com Group, launched the IHG Flagship Store on its platforms, as part of a collaboration with the InterContinental Hotels Group. This makes Ctrip the first online travel agent to have worked with IHG to open an online flagship store, and will allow over 300 million Ctrip members in Greater China to register with the IHG Rewards Club.
Hong Kong regulator accepts OTA giants' pledge to drop rate parity
>> The Competition Commission of Hong Kong said it has accepted the voluntary commitments by Booking.com, Expedia and Trip.com Group, the world's three largest online travel agencies, to amend their rate-parity contract terms with local accommodation providers in the city. Each of the OTAs has 90 calendar days to amend their existing and future contracts for compliance with the commitments.
70% of OYO hotels in China have reopened
>> While 70% of OYO hotels in China are now operational, it plans to open the remaining hotels in the next 30 to 45 days, the company told Business Insider. OYO is present in over 337 cities and has 500,000 rooms in China. In FY19, OYO China contributed to USD 307 million or 32.3% of OYO's global revenue.
Consumers in China may resume some travel as lockdown eases
>> According to a March 2020 survey from the China Tourism Academy and Trip.com, 16% of internet users in China ages 18 and older cited May as the month they expect to travel, 15% said they would travel again in either June, July or August, and 14% of respondents said they would in October. These months are typically popular tourism seasons in the country. In the same survey, 90% of respondents said they will prioritize domestic destinations—including short-to-medium distance trips (43%), the city's immediate surroundings (24%) and long-distance trips (23%).
Chinese airlines may see a U-shaped recovery in air travel
>> Chinese carriers are likely to see a full recovery by 2021, as aircraft seats are filled by the gradual return of leisure and business air travel, helping the nation's airlines beat a worldwide aviation slump that may remain until 2023 at the earliest.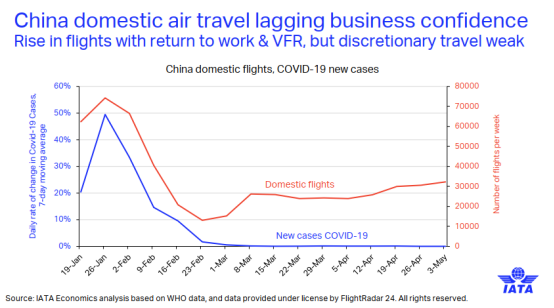 China's 'travel bubble' includes HK, Taiwan, Korea
>> Beijing is mulling expanding its "travel bubble" covering the mainland to include Taiwan, the two former European territories of Hong Kong and Macao, as well as South Korea. The idea is to cut red tape and fast-track health and quarantine checks so people crossing borders within the five jurisdictions have the minimum hassle.
Apollo leads distressed investment in HNA's Swissport
>> A trio of distressed investors led by Apollo Global Management have bought debt of airport baggage handler Swissport and are holding talks with the company as it seeks cash to ride out the COVID-19 crisis. Swissport is seeking USD 542-759 million in rescue funds this year, but the company is not eligible for Swiss state aid to the aviation sector because its majority ownership by China's HNA Group does not yet permit financial support.
Skyscanner: South Korean domestic air capacity back to January levels
>> South Korean domestic aviation volume has returned to pre-COVID-19 January levels, according to flights metasearch site Skyscanner. At the start of May, search volumes for popular domestic route Seoul to Jeju increased by 803% compared to the start of April. And search volumes for the same route for travel in June increased by 544%.