Recovering business in China eases Fosun's pain in Europe
>> Fosun Tourism, the owner of French resort chain Club Med, said its globalisation strategy is helping it to cope with the slump during the virus epidemic. The company has seen its operations in China slowly recover while the coronavirus continues to spread rapidly across the world, affecting its operations in its main market of Europe.
Fosun's businesses in China were seriously hit since the end of January and it had zero revenue in February at the peak of the outbreak. Some 20% of Fosun's revenue comes from China, about 50% from Europe and North Africa, and the rest from Asia and the Americas.
China data portend tough times for US hotels
>> The COVID-19 impact is clearly visible in U.S. hotel performance as RevPar declined 32.5% during the week ending March 14, according to data from STR.
The hotel research firm found that lockdowns caused occupancies to plummet to single digits in rapid order. China occupancy is now back to 18% after a period in single digits, a 100% growth rate from the low of 9%. The China data seems to lead the U.S. data by eight weeks.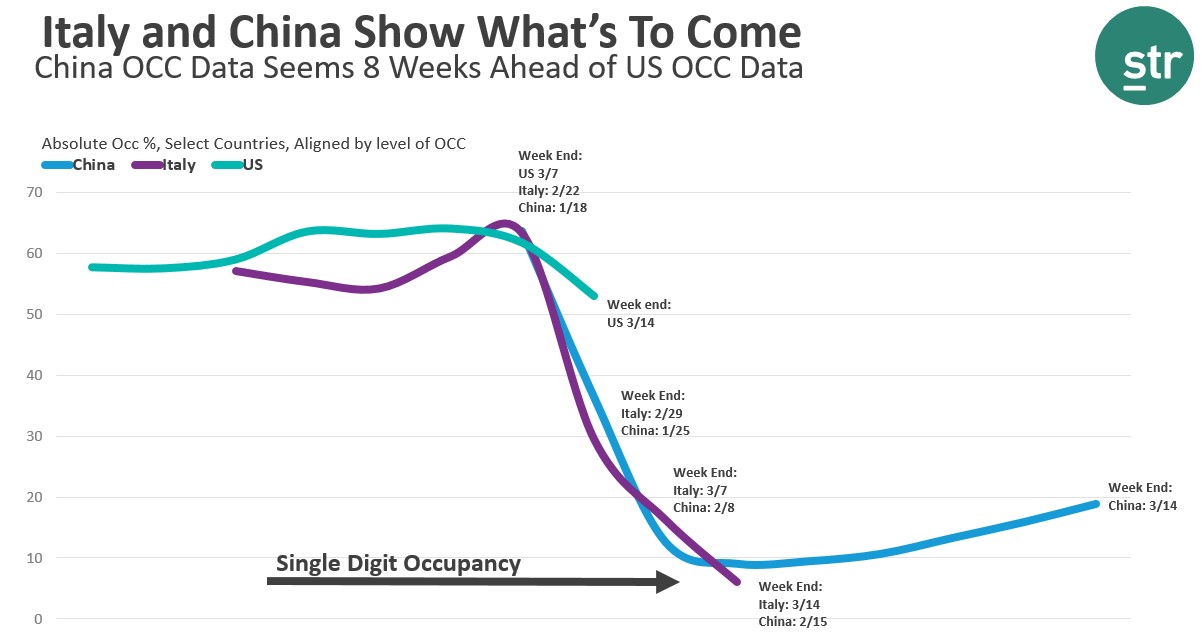 China hotel investment outlook in 2020
>> After 20 years of rapid growth, China's hotel market has gradually entered an era that focuses more on renovating existing assets, according to research by Horwath HTL. The hotel consulting firm said the key focus of existing asset renovation is upscale and upper midscale hotel properties.
MakeMyTrip suffers as coronavirus empties hotels
>> The coronavirus impact on the business of OTA platforms has led to a major fall in their share prices. MakeMyTrip's share declined from $29.95 on February 12 to $10.8 on March 18. Yatra's share price fell from $3.79 on February 14 to $0.91 on March 18.
Data from B2B SaaS platform RateGain show that hotel bookings in around 90% of Indian states and union territories witnessed a sharp decline in February.
TravelSky reports major drop in non-mainland airlines volume
>> Chinese airline IT provider TravelSky expects the coronavirus to have an adverse impact on its operating performance in the first quarter as well as the full year of 2020. International volume processed by domestic airlines dropped by 39.29% to 9.97 million in January-February, and total volume processed by international or regional airlines plummeted by 66.04% to 1.14 million.
Chinese airlines could lose $5.2 billion in February
>> Operating data released recently by major Chinese airlines show that China Southern, China Eastern and Hainan Airlines have all registered an over 30-percentage-point decline in passenger load factor last month.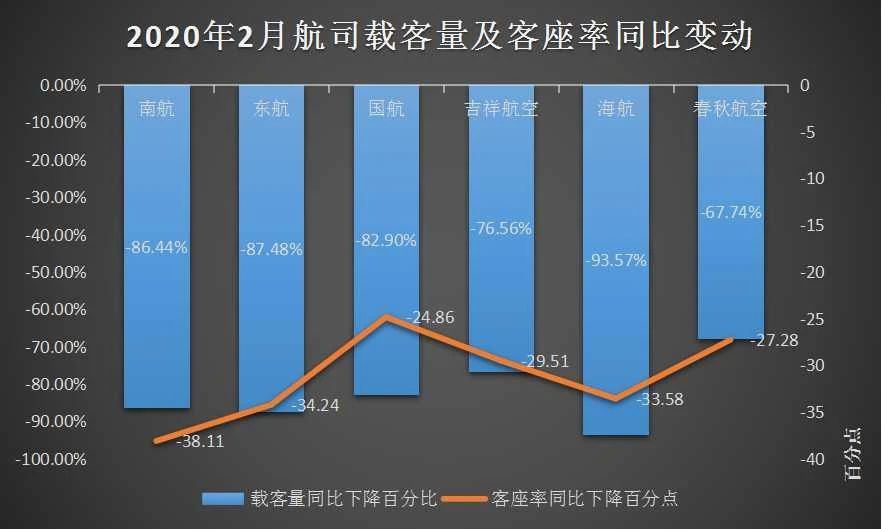 The Chinese carriers have seen dramatic drops in passenger traffic. The HNA-affiliated airlines combined have recorded the biggest decrease of more than 90%, while China Southern, China Eastern and Air China each posted passenger traffic decline of over 80%.
China's airline industry is estimated to lose more than USD 5.21 billion (RMB 36.95 billion) in February alone due to the coronavirus impact, according to airline data provider Variflight.
Cathay Pacific scraps 96% of flights in April, May
>> Cathay Pacific will slash passenger capacity by 96% in April and May as the coronavirus shuts down travel across the world.
The airline has already asked staff to take unpaid leave and warned that it faces a substantial loss in the first half of this year, with a HK$2 billion ($257 million) loss in February alone. It also said it would operate a "bare skeleton" schedule for passenger flights in the coming months.