ChinaTravelNews learned on February 14 that Expedia's Chinese website has temporarily taken down listings of hotels, flights and local tour offerings in mainland China.
When entering keywords such as Beijing, Shanghai, Chengdu, Wenzhou, Hangzhou, Xi'an in hotel searches, the website failed to map the destinations or provide relevant information. The multiple hotels displayed in those searches were not in mainland China.
When searching for flight options to mainland China, the system indicated no related airport found and prompted users to input a new city, airport name or airport code.
Similarly, searches for local tour offerings did not yield any product suggestions in the region. The keyword Guangzhou led to Hong Kong and Macau rail pass options, Hong Kong International Airport VIP Lounge access and pick-up service.
Expedia's Chinese App, on the other hand, still had hotels in mainland China (excluding Hubei province) and flights from Guangzhou to Beijing available for reservation, but local tour offerings were absent.
The product comparison tables provided by a tour supplier showed that things-to-do listings in Hong Kong on Expedia's English App had declined from 250 items available on August 5, 2019, to 100 as of February 14, 2020. The App has also delisted local tour offerings from mainland China.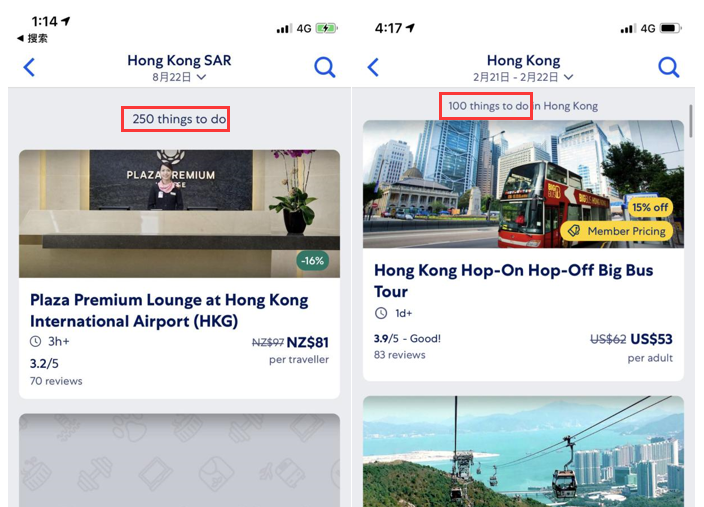 The Chinese tour supplier said that the U.S. online travel powerhouse informed its suppliers via email that it would suspend the sale of all the mainland China-based products, ground transportation and tours. The inventories were available but were shielded on the website.
Updated: A source told ChinaTravelNews that the suspension was implemented as some countries had imposed travel restrictions to and from mainland China.
In the face of the coronavirus outbreak, a host of countries, including the U.S, Italy, North Korea, Russia, the Philippines and Kuwait, have denied entry to Chinese travelers. Airlines such as Finnair, Lufthansa, Air Canada, British Airways, United Airlines, Delta Air Lines, Cathay Pacific have changed, canceled or cut flights to and from China. The inbound travel sector, Expedia's main business in China has been significantly dented.
Eric Hart, Expedia's chief financial officer, said in a recent financial report conference call that the Expedia Group expected the coronavirus would have negative financial impact on adjusted earnings in the first quarter, to the tune of USD30-40 million, and further impact for the full-year results was expected. Barry Diller, the group's executive chairman of the board, said the setback for the travel sector caused by the coronavirus outbreak had spread beyond Asia Pacific.
Suppliers did not think Expedia's suspension of the China booking channels would make matters worse for them. "Expedia's business in Greater China are mostly in Hong Kong and Macau, and the volume is small compared to the European market. Travel offerings are maintained in other regions even if Expedia shuts down operations in Greater China. Anyway, when we have orders for Greater China destinations, we call to double-check in case of cancellation or itinerary changes. Expedia's move has had little impact on our business," one supplier said. (Translated by Elena)