ChinaTravelNews, Ritesh Gupta - Ctrip has asserted that there are several factors that imply that the team is capable of donning the role of a global player in the travel e-commerce business, along with being astute enough to combat competition from the domestic companies.
After Ctrip's decision to be a part of global travel bookings, including those featuring non-Chinese travelers, there has been a constant scrutiny of what the team is doing to brush shoulders with the likes of Expedia and Booking Holdings. In response to that, Ctrip has asserted that the combined impact of its group companies as well as the core assets, including registered users, resulted in a strong fourth quarter performance. Ctrip shared that 2017 ended with revenue growth of 39% year-on-year, taking net revenue to RMB 26.8 billion.
The team also acknowledged that they are still transitioning through short-term challenges, including the impact of the unfortunate PR incident late last year, possibly referring to the child care facility of Ctrip.
Being part of the global travel pie
"…(in all there were) about 11.9 billion total global traveler trips made in 2017, and Ctrip is only servicing less than 5% of this," James Liang, Executive Chairman of Ctrip, mentioned during the company's earnings call.
Liang pointed out that Ctrip's journey to account for a bigger chunk of this pie is in early stages, but "on a fast growth trajectory".
"…we are starting to see the benefits of the returns today (the focus on international business started a couple of years ago)," said Liang, who added that the same is being buoyed by growth in the Chinese outbound sector. The international business is anchored on the overall outbound business. He shared that there were around 130 million outbound trips last year. "As China's Belt and Road initiative progresses, outbound trips will only grow bigger and forecasted to grow to over 200 million trips per year by 2020, according to the China National Tourism Administration." Also, the fact that visa restrictions for Chinese customers also are being lifted for many countries, Ctrip is hopeful that their inventory from suppliers will only get better. So a cycle of more travel with a varied choice will further fuel the business.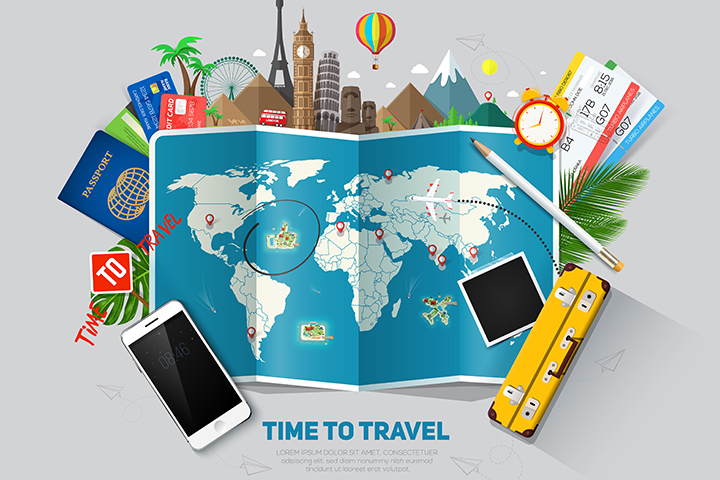 Where does the company stand today as far as revenue generation from international operations is concerned? As for last year, international revenue, including China outbound travel and Skyscanner contributed 1/5 of the group's overall revenue. Liang shared that the plan is to take Ctrip's international business to 40%-50% of the entire group revenue over the next five years. One of the pillars would be the combined effect that results from Ctrip's group companies, including Skyscanner and Trip.com, how this synergy uplifts the performance by serving travelers in an earnest manner. The team is showing strong signs of delivering on this count, as Jane Sun, CEO of Ctrip, highlighted.
"We have built one of the most competitive flight-booking engines globally, and the results are clear," said Sun. She shared that the group's non-China-related flight ticket volume for the fourth quarter sustained fast growth, capturing a share of 33% of total international tickets sold in entirety by the group. In terms of synergy, the team at Ctrip highlighted the contribution made by the introduction of direct booking on Skyscanner.
"We helped Skyscanner develop a direct booking engine, which increased Ctrip's own conversion on Skyscanner by over 50%," said Ctrip CFO Xiaofan Wang. Trip.com also capitalized on this development by registering triple-digit growth in air ticketing volume for five successive quarters.
"Our international expansion is premised on our strength in transportation product," said Sun. Transportation ticketing revenue for the last quarter was RMB 2.9 billion, showing a 20% increment over the same period in the previous year. As witnessed in case of Ctrip, the group believes that it can bank on cross-selling with international air ticketing laying a base for the same. So bookings related to rail ticketing, restaurants, local attractions etc. come into play and that's why Ctrip has also focused on strengthening other products to strengthen the platform's positioning as one-stop travel offering. That's why Ctrip has chosen to sign a deal with Booking Holdings' OpenTable for restaurants or decided to go ahead with the launch of car rental services on Trip.com.
Competition in the domestic market
Brushing aside concerns over competition, Liang mentioned that there is plenty of scope for the pie to grow plus it can have several players.
"The total travel spending in China was about RMB 5.4 trillion. And Ctrip's share is only 10%," he said.
Other than the product strategy, Liang also singled out 6,500 "physical travel stores" in place to drive omni-channel strategy to drive the share up in lower-tier cities. "This is also a key differentiator," he said.
Sun said the group opened over 1,000 Ctrip and Qunar-branded franchised stores last year. The objective is to aid those who are not yet comfortable with online transactions, especially with the large-ticket sized transaction. "Our growth strategy in the lower tier cities is very systematic and disciplined," she said. "Since we started executing this strategy about a year ago, our penetration rate in our targeted cities has increased by over 50% on average. As part of the lower tier penetration strategy, we invested in Traveling Bestone to give us a new dimension off-line to grow and serve our customer base." Total GMV of these stores, including the 5,000 Traveling Bestone-branded store grew over 30% last year.
Last week Tuniu also referred to the current level of online booking penetration in China, estimated to be 20%, whereas offline is still 80%, a major reason behind companies opening offline stores. Even Tuniu acknowledged that stores help the company to acquire customers at a lower cost compared to online channels. In fact, Tuniu is clear that unlike many of their competitors, the team is not looking at operating these stories via the franchise model.
Banking on registered users
Ctrip acknowledged that most of their GMVs was generated or contributed by existing users.
As per various cohort analysis, contribution from registered users is going up over the years.
Sun explained this one in detail:
* Volume: The first batch of users acquired in 2012 on average made about five orders per year. This same group as of last year stepped up the number of their bookings to nearly 20 orders per year.
* Cross-selling: "Moreover, we have seen strong cross-selling trends between product lines. For example, about 20% of newly acquired air ticketing customers make at least one purchase in hotel reservation for each of the following years. The corresponding cross-selling rate between air and train is even higher at about 30%," she said.
Ctrip expects the non-GAAP operating profit to be in the range of RMB 800 million to RMB 900 million, implying a non-GAAP operating margin of about 12% to 13%.