The cycles belong to Ofo and Mobike, two startups that, taken together, have raised $2.2bn of capital and are valued at more than USD 4 billion. Each has between 7m and 10m bikes in China, averages 30m-35m rides a day and, having entered more than 100 Chinese cities, is expanding abroad. At the start of 2016 neither firm had a single bike on a public road. Ofo's canary-yellow cycles and Mobike's silver-and-orange ones can now be found in cities from Adelaide to London and Singapore to Seattle.
Nor are Ofo and Mobike profitable, though not for want of growth. China's bike-sharing market grew from 33 million yuan in the third quarter of 2016 to 3.9 billion yuan in the second quarter of 2017, says iResearch, a market-research firm. Zhang Yanqi, an Ofo co-founder, thinks China could support 300 million rides a day, up from 50 million -60 million today. Both firms believe rental fees alone could make them profitable businesses if they stopped spending on expansion at home and abroad.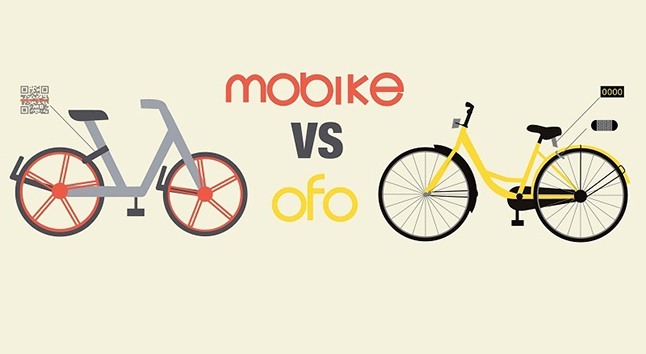 Analysts reckon the real money may be in other sources of revenue. The firms hold hundreds of millions worth of yuan in deposits collected from users.
But most value could come from data, especially used in partnership with Alibaba and Tencent. The bike-sharing firms are already becoming part of their strategic investors' business models. Ofo uses Alibaba's credit-rating system to allow users to rent bikes with no deposit, for example. More data could be shared. As Mr Zhang puts it, the firm's main investor, Alibaba, "already knows how much [users] spend, where they spend it and what they spend it on. But with us they have a very strong idea of people's total activity." Mobike says it does not share data on a commercial basis with any firm.
The bike wars recall the one between ride-hailing firms in China, which ended with mergers that left one player, Didi Chuxing. Rumours of a possible merger between Ofo and Mobike have been swirling for weeks. Allen Zhu, an early investor in Ofo who is pushing for a merger, says making money is terrifically hard with so much competition. But neither Ofo nor Mobike is willing publicly to admit it. "In my entire career at Ofo I have spent less than five minutes talking about a merger with Mobike," says Mr Zhang. "I don't see any point or meaning in merging," maintains Mobike's president, Hu Weiwei.
Read Original Article