Embraer S.A. established a collaborative relationship with VariFlight on Flight Happiness Index (FHI) product, aiming to reveal Embraer's new offerings and improve passenger experience for online air booking.
Flight Happiness Index Platform
Flight Happiness Index (FHI) - Derived from civil aviation big data services, it describes overall flight comfort by considering factors such as aircraft type, in-flight facilities, flight delays and passenger satisfactions etc.
Embraer provides VariFlight with details of its global fleets, such as cabin layout, aircraft type, seat pitch & width, seat recline angle, luggage rack, in-cabin noise, power outlet, and in-flight entertainment. This rich set of parameters will be measured to display the overall level of FHI in the form of icons, pictures or 360-degree panoramic views.
As the leader of world-class regional aviation market, Embraer E-Jet series aircraft accounts for nearly 80% of China's regional aviation market, delivering 18 million passengers per year via 550 routes connecting 140 domestic cities.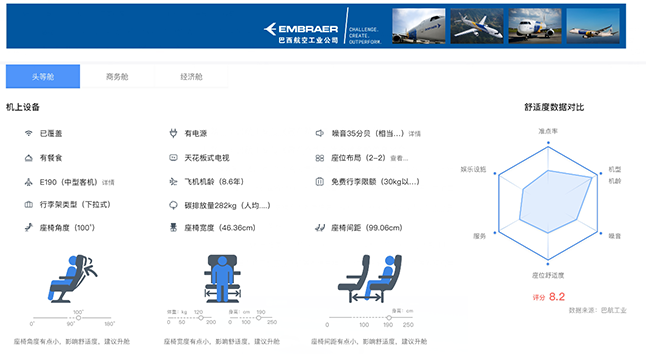 Multi-Channel Display of Flight Amenities
Flight Happiness Index of Embraer aircraft will be fully displayed following the new version of VariFlight FHI in December. In addition, it will be demonstrated synchronically on other top OTAs. Current coverage rate of VariFlight FHI in domestic OTA channels reaches over 80%, thus passengers can obtain abundant and full-scale information of flight comfort while using Ctrip, LY, Tuniu and other OTA during flight booking process.
VariFlight also partners with many airlines in product offerings. A more compelling, targeted merchandising content as well as added value services will be presented to passengers in all possible sales channels including check-in and transit, helping airlines improve their conversion rate of ticket booking and ultimately optimize air travel experience.
"Global civil aviation market has entered into an era of personalized customer service along with its robust air travel development. Successful product differentiation creates a competitive advantage for manufacturers and airlines as customers view these products as being custom-design and unique. VariFlight FHI helps to attract a higher share of customers in that market segment than competitors through data integration and application distribution, "said Hongfeng Zheng , CEO of VariFlight.