China National Tourism Administration (CNTA) published that the number of outbound trips from China organized by travel agents in Q4 2016 totaled 14.49 million, 4.49% more than previous year, and the duration of overseas stays totaled 80.64 million days, up by 1.24% YoY.
CNTA's quarterly report shows that China had 28,097 travel agencies in the fourth quarter in 2016, and 94.34% of them, or 26,508 agencies, submitted their operation data to CNTA.
In the fourth quarter, Thailand was still the most popular outbound destination for organized tours from China, followed by South Korea, Japan, Hong Kong, Macao, Taiwan, Vietnam, Singapore, Malaysia and Indonesia (see pie chart below).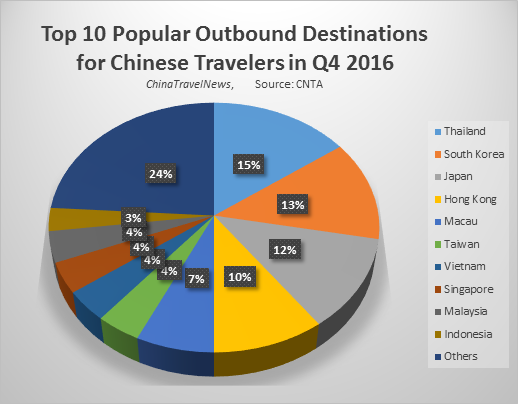 Organized inbound visits to China totaled 4.38 million in the fourth quarter, 1.70% less than the same period of previous year. A total of 5.70 million visitors received ground handling services, a 3.89% drop from previous year.
Organized domestic tours in China totaled 42.43 million visits in the quarter, up by 0.58% YoY, and 42.65 million domestic tourists received ground handling services during the period, a 6.21% decline from previous year. (Translated by Jerry)