Fosun International is in talks with investors to raise funds for its tourism unit's planned overseas acquisitions, looking to build up the business even as regulators closely scrutinize outbound transactions, reported Reuters.
Fosun Tourism & Culture Group, a key profit growth business for China's largest private conglomerate, is in discussions with domestic and international investors for its first round of capital raising to boost overseas investments ahead of a public listing, said the tourism unit's president Jiannong Qian.
The unit includes resort operator Club Med, a Chinese joint venture with UK tour operator Thomas Cook Group and the ultra-luxury Atlantis Resort Hotel in the southern Chinese coastal city of Sanya.
"We will increase (overseas) investment in the next few years and the area or regions that are most important for us are really not only where Chinese people have an interest in, but also the global regions where the tourism business is attractive," Qian told Reuters in an interview.
After a record year for outbound mergers and acquisitions by Chinese companies in 2016, Beijing has placed curbs on capital outflows to reduce pressure on the yuan currency, which fell to eight-year lows in December.
But Qian said that the curbs won't present a hurdle to Fosun's growth ambitions:
"Fosun, as a global enterprise, won't be affected by such restrictions because we have enough offshore capital to conduct M&A deals overseas," he said.
"If it's an overseas target, we will definitely use our offshore platform to acquire it. We have units incorporated abroad and at home."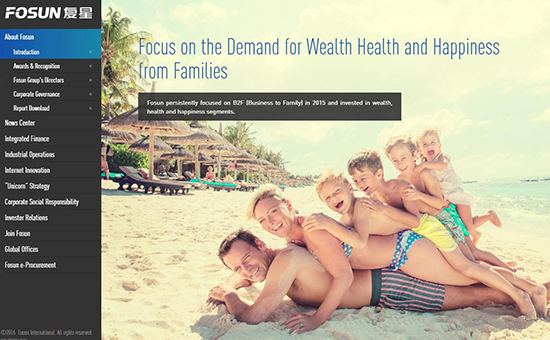 Asked about a timeline for a listing, Qian said none had been set for Fosun Tourism. But Fosun encourages its different units "to go public at an appropriate time", he said.
Tourism is key to China's shift toward a more consumer-driven economic growth, with companies including Fosun, Dalian Wanda Group and HNA Group increasing their bets on the sector.
China will account for 14% of total global outbound travel by 2020 from 10% now, brokerage CLSA has forecast, with the number of Chinese overseas trips rising to 200 million a year at the end of the period from 125 million in 2015.
Club Med, which Fosun bought in 2015, plans to open at least 20 new resorts in China over the next few years, Qian said without specifying the timeline for the buildup.
The tourism unit has an inhouse investment team of 26 people scouring the world for leisure tourism targets including hotel brands, travel agencies and theme parks, he said.
Read original article