ChinaTravelNews, Nicole Sy - A photo of last year's winner graced the screen as the panel of six judges took their seats. They would be presiding over this year's China Travel Innovation Challenge at the 2016 TravelDaily Conference, where seven companies beat out hundreds of others to be able to qualify for the chance to win this year's coveted title.
The judges panel consisted of Jenny Wu, Chief Strategy Officer of Ctrip.com; Guanghua Hu, CTO of Alitrip; Michael Zhu, COO of Jinjiang New Internet Company, Jiang Wang, CEO of HUOLI; Ted Zhang, Co-founder & CEO of DerbySoft, and Joe Xu, Senior Vice President of Super 8 China.

The first three judges would grill the first three competitors, eLong, BSmark and Qyer, and the last three judges would take over for the last four innovations: HoloGo, Tour Leader Treasure, Lulutrip and Mioji.
eLong's Zhiwei Bai first took the stage to showcase what innovations the OTA had been developing. At its core, the product wants "to provide an immersive experience to let customers feel the stay, before the stay," says Bai. With a professional team armed with GoPro cameras and editing equipment, eLong stitched together 360-degree interactive videos and product descriptions.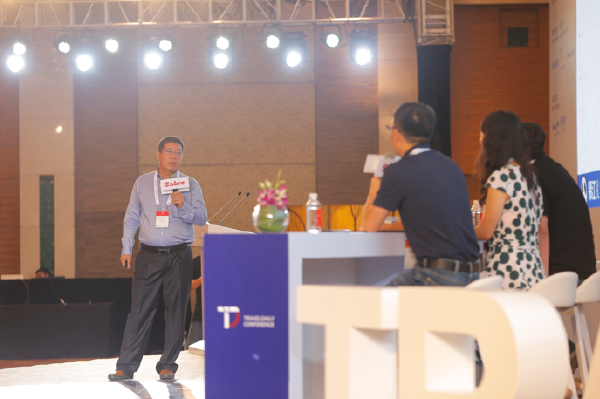 ELong's Zhiwei Bai is talking about hotel VR
"We wanted to do virtual reality videos because at the end of the day, eLong wants to provide services," says Bai. For hotels, they can be ranked higher by these offerings, and for customers, they can experience more than just reading written comments or looking at photos. Though these can only be experienced through high-speed internet connections.
Next up was Nicola Farronato with MySmark's big idea of collecting small data through their new touchpoint: the combi-action button. "It's a one click personalization system. When users are booking on your search, it can add the personal component," he says. "We've built software based on semantic tech and artificial intelligence tech, and are able to transform that small data into smart data."
With an up to 85% organic adoption rate, the beauty is in the simplicity of the idea. By pulling public information from open sites like TripAdvisor, and putting machine learning techniques in place, MySmark is able to personalize customers and hotels to provide insight into data already provided. Revenue comes in the form of a business model based on sharing the extra revenue it brings in, by measuring the number of visits, impressions, or activity in carts.
Third is Qyer, a trip planner for businesses. Qyer Product Developer, Amy Cui says with the increasing demand for customized travel, the main pain point in trip planning for businesses is efficiency and productivity. With their developed algorithm and machine learning techniques, the program is able to recommend routes, hotels, transportation, and more based on the user's requirements.
It is based on data patterns and trends from more than ten million itineraries from five million Chinese travelers and thousands of user feedback collected through the last three years. The program increases productivity with great ease of use, even allowing additional customization through logo placement and easy adjustment through the ubiquitous MS Word program. Businesses would use the program due to the rising demand for customization and increasing number of clients, where it is expensive and time-consuming and to come up with different itineraries for each traveler or travel group.
Fourth is HoloGo, an inventive product that mixes reality to form a travel solution by being able to view destinations, maps, and more through headgear. Target customers are those who hold or vendors for VIP launches in China, as a way to innovate their own businesses. By using virtual reality, they can give better visualization of products using the already built Microsoft Hololens and Holographic platform.
Almost like a look into the future, the product doesn't require users to stare into screens, but through a headset, and frees hands to control the program through hand gestures measured by strapping a phone on one's wrist. It is also voice assisted, though judge Michael Zhu admitted he became dizzy from the mixing of two realities, virtual and physical, and thought it was difficult to maneuver.
Fifth was Tour Leader Treasure, an App that streamlines and organizes a tour guide's responsibilities. Gone are paper itineraries, pens, directories, calling each tour member individually and collecting various receipts, all with the possibility for human error. The all-in-one App acts as a communication device between members and the tour guide, organizes and allocates rooms with booking functions and has a bookkeeping function to standardize receipts for finance departments: a pain in many tour guides' profession.
CTO, Sam Ma says they couldn't accurately give judges the number of users at the moment, but are looking forward to data coming in during China's National Week, a weeklong holiday and China's greatest time for travel. Judge, Joe Xu from Super 8 China claims it will prove the App's worthiness when others are using it.
Second to the last, search engine, Lulutrip set to differentiate themselves as the OTA specializing in local tours and activities. CEO Jon Jiang claims their intelligent engine built from three building blocks: structured data, content quality which is a mix of manual and automated, and algorithms the company has developed, will group results efficiently so as to not overwhelm consumers. That way, conversion rates are higher since they are not bogged down with too many choices.
The judges see the concept and back end as something that can be duplicated, though Jiang argued the best part was in the idea itself, not the technology. Using their Intelligent Grouping UI that comes up with clear comparisons for choices, Jiang claims decisions can be made in three minutes, a rather impressive conversion turnover.
Finally, the fast-talking Fan Zhang from Mioji presented their artificial intelligence engine to drive customized outbound travel on their automated trip planner. "There's no structure in data right now," says Zhang. "It's just fragmented pieces floating online." That means it is harder for travelers to find the data they need, being inefficient in their trip planning.
Zhang claims Mioji can aid in this, cutting time to 1/18th of what it normally takes to plan a trip. The judges however, were cautious at this figure as the program had not yet launched and had no current users. Zhang defended the calculation, claiming Mioji's logic and algorithm was "perfect", had a hundred engineers from top Chinese tech companies from BAT (Baidu, Alibaba and Tencent). The judges also thought it similar to the previous search-based engine, Lulutrip.
Though the audience didn't seem to think it was so, according to their voting results. Mioji won out the audience vote with 78 points, with itinerary-generating Qyer close behind with 66 points.
Meanwhile, after deliberations in a private room, the judges awarded 3rd place to Tour Leader Treasure, 2nd place to MySmark, and ultimately crowned Qyer as the winner of the China Travel Innovation Challenge.
"All us six judges, had a heated discussion about the winner," says Ctrip CSO, Jenny Wu. "We wanted to see what the pain points of the industry are, if they were addressed in a practical or scalable way."
"Every year TravelDaily encourages having this platform to showcase exploration in the travel environment. Every year we are invited we are always here," she said, stressing the competition's importance. "No matter your ranking in the vote, everyone deserves a round of applause," Wu told the competitors.
Qyer won by successfully addressing an industry pain point, ease of use and great monetizing potential, according to the judges. "This is really unexpected," said winner, Amy Cui with a big smile on her face.
What's next for Qyer? "With sincerity, we want to develop this product to see where we can make improvements on," said Cui.