ChinaTravelNews, Mark Guo – ChinaTravelNews learned that Alitrip has recently announced two new measures on domestic and international ticket sales, adding to the turbulence in air ticket distribution after China's dominant OTA Ctrip halted on June 17 agents' listings of domestic flights of four major Chinese carriers scheduled after September 1.
Alitip, the travel arm of China's e-commerce giant Alibaba, has stopped agents' listings of domestic flight services of HNA-affiliated carriers Hainan Airlines and Grand China from June 30, 2016, and has also suspended agents' listings of domestic flights operated by China Southern Airlines, Air China, HNA-subsidiary Tianjin Airlines, China Eastern Airlines and China Eastern-affiliated Shanghai Airlines starting from July 1, 2016.
The travel-aggregating platform also announced that it has stopped agents' listings of international flights of China Southern Airlines and Air China since July 1, 2016.
Hainan Airlines' domestic flight listings on Alitrip.com now include only offerings from the airlines' flagship store, Alitrip Special Offerings and offerings from Royal Travel, a subsidiary of B2B international flight booking platform Aslan Travel. ChinaTravelNews learned that the B2B booking platform was acquired by Alitrip in May 2014.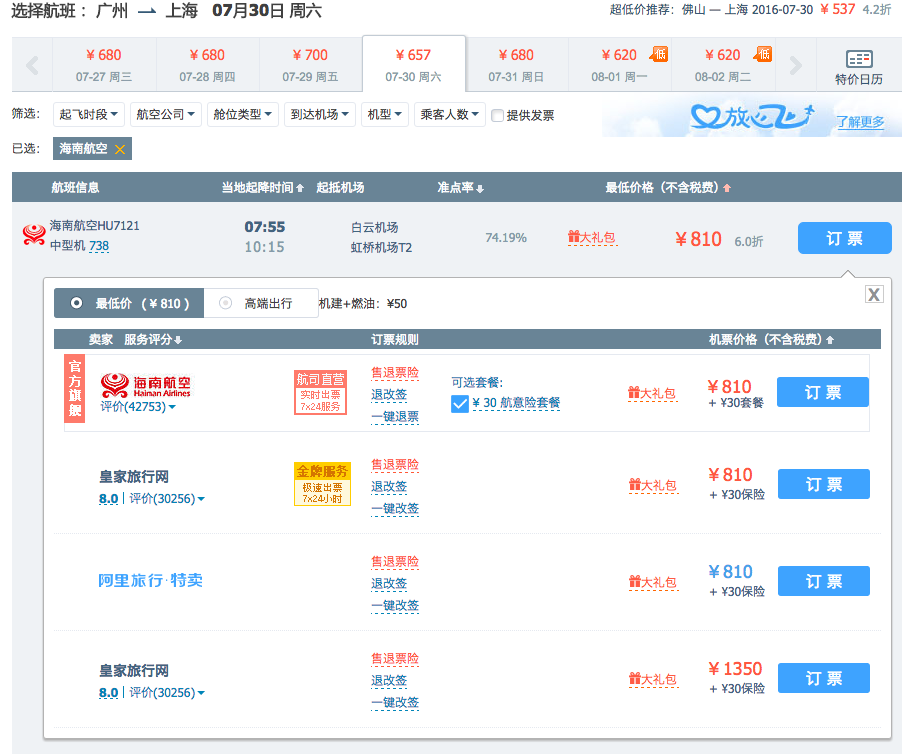 Screenshot of Alitrip's booking page for Hainan Airline's flights (cropped on June 30 night)
Informed sources revealed that Ctrip has also notified agents that from July 1, it will remove agents' listings of international flights operated by China Southern Airlines and Air China. The OTA giant told ChinaTravelNews in an exclusive interview that the company "will support all policies that promote healthy market development and service-quality improvement and will follow guidelines of civil aviation authorities and airline companies to offer travelers reliable service and airfare."
ChinaTravelNews also learned that there were intermittent page faults on Ctrip.com in the evening of June 30, indicating that the aggregator was having the system adjusted.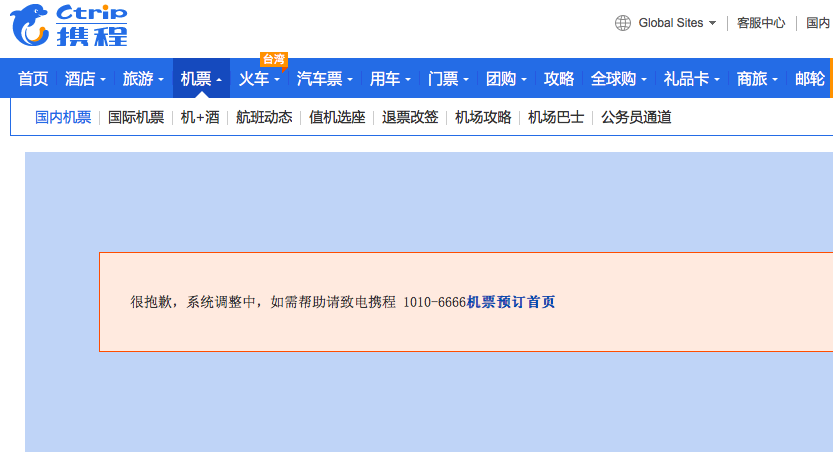 Screenshot of Ctrip.com's air ticket searching page (cropped on June 30 night)
China Southern Airlines announced on June 1 that starting from July 1, all ticketing agents are prohibited from using third-party C-end or B-end platforms to sell the carrier's standard products (single-trip, round-trip, open-jaw tickets or ticket packages with low-value standardized add-ons such as insurance or coupon). Packaged or portfolio contents with China Southern tickets to be sold on third-party C-end platforms must be approved by the carrier, and the third-party platforms must have authorized agreements with the carrier.
China Southern Airlines also bans agents from selling the carrier's tickets on B-end platforms unless the platform is owned by an agent.
Industry sources said that the four Chinese airline giants, namely Air China, China Eastern, China Southern and Hainan Airlines, have taken joint action in prohibiting ticketing agents from selling the carriers' standard products on third-party channels.
The impact of the new policy of the Chinese carriers extends beyond B2C platforms and ticketing agents, as China's GDS Travelsky's fully-controlled booking platform Yeexing.com also announced that it will stop its B2B ticketing service but will sustain refund service.
After the airline companies' new policy is carried out on July 1, will their portal websites and customer service centers be ready to cope with a huge influx of customer visits on the direct sales channels?
Air ticket distribution in China will embrace a new era after Chinese airline companies put an end to third-party ticketing agents. (Translated by Jerry)