Travelport announces its financial results for the first quarter ended March 31, 2016.
Key Points
* Net revenue up 6% to $609 million; operating income of $80 million and income per share (diluted) of $0.13
* Adjusted EBITDA up 12% and Adjusted Income per Share (diluted) up 71%
* Travel Commerce Platform revenue up 7%; RevPas up 12% to $6.43 with over half of the increase driven by Air
* Strong revenue growth from certain higher value International regions, including Europe (up 18%), Latin America and Canada (up 18%) and Asia Pacific (up 9%), with International air segment growth above International GDS air segment growth
* Air revenue up 3% to $444 million; ~160 airlines now live with our industry-leading merchandising solutions
* Beyond Air revenue up 23% to $135 million, now 23% of Travel Commerce Platform revenue (Q1 2015: 20%)
* Hospitality segment attachment up 5% to 43 per 100 airline tickets issued
* eNett net revenue up 76% to $33 million, driven by the carryover of new customer implementations, as well as transaction growth with existing customers
* Re-affirming full year guidance
Gordon Wilson, President and CEO of Travelport, commented:
"We continued to drive our leadership positions in airline merchandising, hospitality, B2B payments and mobile commerce, leading to particularly strong International revenue growth. These results show our progress in delivering continued top and bottom line growth and we re-affirm our full year guidance."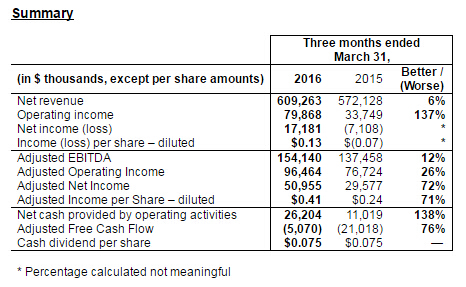 Net Revenue
Net revenue increased by $37 million, or 6%, to $609 million primarily due to growth in Travel Commerce Platform revenue of $37 million, or 7%. RevPas increased 12% to $6.43, driving a $63 million increase in Travel Commerce Platform revenue, which was offset by lower volumes.
Adjusted EBITDA
Adjusted EBITDA increased by $17 million, or 12%, to $154 million. The increase is primarily the result of growth in RevPas, partially offset by lower volumes and increased expenses as we continue to invest in our platform through acquisition and expansion of our go-to-market commercial capabilities.
Operating Income
Operating income increased by $46 million to $80 million.
Net Income
Net income increased by $24 million from a loss of $7 million in 2015 to an income of $17 million in 2016.
Business Update
Growth continued in Europe across both Air and Beyond Air, with revenue growth of 18% in Q1. Our momentum in Asia Pacific continued with revenue growth of 9% in Q1, with double-digit growth in air segments in India, Hong Kong and Indonesia as well as outperformance of the underlying GDS air market in South Korea.
Strong growth in Beyond Air
Revenue from Beyond Air grew by 23% to $135 million in Q1 with growth across hospitality, payment solutions and mobile commerce. Growth in Asia will be bolstered by OyoRooms, India's largest branded hotel network with over 5,500 properties that commenced distribution through Travelport during the period.
Read original article