Since its grassroots beginning in 1978, French historical theme park brand Puy du Fou has grown into an award-winning global entertainment brand. Part of its success lies in its focus on crafting immersive experiences that allow guests to actively participate in the storytelling.
As Puy du Fou expands internationally, it aims to leverage its historical storytelling expertise and emotional connection with audiences. The company brings its specialized knowledge and skills to create unique, innovative shows tailored to each new market.
In China, Puy du Fou will open its largest immersive experience to date, combining multiple show formats into a choose-your-own-adventure style show in Shanghai. While acknowledging the competitive entertainment landscape in China, Puy du Fou Asia's COO & CPO Joseph Corbo believes the company's differentiated offerings and strong local partnerships will drive continued growth.
At the recently concluded 2023 TravelDaily Conference, Mr. Corbo mentioned that operationally, Puy du Fou has honed its guest flow management over 45 years to minimize wait times. The company works closely with local suppliers in a partnership model, sourcing 70% of products locally in China.
With its sights on further expansion in China and throughout Asia, Puy du Fou aims to leverage the boundless local stories and massive audience opportunities to turn its growth vision into reality. Its immersive experiences may be the key ingredients in Puy du Fou's recipe for global entertainment success.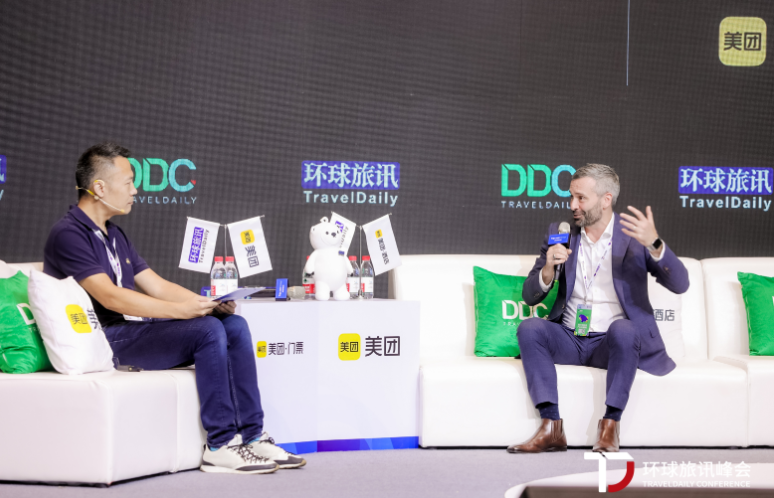 Left: Moderator, Lio Chen, Consultant, RationalAI
Right: Puy du Fou Asia's COO & CPO Joseph Corbo
Following are excerpts of the talk, edited for brevity:
Q: Can you tell us a little bit about the history of Puy du Fou?
Our story started in 1978 when our founder, Philippe de Villiers, created his first show with the help of 600 volunteers. So 45 years later, now, we have won multiple awards for that park in France. It's a recognition from the industry that what we do is world-class. But what makes us even more proud is the overall rating we get from our guests: over nine in ten people consider their journey memorable. We also have a revisiting rate of 75%. So it's from a small show 45 years ago to what we are today. This is our story.
Q: Besides France, where are you looking to grow internationally?
In 2021 despite the pandemic, we opened a park in Spain, so we have now a park in Spain. We also have a show in the UK, in the Netherlands. We are working on the design development of a show in the US. And of course, we have multiple projects in China and in other countries as well. Like Vietnam.
Q: Puy du Fou opened in 1978 with La Cinéscénie , which is regarded as the largest nighttime show in the world. When did Puy du Fou start to produce immersive show?
Sure. Since 10 years ago, we have started doing immersive shows. We opened our first immersive show 10 years ago in a real castle. And for us, the main difference between a traditional show and an immersive show is that in an immersive show, the guests get actively involved. You see, in a traditional setting, people will buy a ticket, enter the theater, sit down in their chairs, and watch the actions happening on stage. The guests are often labeled as spectators as they are watching something. Whereas in an immersive show, they are labeled as participants. So our goal is to bring people into the art of the actions by removing the stage barrier and letting them move freely inside the show area. And by doing so, it allows them to get in touch with everything, the set, the props, the actors, of course, and it also allows them to create their own stories. And hopefully, they will connect better emotionally with the story.
Q: What do consumers really want from an immersive show or live entertainment?
For us at Puy du Fou, history is our foundation. We draw inspiration for our stories from history, from civilizations around the world. In Spain, we speak about Spanish history. In France, French history, and in China it would be about Chinese history.
We have this vision that in every place where there is a story, the language resonates with all. It meets the needs that lie in every human of root identity and culture. And the driver of that language is emotion.
In fact, emotion is kind of our goal, our quest. We want to touch hearts and leave memorable impressions for our guests and the driver or the channel for that connection is emotion.
Q: About your upcoming immersive show in Shanghai, is there anything you can share with us?
For us to have the chance to establish our brand in Asia and Shanghai is big. For the first time in Puy du Fou's history, we will be opening a show in an urban context. Like the parks. All of our other shows are in the countryside environment. And this one would be the first one downtown in Xuhui, in a high-rise building of 45,000 square meters. And it's called SAGA City of Light
It's also the first time that we are combining multiple immersive show formats that we have created for the last 10 years into one big experience. So the show duration, just the show part, would be around an hour and a half. And our guests will have the opportunity to choose their own route inside the show. So we call it a show where you are the hero, where you are in charge of your own destiny.
The action is happening in Shanghai because it's a Shanghainese story. It's a story between this guy and this beautiful Shanghainese woman, as strong and fierce as any Shanghainese woman.
We want to follow trends. A bit like in the movie industry where TV series are becoming stronger than the movie itself, or in the digital world, where people can create their own, a digital twin and universe. We want to recreate the same feeling inside our immersive show where you can make decisions. So you're in charge of yourself and you have some freedom inside the story.
Q: The Chinese market is huge but incredibly competitive. For immersive shows, just within Shanghai, you have notable players like SongCheng and Sleep No More. For theme parks, both Disneyland and Universal Studio are doing well. Local players like Unique Henan have also earned lots of respect. What's your view of China and its competitive landscape?
We acknowledge that the market is highly competitive. And we are modest about it. But we strongly believe that our unique selling point in historical storytelling, which allows us to connect emotionally better with our guests, combined with the inclusiveness of the China market, will ensure our success.
With regard to Disney and Universal, I strongly admire these two companies. But what we do is totally different. We don't import IPs into China. We don't import French stories into China. We are importing our savoir faire (French, meaning specialized knowledge and skill set). And savoir faire is a bit like when you're cooking and you have a set of ingredients. Anyone can cook and anyone can do a recipe. But a chef, a Michelin star chef might create a masterpiece out of it. So this is what I mean by savoir faire. So this is what we are bringing into the market.
And Sleep No More and Song Cheng. Again, I have a lot of respect for that product. If we need to be compared to something, it's probably the closest product where we can have some comparison. But, Puy du Fou's strength is our innovation capacity. Every show is unique. And I would say that the success of the group as a brand, not just in China, but I mean Puy du Fou as a brand strongly relies on innovation. And I think one of the best representations of that is we have younger visitors coming. We have more international visitors coming and new visitor segments that are coming again and again.
And I think it's important to mention that we define ourselves as show parks, not theme parks, because there's no ride in our parks, but just shows, villages, attractions, hotels, F&B and stuff like that.
Q: In your France park, there's no line. Visitors don't have to wait for any rights because there's no right. From an operational view, how do you make that work?
Well, it's 45 years of studying the guest flow. But again it's also the size of the park as we have a lot more in size. We have in France 25 or 26 showing attractions. There's a lot of these but there's also a lot of villages and landscapes. So people are kind of roaming around. It's not like when we go to a certain theme park where you will wait an hour for a two-minute ride. It's very different. So people are much more spread out.
Q: What is your vision for your growth story in China and Asia?
We feel very privileged to enter China, our first country in Asia. It's a massive opportunity for two reasons. First, the stories of China are almost handless. There are a lot of things that we can create our shows about. And of course, the market size.
Regarding our dream in China, I would say the dream is already becoming a kind of reality. We will be opening the biggest immersive show in the world in Shanghai, which is an amazing city. We have multiple projects ongoing. We are doing design development of a park in Dali. We have an MoU signed for a park in Hangzhou. We also have more projects upcoming, and this is just the China market at the start. Outside the country, we are in discussion right now with many other cities and countries.
Q: Can you tell us a little bit about the supply chain upstream and downstream?
We try to do locally as much as possible, of course, because we know, we are telling the history of the country. About 70% of our China products are made locally, though we have a couple of special equipment that have been coming from France. We see our suppliers as partners. And I think this is very important. It's not a big market. It's not like construction where you have endless possibilities of suppliers. In the show business, for each product or equipment, there might be two, three, or four suppliers. So you need to keep good relationships with your suppliers and you need to treat them with respect and to develop this partnership approach. This is how we do it and how it works.