ChinaTravelNews, Ritesh Gupta – Multi-brand Chinese hotel company H World Group has referred to capitalizing on opportunities in lower-tier cities and the development of its business in the upper-midscale segment as a couple of reasons behind its RevPAR recovery in the second quarter (Q2) of this year.
Speaking during the company's Q2 earnings call, Jin Hui, CEO of H World, mentioned that out of 8622 hotels in operation, 39% are located in the lower-tier cities (tier-3, tier-4 and below category cities), up by 2% year-on-year.
In comparison, hotels in tier-2 cities have gone down from 43% to 42% in a span of 12 months, whereas in tier-1 cities, hotel count has reduced by 1% to 19%. The total number of hotels in operation has risen by 571 from 8051 at the end of Q2 of last year.
"Out of the hotels in pipeline (slightly over 2800 properties), 55% is located in lower-tier cities, and our city coverage now increased to 1196," said Hui.
Significance of lower-tier cities
The team underlined that it is the lower-tier cities' local residents' rising spending power that is a major reason behind H World's focus.
As per the information available, around 70% of China's population resides in third-tier and lower-tier cities. Accenture, in one of its reports released last year, stated that the performance of companies in these locations would be key to managing and delivering sustainable growth. BCG also released an important indicator. It estimates that among the 80 million new middle-class and affluent consumers or MACs, over 70% of this group will be from tier-3 cities and below, making lower-tier cities an increasingly important part of the market.
Companies like H World have reason to remain bullish as studies like one by Accenture also indicated that there is a massive opportunity for domestic brands "that are able to give consumers in lower-tier cities what they want" and this includes value for money. Also, consumers in these parts of China depend more on online channels. Social media and live-stream platforms are an integral part of their consumption journeys.
At the same time, it must be added that new properties introduced in lower-tier cities tend to take time in terms of occupancy rate and other key metrics. Generally, it takes around a couple of quarters to ramp up or for a newly set up hotel to start delivering. During this gestation period, the revenue generation isn't as good as those hotels that have been around for a while, and revenues initially may be insufficient to cover their operating costs. Also, specialists point out that any company foraying into these locations must also acknowledge the local consumption patterns and their likings, rather than just imitating the model or offerings that they worked out for first- and second-tier cities.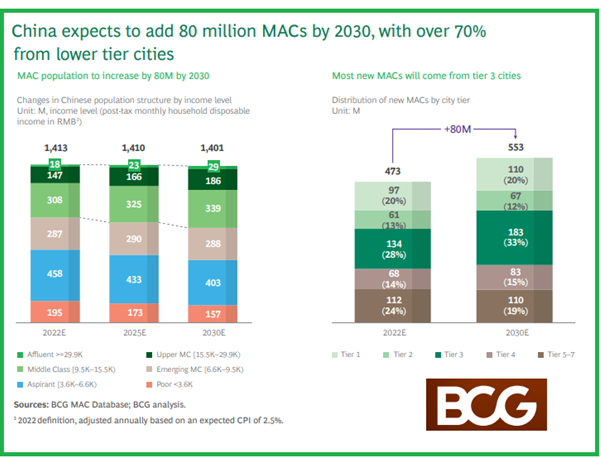 Upper-midscale segment
H World's number of upper-midscale hotels in operation has grown by 18% to 562 at the end of Q2 of this year, as compared to 478 hotels in Q2 of 2022. Also, the expansion of the portfolio also indicates a strong focus in this segment, as currently the hotel company has 317 hotels in pipeline, rising from 245 or by 29% where it was at the end of Q2 last year.
Currently, the group has nine upper-midscale brands, led by Crystal Orange Hotel (167 hotels), Mercure Hotel (148 hotels) and Manxin Hotel (121 properties) among others.
Sharing information about the brand strategy, Hui added, "H World Group will continue to focus on the economy and the mid-scale hotels to serve the mass market."
As a result of two key factors (lower-tier cities and the upper-midscale segment) along with the decision to improve the product and organizational structuring, the company witnessed its
Legacy-Huazhu blended RevPAR recovering to 121% of Q2 of 2019. Blended RevPAR was RMB250 in Q2 of this year, as compared with RMB141 in the second quarter of 2022 and RMB206 in the second quarter of 2019. The same was RMB 210 in the previous quarter.
"H World's blended RevPAR has reached to 127% of April, 115% of May, and 123% of June in 2019," said Hui.
"…consumer's travel willingness increased after the re-opening (relaxation of the restrictions in place owing to the pandemic). Therefore in Q2 we have seen explosive and concentrated travels around major exhibitions and holidays," added Hui, who added that the team will continue to expand its hotels portfolio with focus on the lean development strategy.
The occupancy rate for all Legacy-DH hotels in operation was 67.1% in Q2 of 2023, compared with 59.8% in Q2 of last year and 53.5% in Q1 of this year.
Another major initiative was related to H Rewards, H World's loyalty initiative. The group chose to redesign the home page of its H Rewards App, as the plan going forward is to serve not only business travel-related itineraries but also the attempt to capture what the hotel company described as multi-purpose travel. For the same, H World has come up with a leisure travel channel and also strengthened its content strategy, with new Content Channel 2.0. The company had more than 199 million members as a part of its loyalty initiative at the end of last year.
"…we have added more location-related elements. We have increased our member offerings, such as location channel, content channel 2.0, and member-exclusive services," said Hui.