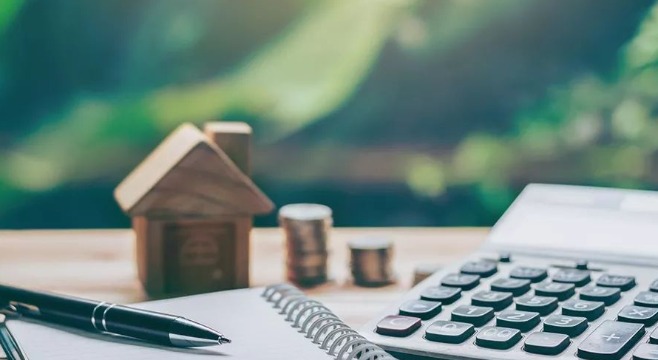 Tongcheng Travel Holdings Limited ("the Company"), a market leader in China's online travel industry, announced on December 29 that the Group (the Company and its subsidiaries), in the past 12 months and as at the date of this announcement, entered into the Transactions to invest in the Target Companies with a total capital contribution of about RMB 1 billion (USD 143.7 billion), as it has been exploring potential acquisition, investment, joint venture and partnership opportunities.
Investor, Subscriber and Transferee are as follow:
"Investor A" Tongcheng Network Technology Co., Ltd. (a consolidated affiliated entity of the Company)
"Subscriber B" Suzhou Longyue Tiancheng Venture Capital Group Co., Ltd. (an indirectly wholly-owned subsidiary of the Company)
"Transferee" eLong Net Information Technology (Beijing) Co., Ltd.
"Transferor" Tongcheng International Travel Agency Co., Ltd.
Target Companies include:
"Target Company A" Guangzhou Lvjin Technology Co., Ltd.
"Target Company B" Hunan Airline Company Limited
"Target Company C" Beijing Tongcheng Guoqing International Travel Agency Co., Ltd.
"Target Company D" Guangdong Tongcheng Chuangyou International Travel Agency Co., Ltd.
"Target Company E" Tongcheng International Travel Service Co., Ltd.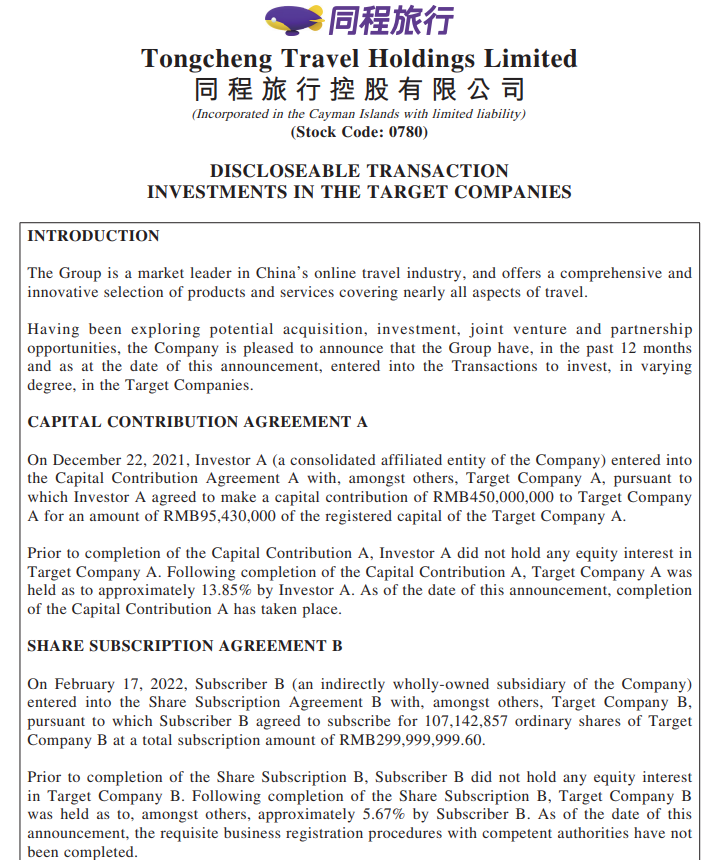 Following completion, Target Company A was held as to approximately 13.85% by Investor A, and Target Company B was held as to, amongst others, approximately 5.67% by Subscriber B.
Immediately upon completion of the equity transfers, Target Companies C, D and E became directly wholly-owned subsidiaries of the Transferee, and therefore became indirectly wholly-owned subsidiaries of the Company, with the financial results of the three Target Companies consolidated into the Group's financial statements.
Target Company A is principally engaged in information technology consulting service, software development, computer technology development and technical services and software retail; whereas Target Company B is principally engaged in domestic air passenger and cargo transportation business, air transport supporting services, and civil aviation domestic passenger and cargo sales agency business.
On the other hand, Target Company C, D and E are principally engaged in the provision of services directly related to tourism business, covering the full supply chain ranging from downstream services such as hotel management, catering management, to upstream services such as ticket agency service, conference and exhibition services.
Accordingly, through the Transactions, the Group is able to tap into the full ecosystem of tourism related business by accessing the upstream and downstream supply chain businesses which the Target Companies operate. By such, the Group is able to benefit and gain leverage from the expertise and technological development of the Target Companies, achieve greater economies of scale, solidify its market leading first-mover advantage and further strengthen its market position of comprehensive travel product and service offerings.