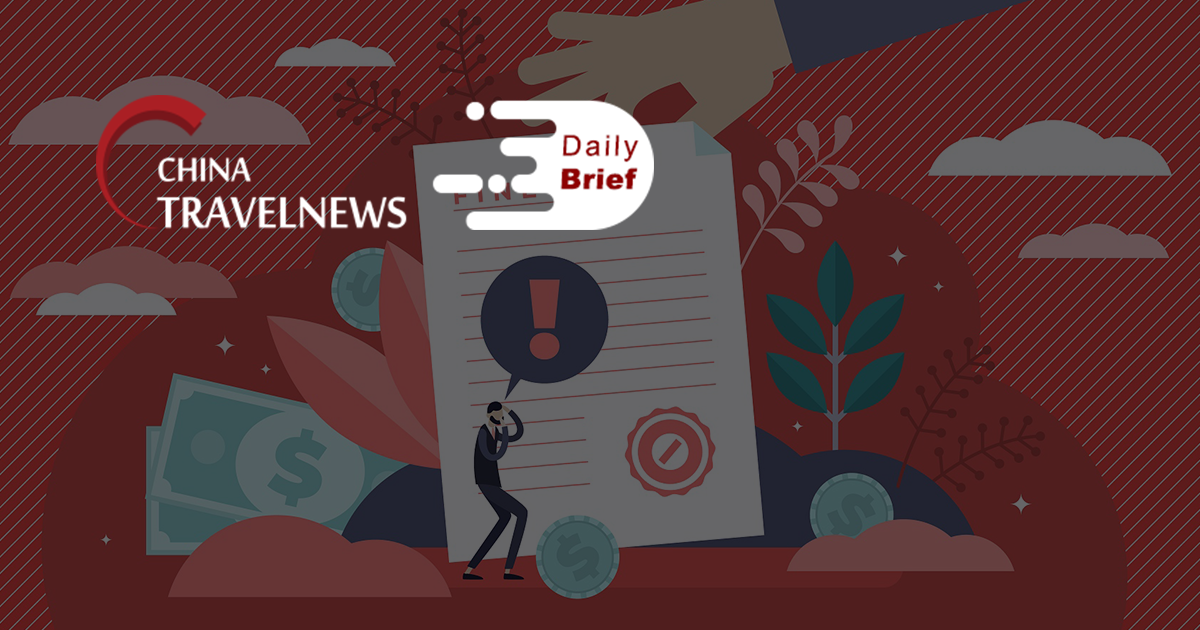 China fines Meituan $530 million for anti-monopoly violation
>> China has slapped Meituan with RMB 3.44 billion (USD 533.6 million) fine for forcing merchants to sell exclusively on its platform, the latest step by Beijing in a year-long regulatory crackdown to rein in the country's powerful tech giants.
Trip.com accused of creating monopoly in online bookings
>> A travel booking platform has accused Trip.com of exerting monopolistic control of web-based travel services. In a WeChat post published on September 29, hotel reservation portal Zhoumo Jiudian (meaning "Weekend Hotel") said that it has received notifications from multiple hotels that they will remove their listings from the platform. The hotels specifically cited possible penalties levied by Trip.com as their motivation to abandon Zhoumo Jiudian. Trip.com issued a statement to say the situation was a "misunderstanding".
China domestic travel recovers to 70% of 2019 levels during National Day holiday
>> China's Ministry of Transport reported domestic travel reached 515 million during the National Day holiday between Oct 1-7, a decline of 1.5% from the comparable period in 2020 and down 29.9% from the comparable period in 2019. Domestic tourism revenue declined 4.7% year-on-year and down 40.1% compared to 2019 to RMB 389 billion (USD 60.3 billion).
Bain seeks $1 billion for Japanese resorts operator, approaches Chinese suitors
>> Bain Capital has revived a plan to sell Ooedo Onsen Monogatari, an operator of 38 hot spring inns and resorts across Japan, according to a Bloomberg report. Boston-based Bain bought the Japanese company in 2015 for USD 449 million, and is now seeking to raise at least USD 1 billion from the sale. Bain has approached a few suitors in China.
Shanghai's Haichang Ocean Park's $279 million extension gets underway
>> Shanghai Haichang Ocean Park has started an RMB 1.8 billion (USD 278.4 million) extension project that aims to boost visitor numbers by at least 50%. The 140,000-square-meter extension will increase the size of the popular theme park and is expected to bring in as many as eight million visitors a year.
China protest sets stage for UN plane emissions debate
>> Major plane and engine makers joined global airlines earlier this week to commit to the goal of net zero emissions by 2050. But state-controlled Chinese airlines objected at an IATA meeting, saying developing countries should not be held to the same standards as developed nations. More than 130 countries have set or are considering the target, but China instead aims to be "carbon neutral" by 2060.
Hong Kong's new rail link to Shenzhen proposed
>> Hong Kong's Chief Executive Carrie Lam proposed building a new cross-border rail to Shenzhen in her policy address and extending the Northern Link that's under planning to cover more areas in the New Territories. She said the new rail line would be convenient for people living in Hung Shui Kiu and working in Qianhai, cutting their traveling time by around half an hour.
Zhuhai extends quarantine measures as Macau nears completion of third mass testing blitz
>> Authorities in Zhuhai said Wednesday that the city will retain mandatory hotel quarantine measures for anyone entering from Macau. The border between Macau and Zhuhai was effectively shut on 26 September after security guards at a quarantine hotel tested positive to COVID-19. The imposition of quarantine measures over the past two weeks has been a huge blow for Macau's gaming and tourism operators.