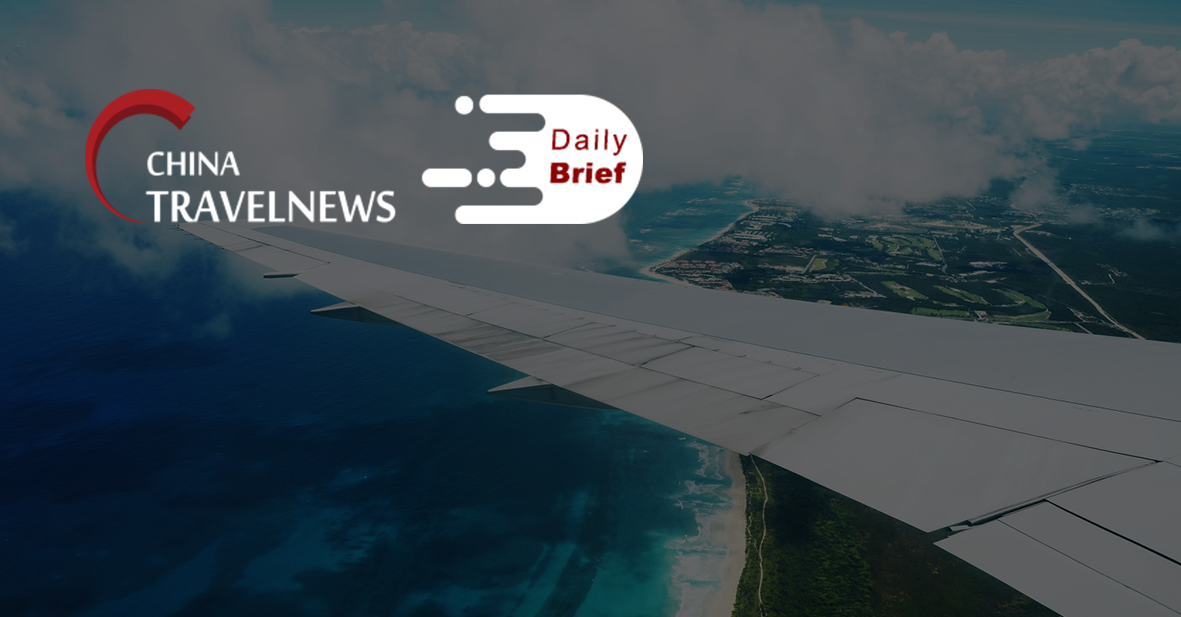 New Delhi asks Beijing to allow Indian nationals to travel to China
>> India on Thursday asked China to allow Indian citizens to travel to that country, especially those who work or study there, saying essential two-way visits should be facilitated keeping in view the fact that Chinese nationals are able to come to India. Meanwhile the southern Chinese province of Guangdong is still fighting to control a flare up of coronavirus cases due to the Delta variant first detected in India.
Robotics startup ExcelLand receives hundreds of millions of yuan in latest funding round
>> Shenzhen ExcelLand Technology, a Chinese service robot provider, announced that it has secured hundreds of millions of yuan in its latest round of financing which was closed in March 2021. The round was led by YF Capital, an investment firm co-founded by Alibaba founder Jack Ma, and Shanghai Rajax Information Technology, the registered entity of Alibaba's food delivery unit Ele.me.
US air travel starts to catch up with China
>> A month ago it did not look like the US was going to catch up with China. But the latest data shows that by the end of May, the US was only 952,116 behind China for the month. That difference is about 50% of what the US is now seeing in daily air travel. It is an impressive growth over April. It could be that the US is seeing better results from its vaccination campaign and travel consumers are exercising their pent-up demand for travel.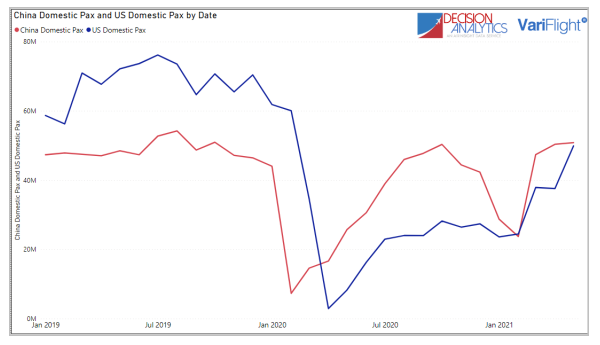 Passenger throughput in Guangzhou and Shenzhen's airports to drop in June
>> The passenger throughput of airports in Guangzhou and Shenzhen, South China's Guangdong Province is expected to decline in June, as the province fights against the spread of COVID-19 cases. The passenger throughput of Guangzhou Baiyun International Airport from May 31 to June 6 was 269,000, a decrease of 70.2% from the previous month, with passenger throughput at Shenzhen Baoan International Airport also dropping 25.84% month-on-month, according to data from industry information provider FlyMaster.
China airlines may require passengers to be vaccinated to fly
>> Chinese authorities and airlines are exploring ways to include vaccination as a requirement for domestic travel, as seen by some airlines that issued notices requiring passengers traveling from epidemic-hit Guangdong Province to Beijing to accept at least one dose before getting aboard. The requirement was later withdrawn. Some experts have said the requirement for vaccination of passengers will become a trend in the long run and the withdrawal could be due to "technical problems."
Third wave of COVID-19 in Thailand stymies plan to lure Chinese tourists
>> There is little hope of attracting Chinese travelers to Thailand under the sandbox scheme during Golden Week in October as long as the country continues to report more than 2,000 new infections per day, says the Association of Thai Travel Agents (Atta). Even Phuket's quarantine-free tourism scheme for inoculated travellers is unlikely to lure Chinese to book vacations on the island if they have to spend a half-month in isolation at home.
Indonesia finalizes safe travel bubble plan with 5 countries
>> Indonesia has long planned to establish a travel bubble with a number of countries in an attempt to recover the pandemic-affected tourism sector. The initial plan is to prepare Batam, Bintan in the Riau Islands, and Bali for the travel bubble. The Tourism ministry is also finalizing a plan to add the countries in the travel bubble which could include Middle Eastern countries UAE and Qatar, China, Singapore, and the Netherlands.
Singapore, Hong Kong to review air travel bubble in early July
>> Singapore and Hong Kong will review their air travel bubble arrangement in early July, before deciding on target launch dates. The launch of the Singapore-Hong Kong air travel bubble, originally planned for May 26, was deferred by mutual agreement due to the worsening Covid-19 situation in Singapore.
Sale of HNA Palisades center unaffected by Chinese giant's bankruptcy
>> HNA Group's bankruptcy raises concerns as the Town of Orangetown prepares to choose a developer to acquire the HNA Training Center in Palisades and redevelop the 106-acre property into a tax ratable and community asset. However, Special Counsel Mike Zarin, hired by the Town of Orangetown to shepherd the project, says "as far as we're aware, the asset is not encumbered by the Chinese bankruptcy."