Bargain-hunting travelers have long fattened the profits of duty-free shops, but Covid-19 travel restrictions have hammered those perfume-suffused emporiums. Except in one place: China's Hainan Island, where even domestic visitors can shop duty free.
Last year the government eased restrictions on such purchases as more Chinese tourists unable to journey abroad flocked to the island, providing a lifeline for the global industry. Duty-free sales in China "have been extremely solid in the last 12 months," says Jean-Marc Pontroué, chief executive officer of high-end watchmaker Panerai, which is adding two duty-free locations on Hainan this year. "We remain optimistic, because the Chinese can hardly get out of China."
China is now extending parts of that Hainan policy to the mainland, with duty-free shops in central Shanghai, Beijing, and about a dozen other cities. Those operations look pretty much like other upscale retail outlets—pricey skin creams, displays of hand-made wristwatches, sumptuous leather handbags—except that shoppers who can prove they've been overseas in recent months don't have to pay levies as high as 30%.
The goal is to get wealthy Chinese to shift some spending back to China rather than on trips abroad, and it's working. China's share of the global luxury market—the goods typically sold at duty free—almost doubled last year to 20%, according to consultants Bain & Co. "Even when international travel reopens, there will be an alternative for mainlanders," says Bruno Lannes, a Bain senior partner in Shanghai.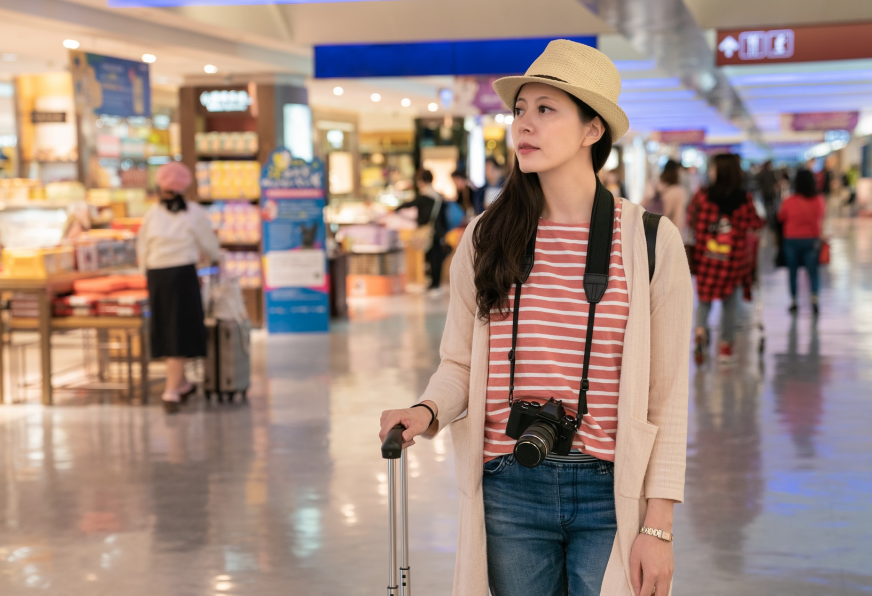 Until last year, state-owned China Tourism Group Duty Free Corp. had a monopoly on shops in Hainan. The company, which controls 90% of such sales in China, on Jan. 29 released preliminary results showing 2020 net income grew 32%, to 6.1 billion yuan, on revenue of 53 billion yuan.
That strength contrasts sharply with duty-free operators elsewhere. South Korea's Hotel Shilla Co. lost 283 billion won ($253 million) last year on revenue of 3.2 trillion won. And Switzerland's Dufry AG likely lost more than 1.5 billion Swiss francs ($1.7 billion), according to analyst estimates compiled by Bloomberg.
CTG faces growing competition from domestic and foreign rivals, on both Hainan and the mainland. Department-store operator Wangfujing Group is building a duty-free shop at the Universal Beijing Resort theme park scheduled to open in May, and in January it signed a deal for Hainan stores. DFS Group, a duty-free operator owned by luxury house LVMH, is working on a 30,000-square-meter (320,000-square-foot) outlet at a golf resort in Haikou, Hainan's provincial capital. Paris-based Lagardère Travel Retail on Jan. 4 said it had formed a partnership for a duty-free shop in Sanya, a city on the south coast with scores of luxury hotels. The next day, Dufry announced a partnership for a shop in downtown Haikou. China "provides immense potential in terms of new customers for many years to come," says Pedro Castro, Dufry's chief operating officer for Asia.
A test of the industry's strength will come during the weeklong Chinese New Year holiday in February. Typically a busy time for duty-free stores worldwide thanks to big-spending Chinese tourists, the start of the Year of the Ox is likely to be more restrained as the government discourages even domestic travel following coronavirus outbreaks in several cities.
An even bigger challenge will come once the pandemic is brought under control and Chinese tourists can resume jetting around the world. While there's little doubt that will take a bite out of sales in China, duty-free store operators are betting that the country, and especially Hainan, will still offer plenty of opportunities.
Read original article