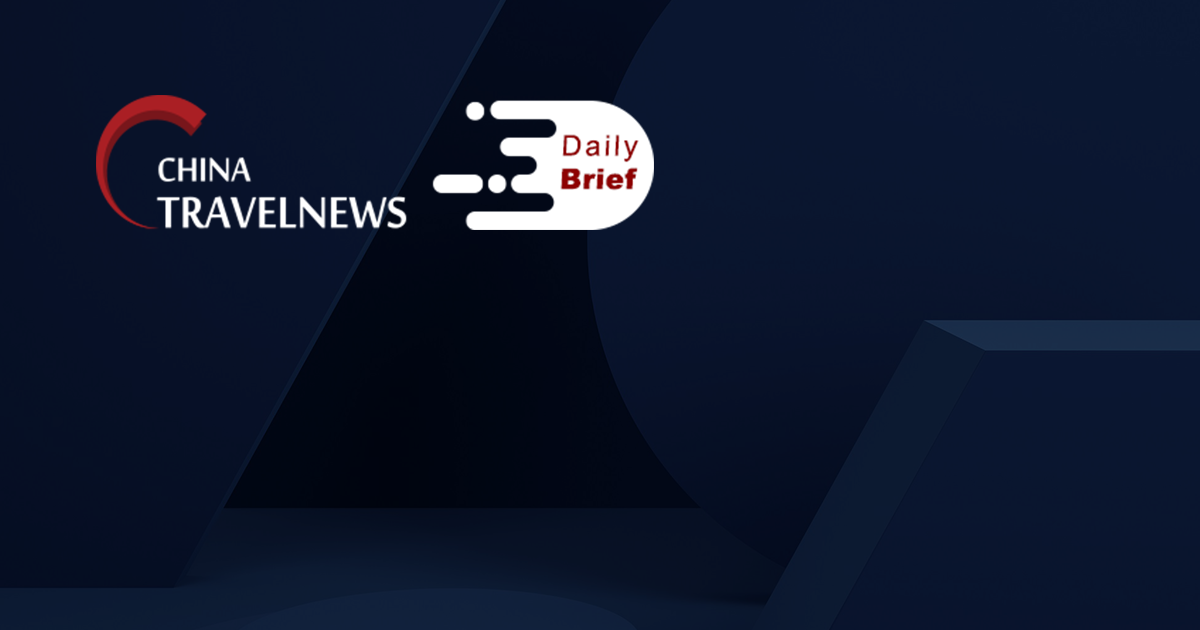 Carnival joint venture launches new team for cruise business in China
>> CSSC Carnival Cruise Shipping (Carnival China) is launching a brand-new operation team to prepare for the recovery of cruise business in China. Inaugurated in 2018, Carnival China is a joint venture of China State Shipbuilding Corporation (CSSC) and Carnival Corporation.
Firms looking to cash in on travel bug of senior citizens
>> More aged travelers in China have started to book flights and hotels by themselves online, and an increasing number are willing to independently customize their trips. Unlike in the past, when many seniors were interested only in joining large-scale travel groups, more are now opting to take tailored trips, join up with small private groups and participate in themed tours, said Trip.com Group, China's largest online travel agency. So far this year, among those booking private small group tours on Trip.com, elderly travelers make up 25%, which is 15 percentage points higher than that of last year.
Tour operator group has 180 days to pay and acquire OTA stake
>> Chinese e-commerce giant JD.com, a major investor in leisure online travel company Tuniu, has reached an agreement on Nov 20 to sell its 17.7% stake in Tuniu to tour operator firm Caissa SEGA Tourism for RMB 458 million (USD 69.8 million). Caissa SEGA's affiliated company Hopeful Tourism has 180 days to complete the payment and close the deal.
China's hotel construction pipeline remains robust at Q3 end
>> Analysts at Lodging Econometrics report that China's total hotel construction pipeline remains robust at 3,409 projects with 634,119 rooms, up 1% by projects and rooms year-over-year. These project and room counts are, however, down slightly over peak Q2 totals, which were the highest seen in China during this lodging real estate development cycle.
Air China showcases fare and product innovations
>> In October, Air China carried 50 million passengers overall, or 88% of last year's traffic. Like its competitors, Air China has seen a surge in domestic demand and now operates 1,287 flights daily, a 22.5% increase year-on-year. At its Travel Mart exhibition booth, the Star Alliance member showcased some of its latest cabin cleaning procedures and inflight menu offerings. Following a campaign launched this year, Air China's new meal boxes encourage passengers to clear their plates to reduce food waste,
​Greater Bay Airlines approaches lessors for initial aircraft
>> Hong Kong start-up Greater Bay Airlines has approached leasing companies to acquire its first aircraft with which it hopes to begin operations as early as next summer, Cirium has learned. The airline, which according to Cirium data is backed by Donghai Airlines owner Bill Wong Cho-bau (known as Huang Chubiao in mainland China), is in talks with ICBC Leasing to lease three Boeing 737-800s, according to multiple sources in Hong Kong.
Guangzhou's domestic flights up by 18% as routes total 123
>> Guangzhou's domestic flights are up by 18% year-on-year to 4,335 each way, based on the week commencing November 14. By capacity, Guangzhou has recovered, but only domestically. The southern Chinese city has 123 domestic destinations in this week. Only Shanghai Pudong (128) and Chengdu (139) have more.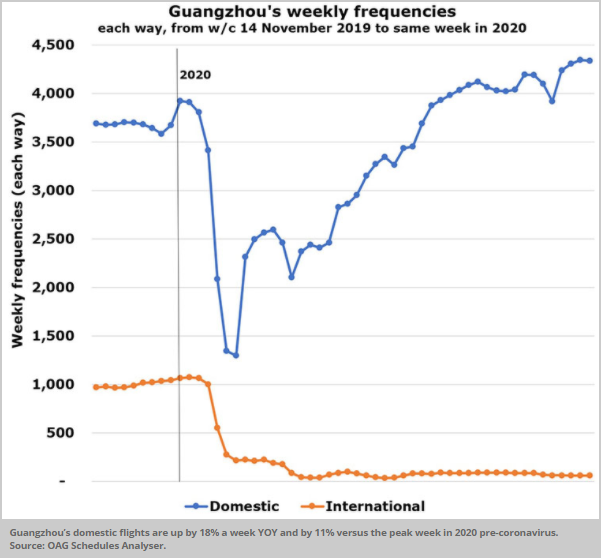 Hong Kong, world's most visited city, faces tourism bust
>> Hundreds of parked tour buses are gathering dust at a northern Hong Kong container port, having been off the road for 10 months since authorities banned non-resident arrivals into the city due to COVID-19. The area has turned into a "bus cemetery", said Freddy Yip, president of Hong Kong's Travel Agent Owners Association. He said the former British colony - which was the world's leading tourist city destination last year - faces a similar fate at the end of November.
Hong Kong looks to mainland China for the next air travel bubble
>> Hong Kong is hopeful its next "air travel bubble" could be with mainland China, the executive director of the city's tourism board has said. Dane Cheng told CNBC such plans would hinge on the success of the forthcoming Hong Kong-Singapore travel corridor. But he noted that adding a similar arrangement for quarantine-free travel around China's Greater Bay Area would be the logical next step for business and leisure travelers
Universal Beijing announces first group of travel trade partners
>> Universal Beijing Resort announced its first group of 21 official travel trade partners while debuting at the China International Travel Mart 2020. Universal Beijing will offer booking services, including theme park tickets, hotel rooms and seasonal events, for guests from China.
Central government yet to consider resumption of group travel to Macau
>> Macau has been working with Beijing in petitioning for the cross-border visits of mainland tour groups to Macau. However, owing to the pandemic prevention and control measures required by national mechanisms, the central government is not considering resuming cross-border group travel at this point. As of mid-November, Macau is recording a daily average of 20,600 visitors, while the hotel occupancy rate is approaching 45%.