Accor, a global leader in travel and lifestyle rooted in the romance of France, understands the joy and excitement of love. Hot on the heels of ALL – Accor Live Limitless' launch during Fliggy Super Brand Day in April this year, Accor has once again united with Fliggy for the return of Super Brand Day from August 11 through 28, 2020. Partnering with exclusive rose and jewellery brand ROSEONLY, the campaign A World of ALL Romantic Wonders honours Chinese Valentine's Day in August. By leveraging the ecosystem of TMall and Fliggy, the campaign will touch upon all the ways that romantic experiences and loving memories enhanced through creative offerings at the Super Brand Day.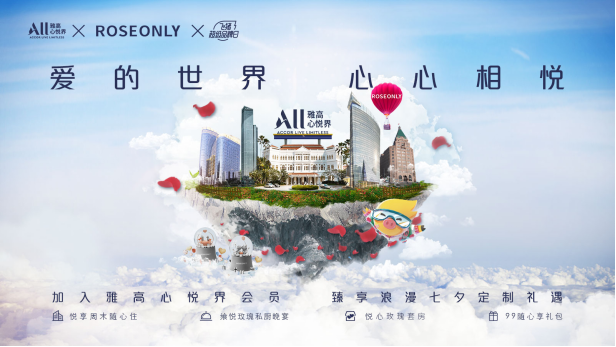 Accor is the only hospitality partner to be selected twice in the same year on Fliggy's Super Brand Day. Gary Rosen, Chairman and Chief Operating Officer, Accor Greater China said: "Since Accor China's domestic recovery campaign began, we have partnered with Alibaba to create opportunities while driving the leisure market's pace with innovative offerings. With our new lifestyle loyalty programme ALL – Accor Live Limitless at the centre of our business recovery strategy, we aim to synergise with our partners to pamper our members through key passion points in life. While April's Super Brand Day underscored the launch of ALL and created clear positioning for the programme, this time we take it a step further. This crossover with ROSEONLY enhances our unique positioning as a lifestyle enabler to bring curated experiences and cherished memories for guests and ALL members."
The campaign during Accor Fliggy Super Brand Day will include a fan engagement programme featuring exclusive ROSEONLY prizes and cross-promotions at Fliggy and TMall. The key romantic experiential offers in the campaign include the following:
-ALL Romantic Suite Experience: escape to a romantic haven in a dreamy suite guestroom with special décor including rose petals and bubble bath while enjoying fascinating views. With complimentary breakfast and afternoon tea for two and priced at CNY999 or CNY1,314, the offer is available at 80 inviting Accor hotel destinations across China including Raffles Hainan, Fairmont Beijing, Sofitel in Shanghai, Hangzhou, Sanya and Pullman in Lijiang, Zhouzhuang, just to name a few. Available for stay from now until December 31, 2020, the package includes a voucher from ROSEONLY valued at CNY400.
-ALL Dining Romance: reaffirm loving commitments with an intimate dinner menu for two including curated wine and dessert against a romantic backdrop. Priced at CNY520, CNY1,314 or CNY3,344, the package is available at a selection of signature Accor restaurants across Greater China. A few of the choices include Hokkaido Dreaming romance menu at Raffles Shenzhen's KOKONI, with chef's pick of Hokkaido themed kaiseki set featuring premium steak, sushi and sashimi alongside sweeping views overlooking Shenzhen Bay; or a Romantic Dinner for two at Fairmont Peace Hotel's Cathay Room, with a love themed seven course western set menu surrounded by the twinkling lights of The Bund and skyscrapers across Huangpu River, which are picturesque spots for anniversary celebrations, marriage proposals or an unforgettable evening.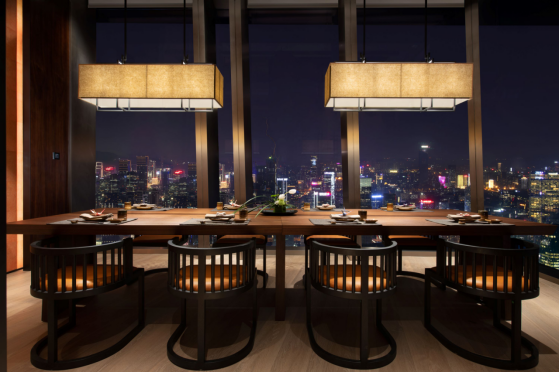 -ALL Weekend Intimate Retreat: from August 29 through December 26, 2020, guests can stay on Saturday evenings in a selection of over 80 Accor hotels across Greater China for CNY3,999, CNY5,999 or CNY9,999, depending on the destination, brand and package.
-ALL Lucky Gifts: for those who want the option of choosing ALL experiences from a range of wonderful value for money hotel services. Priced at CNY99, it is a universal voucher that can be used in different hotels with different offers, including buffet lunch or dinner, afternoon tea, parking redemption, room upgrade, club access or other memorable experiences.
Huang Yuzhou, Vice President of Fliggy, said: "With Alibaba's eco-system, Fliggy supports tourism brands continue to think outside the box. It is very important for hospitality to think of different ways to animate business opportunities. In the Super Brand Day, Accor has planned a diversity of trendy products through resources of Fliggy. The cross-over with ROSEONLY will create a new fashion of "Romance Economy" that enhances fascinating experiences."
Pu Yi, President of ROSEONLY, said: "ROSEONLY is a top domestic love token brand, featuring high-end rose gifts and curated services. On this Chinese Valentine's Day, ROSEONLY is delighted to form a partnership with Accor Group and Fliggy as each of the three companies represent strong leadership in the respective fields. The partnership is a natural alignment that brings together quality experiences, creative and exploratory spirit for customers who have purchasing power and are passionate for life."