China's sharing accommodation suffers 72.1% decline in transaction volume
>> China's home-sharing market has seen a 36.4% year-on-year rise in transaction volume to RMB 22.5 billion (USD 3.21 billion) last year, according to a report of the State Information Center. Major accommodation sharing platforms had raised about RMB 150 million (USD 21.4 million) in 2019, down by 95.5% year-on-year. From January to May 2020, the transaction volume decreased 72.1% year on year due to the Covid-19 outbreak.
Hotel giant Huazhu announces changes in the board room
>> Chinese hotel chain Huazhu announced the changes in the company's board room: senior tax expert Ms. Lei Cao, and advocate and solicitor Mr. Theng Fong Hee were newly appointed as directors of Huazhu's board of directors, while Ms. Xiaofan Wang, CFO of Trip.com Group, will no longer serve as a director of the Board and will serve as a board observer going forward. Both Ms. Cao and Mr. Hee have extensive experience in Singapore, which is the international headquarters of Huazhu.
Sabre's APAC Travel Sentiment Survey
>> A recent survey by Sabre shows that 45% of the APAC respondents expect to travel within the next 6 months, with Millennials set to travel first. Travelers will be swayed by relaxed safety protocols rather than price – but they do want temperature checks at major tourist attractions, according to the survey.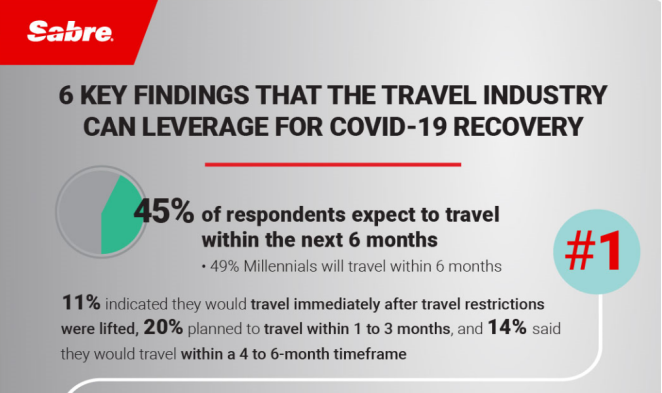 Discount pricing + digital tools drive domestic travel transactions in China
>> China's digital commerce prowess, with laser-sharp focus on reviving spending, is again in the limelight. More so because sellers across the globe are keen on evaluating how to chart a sales plan and gear up for post-lockdown shopping. There is curiosity around how Chinese shoppers are indulging in, what some also call revenge consumption, including for travel-related offerings.
The 2020 Digital Travel Awards opened for submission
>> TravelDaily has kick-started submission for the 2020 Digital Travel Awards, an annual event aiming at recognizing the novel and creative marketing ideas and the innovative products in the travel space. Entries submission starts on July 23, ends on September 15.
China tourist visas critical for Macau recovery
>> The resumption of the Individual Visit Scheme (IVS), an exit permit system for mainlanders from certain Chinese cities, is "critical" for the Macau casino industry to recover, said senior executives at Las Vegas Sands Corp. Without such visas, the relaxation from July 15 of quarantine arrangements for travel to the neighbouring Chinese mainland province of Guangdong is "negligible".
Didi Chuxing launches standalone, cheaper ride-hailing service Huaxiaozhu
>> China's Didi Chuxing said it has launched a new standalone ride-hailing service that targets younger customers and offers cheaper rides compared to its main app. Didi, China's biggest ride-hailing company and backed by Japan's SoftBank, said the new service is named "Huaxiaozhu" and that it has already been launched in some cities in China's southwestern province of Guizhou and the eastern province of Shandong.