ChinaTravelNews, Ritesh Gupta – China's digital commerce prowess, with laser-sharp focus on reviving spending, is again in the limelight. More so because sellers across the globe are keen on evaluating how to chart a sales plan and gear up for post-lockdown shopping. There is curiosity around how Chinese shoppers are indulging in, what some also call revenge consumption, including for travel-related offerings.
At a time when a major chunk of the world is looking at acceleration of digital shopping in their respective countries, Chinese e-commerce giants have shown that they are already capitalizing on the gamut of digital tools that in their entirety are resulting in a substantial volume of transactions. According to Alibaba, the group witnessed its largest-yet 6.18 Mid-Year Shopping Festival last month. Taobao Live, Alibaba's dedicated live-streaming channel, accounted for RMB5.1 billion (USD 721 million) in sales on the opening day.
Other than live-streaming, other engagement tools include 3D shopping tech, branded games and quizzes (on the basis of which products are recommended), video chats etc. The situation at times spiraled out of control, and accordingly action is being taken to curb false and misleading advertising, exaggerated claims etc. when it comes to live-streaming.
Twisted travel booking funnel
George Cao, Co-founder and CEO, Dragon Trail highlighted that the digital travel booking funnel is somewhat twisted these days – as shoppers are jumping from the inspiration phase to completing a booking, before returning to the planning part for the trip finalized.
"The collapse of the initial steps in the travel booking funnel is caused by the new type of sales models, namely e-commerce through live-streaming and the so-called "shopping festivals," such as Double Eleven (November 11th). Enticed by limited time offers and special deals, consumers buy before they have time to carefully research and plan for the next trip," Cao told ChinaTravelNews.com. Visible travel-related campaigns during the pandemic have been the high-profile live streaming ones, featuring Trip.com Group's Chairman James Liang (sold 520,000 hotel rooms in 11 live streams since March), Spring Air's Founder Zhenghua Wang attracting over 12 million visits in his live stream in May, with revenue from that single stream exceeding USD 4 million etc.
The category of travel products that sold maximum via live-streaming were resort hotels near cities, indicating the trend of self-drive tours and short stays.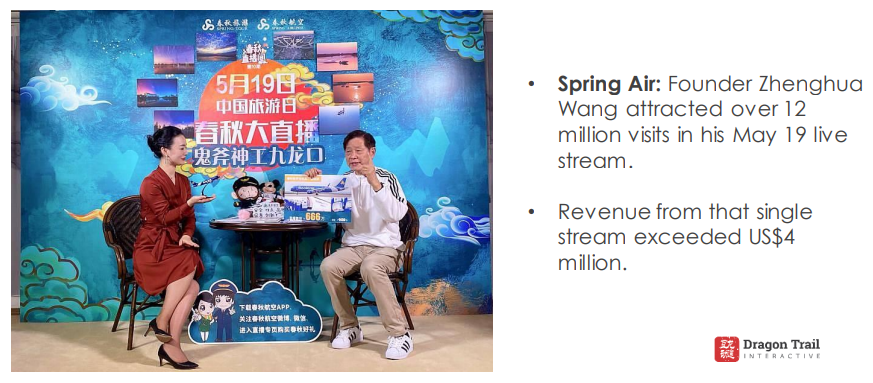 Mafengwo's Windy Nie, Sales Director of Brand Advertising Department, doesn't see such trend lasting for a longer duration.
"I don't think this is a long-term phenomenon," she said. Windy said all of this is happening since travelers' needs have not been satisfied for quite a long time, whereas travel suppliers have been struggling for bookings. According to her, with a tactic that is all about value for money, these offerings are accelerating people's decision-making in travel purchase. "But that will not last forever," Windy said. "The customer journey of dreaming-planning- booking-traveling will remain unchanged." And for travel brands, sacrificing profits to drive sales volume will not be a long-term game plan, said Windy.
As for what travel brands are doing in addition to attractive packages, she said companies are relying on options like live streaming and short-video travel advice to have a say during a consumer's inspiration phase, "describing the experience that they're going to have in the trip and at the same time streamlining the booking process".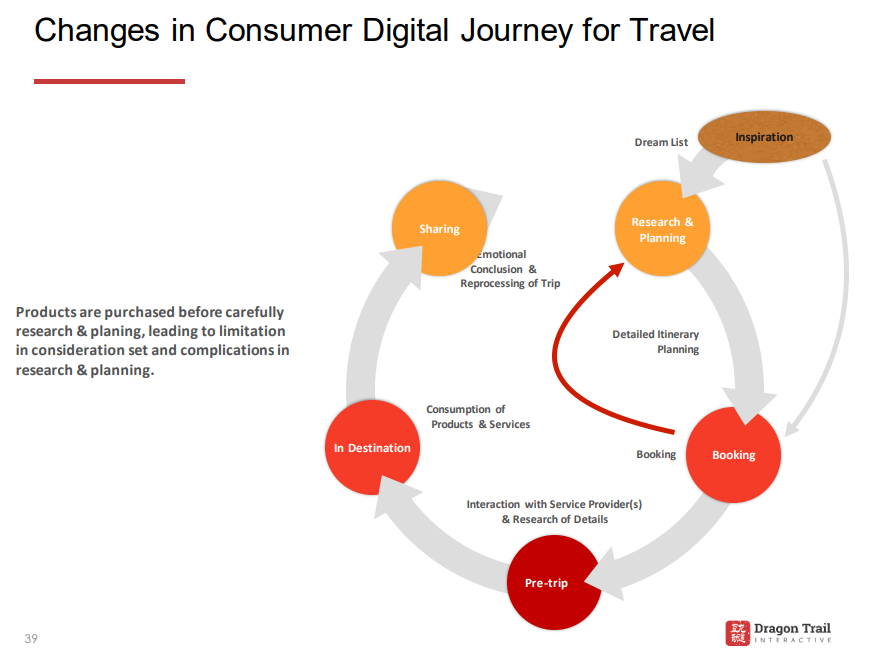 Travel recovery campaigns – picking up
Travel-related ad spending, for instance, on search or display ads, isn't the focus.
"At this stage, the travel search activity isn't what is used to be and has dropped. The performance of display ads is even worse, it is not because of the media channels, (the drop) it is definitely caused by the dip in the market demand," said Eric Yan Shen, Partner, Flyertea.com.
In fact, discounts are what consumers are responding, too, and that is what is driving the popularity of live-streaming in travel. "China is very price sensitive market which means guests only care about the price…so instead of the creative content, digital banner with discount would be the most attractive," said Yan Shen, who also added that travel companies need to be wary of the concept of "click farm", used for fake clicks, comments, likes etc.
Dragon Trail's Cao says as a digital agency, "we have not bought media for clients or for ourselves since February".
Also, Cao couldn't recall any "attractive travel ad campaign" from the past few months, but referred to the approach of couple of Chinese airlines. "A couple Chinese airlines have launched interesting recovery campaigns (Chinese domestic airlines roll out discount packages to boost cash flow) where they sell pre-paid packages with unlimited number of flights for a period of time. Those campaigns seem to have garnered a lot of consumer interest and produced tangible results for the airlines in terms of short term revenue and cash-flow ," he said. Such campaigns also left certain consumers frustrated as there were reports of consumers not being able to avail passes after buying them. For its part, China Eastern Airlines concluded its "weekend-unlimited" flight passes initiative after 12 days or so.
Tui China seems to be focusing on quality, rather than just rushing and embracing what's in vogue.
Tui has been focusing on packages, featuring well-known hotels located in the cities that people are familiar with or even living nearby. Thus people won't be concerned much about the products themselves, especially those with flexible cancellation terms.
"It is possible for travelers to shift their behavior patterns on decision-making at some point, yet what we have seen over the past few months is that people are still keen on looking for travel products with competitive price," said Dr. Guido Brettschneider, CEO at TUI China Travel, who shared that his company hasn't started live-streaming yet. In fact, the team is first trying to stand out, rather than using tools that have been popular of late. "In order to strengthen our online presence, we are thoughtful with our visual impact. Not only in alignment with our Group brand designs, it is also essential to take presenting imagery, colors, and the style into consideration. Through a combination of visual, verbal and literal content that articulates a focused and compelling multi-sensory message, we believe it is a great way to convey our brand and let people know what to expect," he said.
Live-streaming – making it work
Live-streaming isn't new, but the pandemic has accelerated the overall activity to sell intangible products like travel, said Mafengwo's Windy.
As an influencer marketing specialist, Shanghai-based Elijah Whaley, PARKLU's CMO said in the past six months, live-streaming e-commerce has been primarily fueled by contributing factors. "First, with people stuck at home, live-stream shopping filled the free time gap and desire for shopping. The second, and arguably most crucial part of live-streaming e-commerce, has been the discounts and exclusive deals offered by KOLs (key opinion leaders). For a brand to participate in any given live-stream, they will have to provide significant discounts to viewers. These discounts are really what shoppers are tuning into," he said. "…only China domestic travel has been selling in live-streams. Complete travel packages have been offered with significant discounts to customers."
Live-streaming segments are typically sold in five-minute segment. With top KOLs there will be a flat fee and/or a sales commission. For top KOLs, fee can be as high as USD 15k per five minutes, and commissions typically range between 10% and 30%. Most contracts will include a minimum sales target, which should guarantee participating brands positive ROI. Most KOL collaborations are one-off initiatives.
"We are also starting to see brands regularly operate their live-streams. In these cases, the brand might invite a KOL or celebrity to join the brand's own live-stream channel. But the real secret is delivering value to audiences over time," said Whaley.
So what makes it work?
Cao says, "For a live streaming campaign to be successful, creative and content are just the beginning. Plus in addition to content planning and media buying to draw traffic, what's unique about live streaming campaigns and the popular shopping festivals is the selection of products to sell. Traditional travel products booked for specific dates won't work for these campaigns. Brands need to carefully select date-flexible pre-paid products or coupons for these campaigns, and offer them at deep discounts."
Referring to right products, he added, "Pre-paid packages with flexible dates, and coupons are the only game in town. Friendly cancellation policies make it easier to close impulsive buys, and is expected by consumers due to the uncertainty in future travel, so should be offered for most products with the exception of perhaps the best discounts ever offered."
Established travel platforms are trying to differentiate themselves.
Mafengwo's Windy shared, "Many companies such as travel destination organizations, attractions and the local experiences specialists, shopping malls, hotels etc. have featured live streaming session with us. The difference between Mafengwo and the other platform is we do encourage the MC (emcee) or KOLs showcase the real experience locally, rather than in the broadcast booth. Besides that people can also see the play back of the live streaming, so the video will be remained as travel guide and help the other traveler make a travel decision." She also pointed out that travel brands shouldn't leave any room for misunderstanding in terms of what to expect and the real experience when one buys any offer. "Audience must end up with a direct and clear understanding to avoid the experience gap problem."
Jun Zheng, CEO and founder, Junkie Media Shanghai recommended that other than offering a package for the entire trip, travel marketers must focus on the safety-related (from health perspective) aspects of the entire trip and a brand's safety standards, especially hotel brands, considering health concerns and the fact that a consumer is likely to spend more time at the property.
As for why the blend of live-streaming + KOLs + enticing offers works, Dragon Trail's Cao explained: "Outside of the travel industry, the model of live streaming + KOLs + enticing offers has already been successful. They work for a few reasons. First, it is a more active sales method, like home shopping channels on TV, where a very persuasive sales person uses well rehearsed techniques to induce impulse buys. Second, the pricing and value is generally much better than those found on other channels. There is a general belief that sales generated from these campaigns help brands with short term cashflow, and not necessarily profits. Third, during the pandemic, especially the earlier lockdown period, consumers are spending a lot of time on their digital devices, and it has become relatively cheaper to drive traffic to these campaigns."
Making the most of media consumption and e-commerce trends
Other than platforms like WeChat, Sina Weibo etc. and OTA and review sites, there are several video and live streaming platforms (Douyin, Miaopai, Kuaishou, Youku, Tencent Video, iQiyi, Vue Vlog, Douyu, and Yizhibo)and lifestyle platforms like Xiaohongshu and Oasis.
There are a couple of other considerations that specialists recommend for media mix, content etc.
* Danger of getting lost in the chaos: Mafengwo's Windy asserted that brand marketing shouldn't be forgotten. "For the time being, it's alright that travel marketers are prioritizing sales volume and conversion. But when everyone is doing exactly the same, it will be important for brands to highlight their own strength and stand out. So the brand marketing side should not be totally ignored either," she said.

* Not everyone is live-streaming: Tui China isn't live streaming yet. "We believe as a new marketing channel it could drive sales in the future and we are at an initial stage looking into this opportunity," said Tui's Brettschneider. The company has been working on domestic trips, including hotel packages. The team has been managing online shops on Fliggy, Qyer and Mafengwo. "Currently we are only focusing on the sales channels that Chinese travelers are familiar with, and which could possibly generate direct-bookings," said Brettschneider. Also, considering the popularity of WeChat, Tui has been encouraging their staff to share newly-launched travel products on their WeChat moments. "Through this (WeChat) all-in-one platform, we could promote our brand too. Besides that, we continue to approach our traditional B2B partners trying to explore more opportunities on the market," said Brettschneider.

* Stepping up content marketing: PARKLU's Whaley emphasized that in case of international travel, brands that work to satisfy travelers' wanderlust now will be in a great position when boarders open back up. "Because we are still unsure when international travel will open up, we recommend travel-centric brands and destinations to focus on branding, content marketing, and community building," he said. "When it comes to branding, companies can focus on doing all the work they have been putting off. That might be things like taking new pictures of locations or writing new copy." As for content, according to Whaley, it needs to be "light, fun, and compels people to share".