GreenTree Hospitality, a major hotel company in China, reported that its first-quarter revenue dropped 33% this year to RMB 157 million (USD 22 million), having been severely impacted by the outbreak of COVID-19. Net income decreased 110.6% to a net loss of RMB 14 million (USD 2.0 million).
RevPAR plummeted 44.1% to RMB 71 and occupancy declined to 47.3% in the quarter.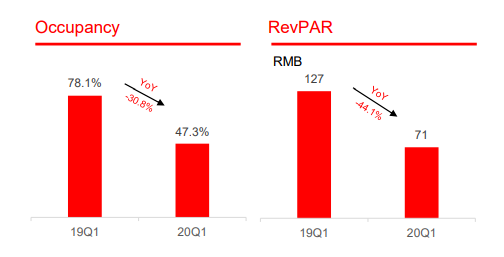 A total of 3,998 hotels with 292,716 hotel rooms were in operation as of March 31, 2020, compared to 3,957 hotels and 290,026 hotel rooms as of December 31, 2019. The geographic coverage increased by 17.1% year over year.
As of March 31, 2020, the company's loyalty program had more than 46 million individual members and over 1,520,000 corporate members, compared to approximately 44 million and over 1,510,000 corporate members as of December 31, 2019. The company had approximately 93.6% of room nights sold directly.
Mr. Alex Xu, Chairman and Chief Executive Officer of GreenTree said the company's overall performance was better than the average performance across the hospitality industry in China. Occupancy rate has rebounded and exceed 65% on average in the second half of May, from a low of 21.5% at the end of January.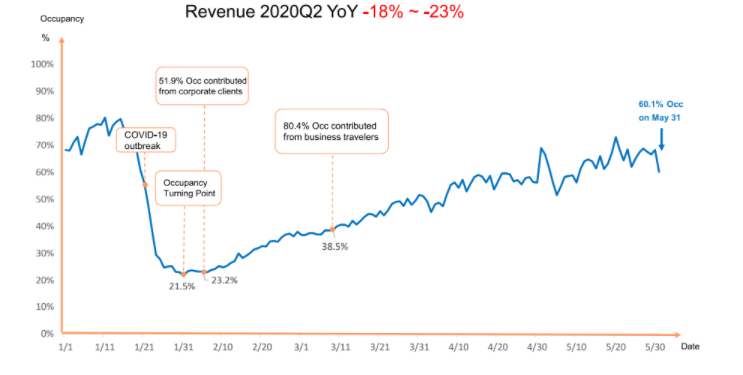 As of March 31, 2020, the company had a total balance of cash and cash equivalents, restricted cash, short term investments, investments in equity securities and time deposits of RMB 1,613.9 million (USD 227.9 million), as compared to RMB1,809.3 million as of December 31, 2019.
Due to the impact of COVID-19, the company expects a decline in total revenues in the second quarter of 2020 of 18%-23% year-over-year, and a decline in total revenues of 10%-15% for the full year 2020, compared to 2019.