ChinaTravelNews, Ritesh Gupta – TUI China has identified tourist sites close to Beijing and Shanghai, and other places, and is accordingly working on offerings, with focus on trips like self-drive tours. The travel industry is responding to indications that Chinese travelers are opening up to trips within the country post lifting of community containment measures and other restrictions.
"Our offices in Beijing and Shanghai are open. We believe there is a huge domestic backlog demand in China after so many weeks of restrictions and lockdowns (because of the COVID19). Right now we are focusing on shorter stays in locations with great outdoor options and space, like mountain resorts or beach holidays," Dr. Guido Brettschneider, CEO at TUI China Travel, told ChinaTravelNews.com. He also shared that the office in Beijing being the HQ is always open, and the staff is working there all along.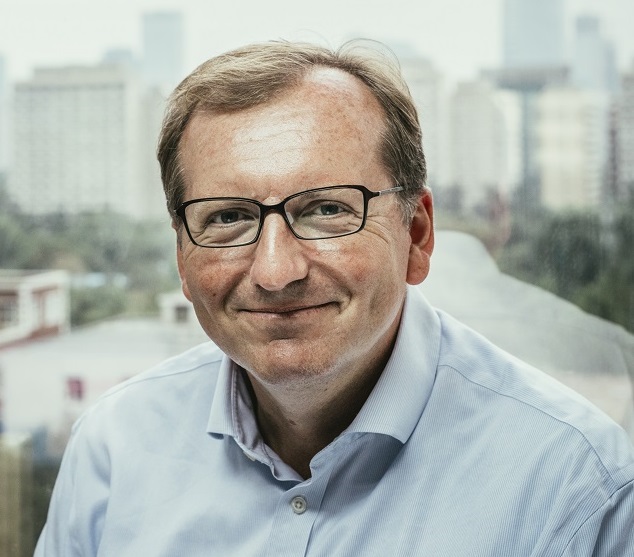 Guido Brettschneider, CEO at TUI China
The travel industry is hoping that the fear of moving out has subsided, and companies acknowledge that new learned behaviors around health will continue to be top of mind. One unanimous opinion is that travelers are possibly going to opt for short, local trips as and when they are ready.
TUI's decision to work on tours comes at a stage when the industry is picking up. For instance, the Chinese government confirmed that Beijing has reopened 73 major tourist sites, or 30.7 percent of the total in the municipality, as the Coronavirus epidemic wanes. Local authorities, for instance in Beijing, are evaluating health status of those who are commuting from the neighboring regions as a way to facilitate their commute. Financial support is being extended to cultural and travel enterprises.
Traveling closer to home
Commenting on the current business scenario in China, Brettschneider said, "We will need to see when inbound and outbound business to and from China can restart. We think domestic corporate and leisure travel in China will restart the quickest. People are still concerned about the virus itself - but we can see the situation in China has been overall under control by the strict rules set by the government."
"We believe firmly in a quick recovery of the domestic market and the wish of consumers to start traveling again, first closer to home and then step by step taking longer trips around China and then in a third step we are preparing for the reopening of the outbound market," he said. The team is initially focusing on its TUI Selection offering, and working on a hand-picked and curated portfolio of packages. "We will focus on domestic packages and self-driving tours in China, and we will create local programs close to big cities in China," he said.
"Currently our inbound and outbound business is fully affected and therefore we hope that global travel can resume in the second half of 2020"…and we hope for return of the inbound and outbound business in the second half of 2020 and 2021."
Brettschneider emphasized that safety of both employees and travelers is a top priority. He added that in order to ensure a safe distance between staff, majority of colleagues are currently working from home. "For the staff working from our offices we have strict rules covering the wearing of face masks, using disinfectant and daily temperature checks."
"The safety of our guests has top priority for us; therefore we are looking for the hotels that are able to provide excellent health and safety control and measures for travelers but also the destinations where it is understood that the epidemic situation has been brought fully under control or those that are making good progress towards being so," said Brettschneider.
Trips close to Beijing and Shanghai
According to a new survey by Oliver Wyman, in terms of destination selection, nearly 80 percent of respondents would prefer a domestic destination for their first trip after the epidemic subsides. Other than the reduced time and/or budget available for travel, "the unfriendly attitude of foreign governments and/or foreigners during the epidemic were also cited as other reasons for travelers' preferring to go to domestic destinations", is also being cited a reason for domestic tourism. Yunnan, Beijing and Chongqing are among the top 10 most popular domestic destinations on travelers' wish lists.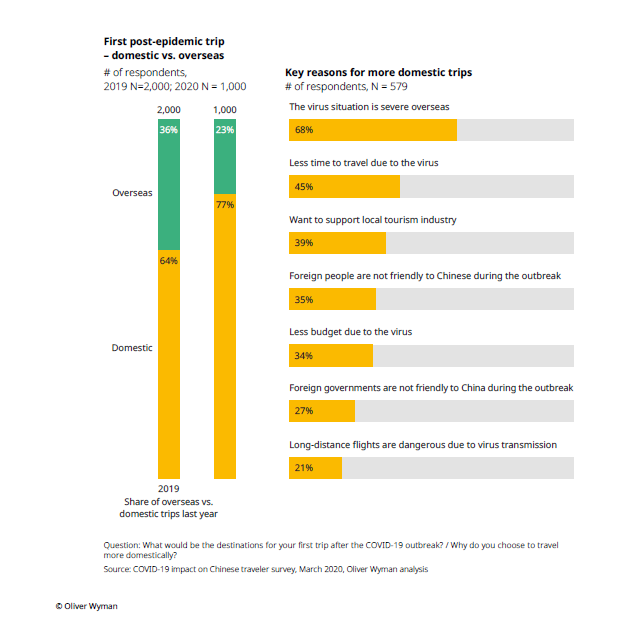 "We are working now on new trips close to Beijing and Shanghai i.e. including self-driving programs combined with outdoor activities, and even to places like Sanya. Furthermore, we are working closely with our corporate clients to restart domestic incentives and small scale programs. Here we put a lot of attention on ensuring absolute safety during the trips when it comes to the health of the travelers," mentioned Brettschneider. He added that company is looking at other destinations like Dujiangyan.
• Beijing – Mutianyu and Yanxi Lake are re-opened to the public. In addition to that, Hongluo Temple, Huanghuacheng, and Qinglongxia are also on the list. "All of the aforementioned sites are located in Beijing's northeasterly Huairou District, making them perfect for the travelers who want to try and fit in over 1-2 nights," he said.
• Nearby Shanghai – Many scenic spots and city parks reopened to visitors in Wuzhen, Hangzhou and Suzhou. "We have a team specialized on self-drive tours and they are currently designing packages that can be done with own cars," shared Brettschneider.
The company has finalized a couple of TUI Selection domestic hotel package online.
"We begin with the beach paradise of Sanya on Hainan Island, the Hawaii of the East. Currently we are offering the hotel packages of Sanya Double Tree Hilton and the Crown Plaza both located in Haitang Bay. We aim first 20 specially selected resort hotels. We are working on additional packages in well-known mountain destinations and other areas with great nature environment," he added. "(These products) will be focused on family and couple packages with strong outdoor appeal. Places where our clients can relax and enjoy nature often after weeks of staying home, the chance to breathe fresh outdoor air after being inside for a long time. We will offer natural destinations that offer the possibility for outdoor walks, swimming sports and maybe hikes in nearby surroundings." The plan is to partner hotels that can offer space, leisure activities in or close to the hotel and that have a healthy, spacious environment. "Price is still the most (frequently) asked question, but we feel more and more customers have shifted their attention to whether the product can provide them with a wonderful experience. That is how we define TUI Selections," he said.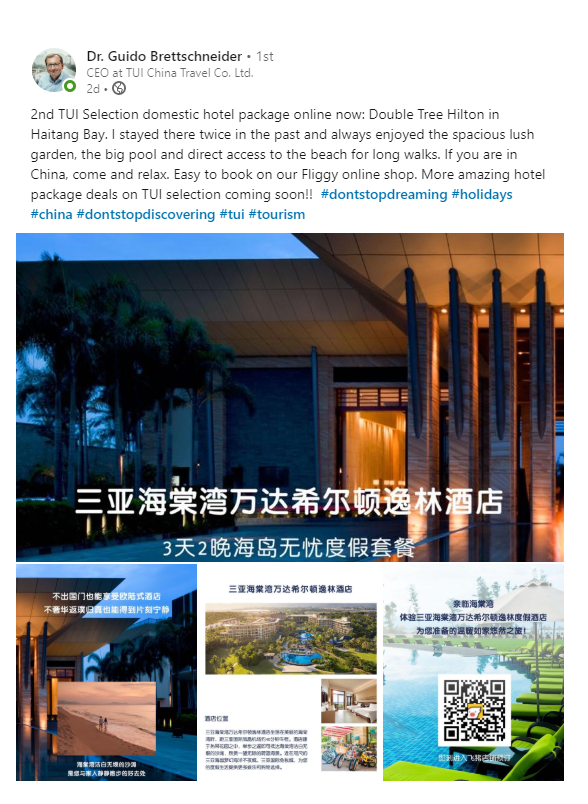 "At the moment we are focusing on our online shops on Fliggy, Qiongyou and Mafengwo," said Brettschneider.
TUI works with several entities, for instance, working with the Dujiangyan Municipal People's Government late last year.
"Since the outbreak of COVID-19, we have maintained close communication with local government and tourism bureaus that have been cooperating with us. They are being very supportive throughout the process and have responded well to updates from us. We have been discussing post-pandemic activities to see how we might overcome the challenges and move forward together," said Brettschneider.