The coronavirus outbreak first identified in Wuhan, China has killed 213 people in the country as of January 31 at 21:32 (GMT+8) and infected nearly 10,000 people, according to Tencent News. The confirmed coronavirus cases worldwide have outpaced the total number of infections over the nine-month SARS outbreak in less than a month.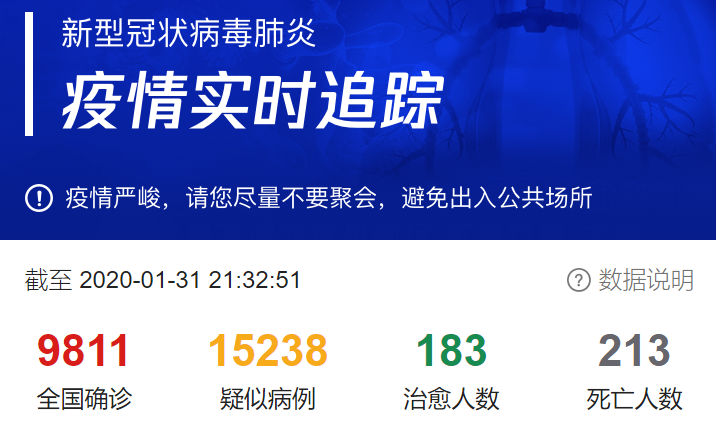 Global updates on January 31:
>> The U.S. has issued Level 4 Advisory, the most severe travel warning category, advising Americans not to travel to China after the World Health Organization called the outbreak of coronavirus in China a global health emergency.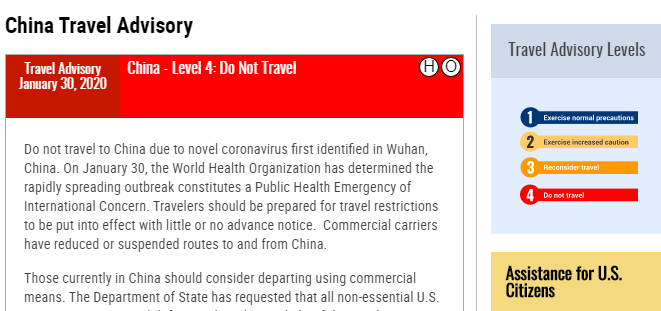 >> The pilots' union at American Airlines told members to decline further flights to China because of the health risk posed by the coronavirus, and sued the carrier in an effort to halt service there. The airline makes five daily roundtrips between the U.S. and China, including Hong Kong, and the union estimated that each plane carries as many as 300 people. Flight crews spend about 32 hours in China between flights to meet federal rest regulations.
>> Analysts are projecting that the toll on travel and hospitality industry could be worse than during the SARS epidemic, when Chinese travelers were a smaller group than they are today. Thailand, a popular destination for Chinese visitors, has been hardest hit in Southeast Asia, with at least 2 million fewer visitors expected from China this year.
>> The union representing security workers at Australia's biggest airports threatened to strike unless members are given equipment to guard against the new coronavirus. Some airport staff have been barred from wearing protective gear such as face masks to avoid upsetting customers, the United Workers Union said in a statement Friday.
>> Singapore's health ministry has banned entry to all Chinese visitors and foreigners with a recent history of travel to China. The move, which effectively shuts out the island's largest group of visitors, will take effect from Saturday.
>> The Chinese government will send chartered planes to bring back Hubei residents who are overseas, according to state media. That's in view of the "practical difficulties" that residents in Wuhan or Hubei — the epicenter of the outbreak — have been encountering overseas, according to the report.
>> Italy declared a state of emergency to fast-track efforts to prevent the spread of coronavirus strain after two cases were confirmed in Rome. The country had said it was stopping all flights to and from China following the news that two Chinese tourists holidaying in Rome had tested positive for the virus.
>> Tokyo Olympic organizers are trying to shoot down rumours that this year's 2020 Games might be cancelled or postponed because of the spread of the virus. The Olympics open on July 24, just under six months away.