So, you've read all about Italy and the long list of iconic sights you must see. There's the food and the climate. And then there's the shopping! But how easy is it to get there from China?
While a good number of the top tourist destinations in Italy can be found in Rome, such as Vatican City and the Sistine Chapel, and Milan is famous for its shopping, there are plenty more of the 'must-see' places for visitors to be found elsewhere. However, currently the only direct flights from China arrive at Milan's Malpensa Airport and Rome's Fiumicino Airport. In April 2019 there are 10 scheduled services to Italy. Four of these fly into Milan from Beijing, Guiyang, Nanjing and Shanghai Pudong, while six arrive in Rome from Guangzhou, Chongqing, Beijing, Shanghai Pudong, Wuhan and Xi'an.

Routes to Italy Operated by Scheduled Airlines
There are six airlines offering scheduled services between the two countries, although capacity is heavily biased towards the Chinese airlines. Air China has the biggest presence in this market, flying over half (54%) of all the direct capacity between the two markets. China Eastern and China Southern provide some services and account for just over a fifth of capacity, while Hainan Airlines operates just 5% of seats to Italy.
The European carriers are Alitalia with a marginal presence - just 2% of all seats on sale are with this airline - and Neos Air, a quasi charter airline. Alitalia stopped flying between China and Italy in March 2018 and has since relied on code-sharing arrangements with its SkyTeam alliance partners, China Southern and China Eastern.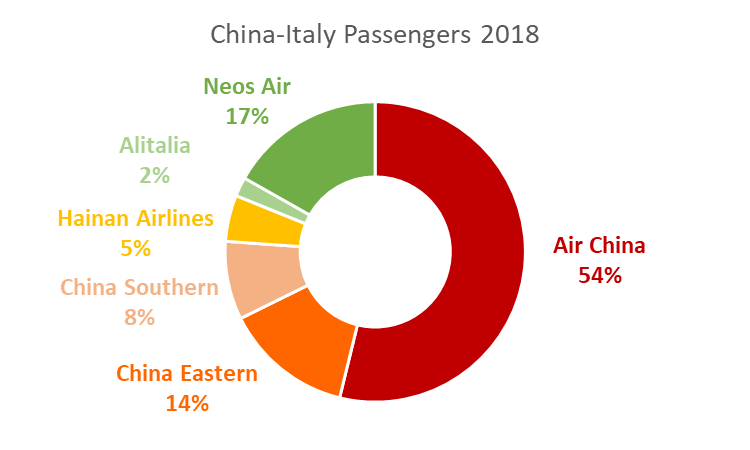 Last year there were almost three quarters of a million passengers who flew between China and Italy. The most popular direct route flown was Shanghai to Milan which saw nearly 90,000 passengers in 2018. The next most popular route was Beijing to Rome with nearly 60,000 direct passengers.
Despite the number of direct air services, four in five of these passengers flew indirectly, choosing to connect via at least one airport. There appears to be no dominant or preferred routing for this. A total of 10 airports share 80% of the connecting traffic.
Some connecting passengers will have originated in parts of China not served by one of the direct air services, and so they have typically used Beijing or Shanghai as a gateway airport. These passengers made up slightly more than a quarter of all the connecting passengers.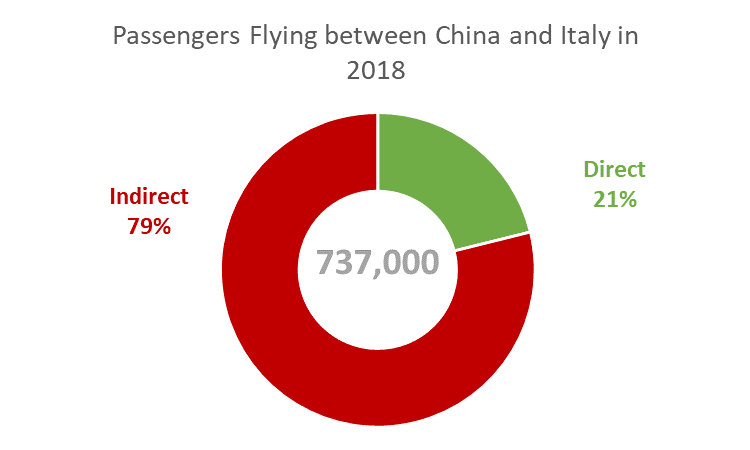 The most popular airport outside China for connecting flights to Italy was Moscow's Sheremetyevo Airport; 9% of connecting passengers flew via there. The next most used connecting airport was Germany's Frankfurt Airport, no doubt aided by Lufthansa's code-sharing arrangement with Air China, its Chinese Star Alliance partner. The Middle East airports such as Dubai, Doha and Abu Dhabi, which have made a name for themselves as mega hubs connecting passengers between east and west, attracted just under 15% of all connecting passengers.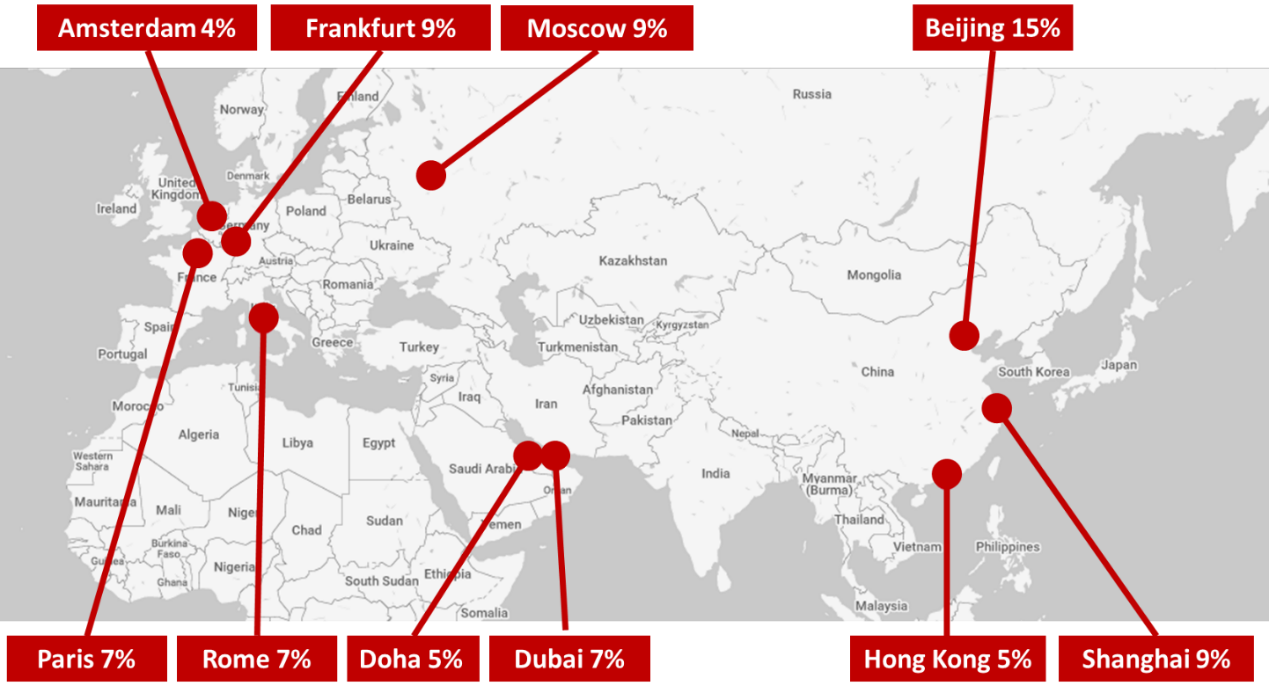 Top 10 Connecting Airports for Passengers Travelling Between China and Italy
One stand-out surprise in the traffic data is the 150,000 passengers who travel from Wenzhou in Zhejiang Province to Italy each year, the vast majority of whom have to travel via at least one airport. But maybe this should be no surprise as so many of the Chinese who now live in Italy originate from Wenzhou. With this many travellers one wonders how long before a Chinese airline thinks about starting flying from Wenzhou direct to Italy.