Amadeus IT Group S.A maintained its positive growth trend in the first quarter of 2019, supported by the solid operating performances of its Distribution and IT Solutions businesses and the consolidation of TravelClick (since October 4, 2018). This contributed to double-digit growth both in revenue and EBITDA in the quarter, as well as to an adjusted profit of €334.7 million, which represents an increase of 9.5% compared to the same period of 2018.
First quarter highlights (three months ended March 31, 2019)
– Revenue increased 14.6%, to €1,409.9 million
– EBITDA expanded 11.3%, to €599.8 million
– In the Distribution segment, travel agency air bookings grew 1.6% to 162.6 million
– In IT Solutions, Passengers Boarded increased 4.6% to 436.1 million
Distribution
Revenue in this segment grew 5.6% to €839.9 million.
The global slowdown in growth in travel agency industry air bookings continued during the first quarter of 2019 (0.0% growth compared to 1.1% in the fourth quarter of 2018). Apart from North America and Latin America, all other regions reported an industry decline mainly driven by geopolitical and macroeconomic factors. Asia Pacific registered the strongest deceleration, largely driven by a poor performance of India (due to several factors, including the severe financial distress of a large Indian GDS airline and the upcoming elections).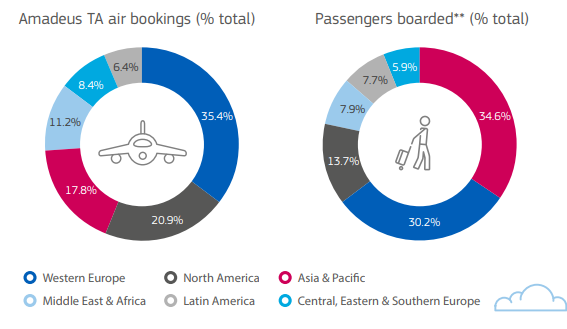 Despite this environment, Amadeus' travel agency air bookings increased 1.6% between January and March, supported by market share growth in all regions except Asia Pacific, mainly due to India (excluding India, our bookings grew 3.4% globally). North America was our fastest growing region with an increase of 14.6%. We returned to growth in Western Europe, on the back of market share gains.
IT Solutions
The positive operating performance of Airline IT and the solid growth of our new businesses, including the TravelClick consolidation, were the key drivers for the 31.2% increase in IT Solutions' revenue during the first quarter, to €570.0 million.
Airline IT
Passengers boarded grew 4.6% during the quarter, to 436.1 million, supported by 2018 implementations (including S7 Airlines, Maldivian Airlines, Cyprus Airways and Aeromar to Altéa and Volaris Costar Rica to New Skies) and the ones so far in 2019 (including Philippine Airlines). Organic growth of 6.0% also contributed to this passenger boarded increase. This organic growth is 1.6 p.p less than that in the same period of 2018, mainly due to a softening in global air traffic growth. All these factors contributed to mitigate the negative impact of the de-migration of LATAM Airlines Brazil from our platform during the second quarter of 2018 and the cease of operations of Germania and bmi Regional (both in February 2019).
IT Solutions – Hospitality
During the first quarter of the year we also strengthened our Hospitality business, as we expanded our portfolio of customers and shopping options.
We partnered with Agoda, one of the world's fastest growing online travel agents, to extend our hospitality content offer. Now, all of Agoda's pre-paid hotel content, a total of 150,000 properties, will be available to travel agents through Amadeus at the same price as Agoda's website.
We also signed an agreement with Restel, the Spanish hotel booking platform, which sees Amadeus become the only hotel distribution service to offer Restel's portfolio of 200,000 hotel properties.
Amadeus now offers over 4 million hotel shopping options.
Read Original Report