Eighteen new hotels went operational in China this October, of which 16 are 5-star hotels and two are three-star properties, boosting the country's hotel room inventory by 5,139 rooms. The number of hotel openings was four more than September, (or 28.57% higher) and the room inventory increase was 1,752 more.
The new hotels are located in 11 provinces mostly in coastal regions – Jiangsu province led with four new properties, followed by Hainan with three, two in Guangxi, and one in each of the other provinces.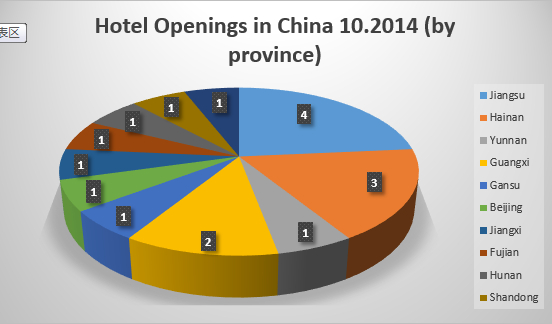 The four new hotels in Jiangsu are located in the south of the province, an area that has been enjoying a boom in hotel development in recent years. The total investment in hotel development in Suzhou from 2008 to 2013 topped RMB2.1691 billion, equivalent to 21.72% of total investment on tourism in the city. The fixed-asset value of major hotels in the city also increased from RMB4.819 billion to RMB11.894 billion in the same period.
Southern Jiangsu is endowed with rich tourism resources, with a number of "State-listed Historic and Cultural Cities" namely Nanjing, Suzhou, Changshu and Wuxi, as well as 17 "Top Tourist Cities" of China (equivalent to 61% of 28 such cities in the province), 14 5A-rated "National Tourist Attractions" (82% of 17 such attractions in the province). This gives the hotel industry in the region a decided advantage.
Southern Jiangsu is also the most economically developed area of the province. Its vibrant commercial development makes it attractive to investors. Its strategic location makes it the economic backbone of Shanghai and offers investors in hotel real estate assets sustained long-term value and a steady flow of business and leisure customers.
New hotel brands
Twelve of the new hotels opened in October (or 66.67% of the newly opened properties) are operated by international hotel brands – Hilton and Shangri-La have two new hotels each, followed by Rosewood Hotels, Ibis and Intercontinental. Six hotel openings were by domestic hotel groups led by Wanda Vista Hotels' three new hotels, followed by Banyan Tree Hotels, Blossom Inn and King World Hotels.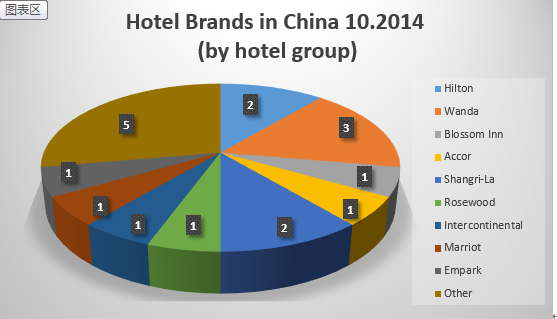 Wanda Hotels and Resorts has 65 five-star hotels in its portfolio under 28 directly managed hotel brands in China, including eight Wanda Vista hotels.
As part of the Wanda group with real estate development and investment as the core business, Wanda Hotels' with its operational focus in managing the group's hotel portfolio enjoys the benefits of reduced costs.
New hotels' star-ratings
The number of newly opened three-star and five-star hotels rose while the number of new four-star hotels dropped in October. There were new 16 five-star hotels (88.89% of total openings) and two new three-star hotels (11.11% of total openings).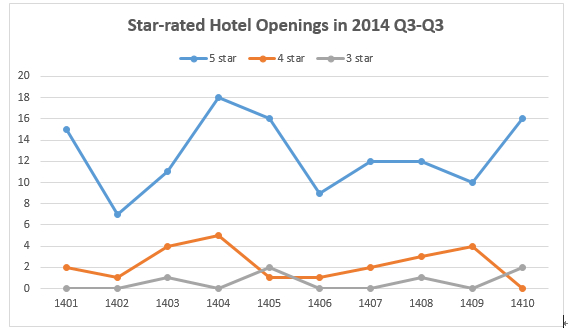 (Translation by David)