Douyin, the popular short-video platform TikTok's Chinese domestic version, quietly unveiled its calendar-based hotel booking feature on May 16, ChinaTravelNews has learned.
In a test search by ChinaTravelNews for the "Pullman Shanghai Jing'an" hotel on the Chinese app, the booking page layout and pricing were similar to those on major OTAs like Trip.com Group.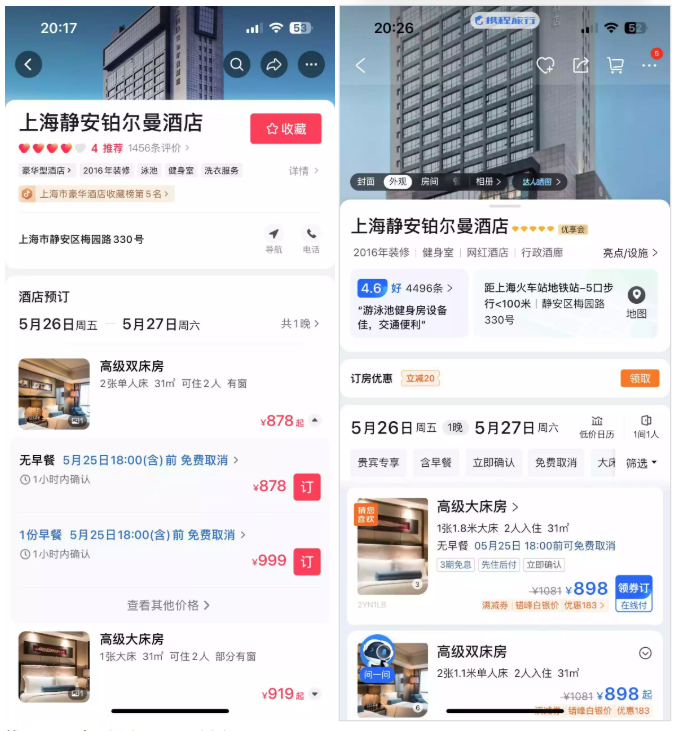 (Note: The left side is Douyin's interface and the right side is Ctrip's interface.)
A hotel merchant on the video-sharing platform said that users can make instant bookings through Douyin's newly-released calendar-based hotel booking function, which targets consumers that have clear travel plans with specific check-in dates.
Prior to the inauguration of this latest booking feature, hotel and travel merchants on Douyin mostly sold low-price travel coupons and advance-purchase products that allow users to decide check-in dates after the transaction.
Compared to the advance-purchase booking feature that was launched previously on Douyin, users now do not need to buy vouchers first and then make actual reservations later; while hotel merchants can now configure tiered refund rules for better inventory management and further ensure their revenues.
A source told ChinaTravelNews that the calendar-based booking feature currently supports two system connection methods: indirect offline connection and direct e-booking connection.
Consumers with specific travel dates can either search for hotels directly on the Douyin app and make bookings on the POI (point of interest) pages, or they can make their decisions when they are watching the platform's travel-inspiration video clips or live streaming, and then make their bookings through links on the video clips or on the live streaming interface.
With the launch of this new booking function, Douyin may further enhance service efficiency for its users, at least in the hotel consumption category. In terms of user experience, calendar-based hotel bookings, with room types and check-in dates determined, can improve offline fulfillment of these online transactions and lower operating costs for hotel service providers.
ChinaTravelNews learned that the booking service fee for Douyin's calendar hotel booking is around 4.5% of the transaction value. Though this cost is still lower than the commission that OTAs charge hotels on traditional booking channels, a merchant on the Douyin platform told ChinaTravelNews that the total cost per transaction on Douyin is gradually getting closer to the traditional OTA channels' if a merchant adds content operation costs, including the fees paid to online operation service providers and the commission paid to the influencers on the platform.
According to the data from business media outlet LatePost, Douyin's local life service unit aims to achieve nearly RMB 400 billion (around USD 57 billion) gross merchant value (GMV) this year, and the in-store, hotel and travel segment is targeted to contribute RMB 290 billion (around USD 41 billion), which is similar to the business volume of Meituan's in-store and hotel segment in 2021.
A separate source told ChinaTravelNews that Douyin's hotel and travel arm aims at generating RMB 30 billion (around USD 4.3 billion) in GMV, roughly one-tenth of the target for its in-store, hotel and travel segment.