Quarantine for intercity travel hobbles business ties in China
>> Short trips within China have become grueling missions due to a requirement to quarantine after entering some cities, complicating simple business interactions as the government persists with its Covid Zero policy. Traveling from Chengdu to Chongqing for a short meeting now takes several days instead of a few hours due to the need to quarantine at both ends, according to European Chamber in China Vice President Massimo Bagnasco.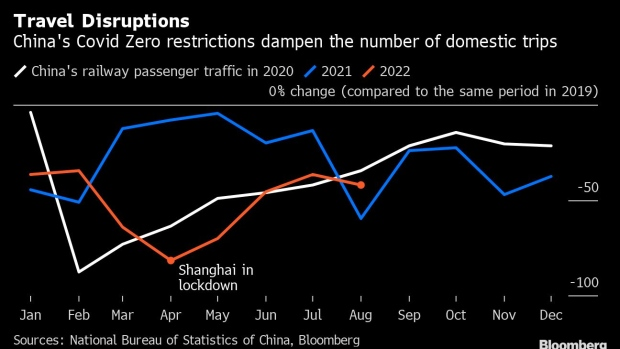 China oil demand in limbo as virus saps travel before party congress
>> China's appetite for overseas oil is yet to make a meaningful recovery as anxiety over virus lockdowns keeps travel subdued, overshadowing an increase in fuel export quotas aimed at supporting economic growth. Journeys by plane over Golden Week in the first week of October were down 42% from a year earlier, according to China Aviation Daily. Road trips by Chinese tourists were about 30% lower over the holidays than in 2021, the Ministry of Transport said.
China's air traffic drop making Asia Pacific no longer world's largest travel region
>> Stringent Covid-19 curbs in China are reducing the economy's flexibility, with holiday tourists and flights in general far lower compared to pre-pandemic days. The newest data from the Center for Aviation (CAPA) shows that the Asia Pacific will not be the world's largest travel region by the end of this year, as travel in Europe will overtake it and crown the old continent as the largest travel region in 2022.
United Airlines set to return to Hong Kong in January
>> United Airlines is expected to resume direct flights to Hong Kong in January 2023, making it the first U.S. carrier to fly to the city since 2020. The airline plans to reinstate its service to Hong Kong as the city-state slowly opens up to tourists after years of restrictions.
Taiwan looks to lure 700,000 tourists this year after border reopening
>> Taiwan aims to attract 700,000 foreign tourists by the end of this year and restore the total number of arrivals to pre-pandemic levels of about 10 million by 2024, the Ministry of Transportation and Communications said Thursday when the region reopened its border to tourists.
Macau changes post-entry testing period but quarantine continues
>> The Macau government has announced that from October 15, people entering Macau from foreign countries, or from Hong Kong and Taiwan districts will be required to undergo four days of self-health management and four consecutive days of testing after completing seven days of quarantine.
Trip.com launches social campaign in South East Asia
>> Trip.com has launched its "Just Like That" social campaign - the company's first one in Southeast Asia post-pandemic - leveraging the latest traveler preferences and insights to make it easier than ever for consumers to meet loved ones abroad and explore the world again as borders reopen and restrictions ease.