Expedia Group announced financial results today for the first quarter ended March 31, 2020.
"Like all travel companies, Expedia Group suffered a major reduction in business since the onset of COVID-19. Fortunately, we were ahead of the game having implemented cost savings measures earlier this year, and with the added pressure from COVID-19 we accelerated and expanded our ambition on improving our long-term cost structure," said Vice Chairman and CEO Peter Kern. "We also raised significant additional capital, to further strengthen our liquidity position as we navigate this disruption and position the business for recovery."
Key Highlights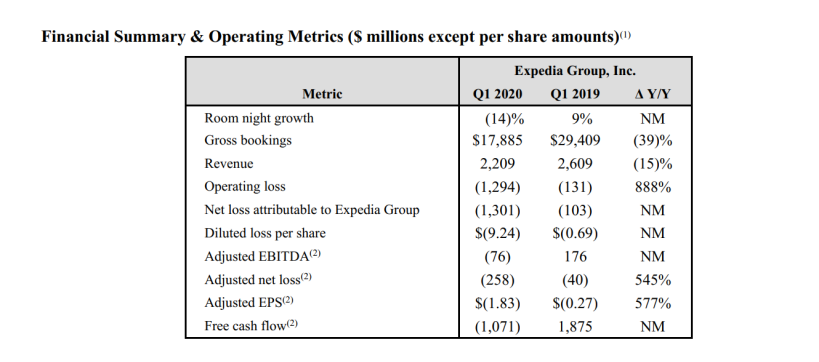 For the first quarter of 2020, total gross bookings decreased 39% (foreign exchange impact was negligible). In January, gross bookings growth was positive, as COVID-19 modestly impacted results, with the virus largely limited to the Asia Pacific region. In February, gross bookings declined year over year as the virus spread, particularly into Europe by later in the month. During March, with COVID-19 becoming a global pandemic, including significantly impacting North America, our largest region, cancellations exceeded new bookings, and total gross bookings were negative for the month.
For the first quarter of 2020, total revenue decreased 15% (foreign exchange impact was negligible). First quarter revenue declined less than gross bookings since revenue is recognized at the time of stay thus was not impacted by cancellations for future stays. Revenue grew in both January and February before declining significantly year over year in March.
Product & Services Detail - First Quarter 2020

As a percentage of total worldwide revenue in the first quarter of 2020, lodging accounted for 69%, advertising and media accounted for 9%, air accounted for 5% and all other revenues accounted for the remaining 17%.
Lodging revenue decreased 10% in the first quarter of 2020 on a 14% decrease in room nights stayed, partly offset by a 5% increase in revenue per room night.
Air revenue decreased 56% in the first quarter of 2020 driven by a 41% decrease in revenue per ticket and a 26% decline in air tickets sold. The declines in air revenue reflect the adverse impact of COVID-19 on air travel, including elevated cancellation activity during March.
Advertising and media revenue decreased 23% (including 1 percentage point of negative foreign exchange impact) in the first quarter of 2020 due to declines at trivago and Expedia Group Media Solutions.
Other revenue decreased 7% in the first quarter of 2020.
Response to COVID-19 Pandemic
• As part of the unprecedented customer service demand due to COVID-19, Expedia Group handled 22 million customer contacts over a ten week period, more than double our typical average customer contacts.
• To service the unprecedented cancellation volume due to COVID-19, teams across Expedia Group rapidly developed customer self-service options to cancel lodging and air bookings without speaking to an agent and built automation capabilities to allow supply partners to initiate cancellations. As a result, the percentage of cancellation inquiries for air travel managed without an agent increased from approximately 65% in February to over 95% in April.
• Expedia Group secured $3.95 billion in additional funding, including $1.2 billion in preferred equity investments from two of the world's leading alternative asset managers, Apollo Global Management and Silver Lake, as well as $2.75 billion in 5-year unsecured senior notes.
• In addition to previously announced cost initiatives, Expedia Group took several incremental actions to reduce costs to help mitigate the financial impacts from COVID-19, including a significant reduction in variable marketing and discretionary expenses as well as a deferral of certain capital expenditures.
Read original article