ChinaTravelNews, Jerry Tang - As one of the world's major online travel agencies, Ctrip is eyeing not only Chinese citizens' booming domestic and outbound travel, but also the opportunity to be a game-changer in the global travel landscape.
The acquisitions of UK metasearch engine Skyscanner and tour recommendation site Trip.com are strategic steps toward its goal. Ctrip acquired Skyscanner for £1.4 billion in 2016, and snapped up Trip.com last November for an undisclosed sum and then transformed the site into a flights and hotels reservation platform.
Prior to the acquisitions, Ctrip already had its own multi-lingual Ctrip.com to service 300 million-plus registered users. Through Trip.com, the company is now offering global users services including flight and train search, hotel reservation and car rental.
Trip.com offers versions of 17 languages and most of them provide integrated services of flights, hotels and trains. In March, Ctrip launched its international car rental service on some versions of Trip.com, offering more than 130,000 rental outlets in which over 7 million cars are available for rent. Yuchen Wang, Ctrip Group Rental Car CEO, said car rental is "a key connection between airports and hotels".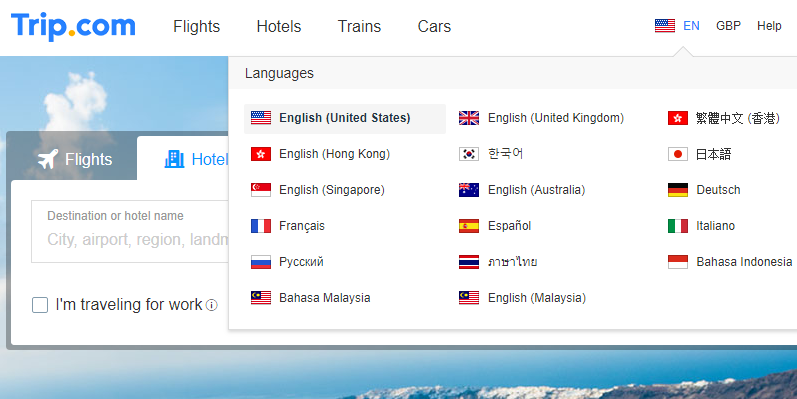 Market penetration with air ticketing
Online travel companies generally offer flight reservation service with a low margin of around 3%-4%, and manage accommodation bookings to gain a lucrative 15%-18% profit, according to Brian Nowak of Morgan Stanley. In the case of Booking Holdings, currently the largest online travel group in the world with a market capitalization of around USD 100 billion, room nights sold in the first quarter of 2018 grew 13.2% to 196.8 million, while air tickets sold increased just 1.9% to 1.8 million.
But the Chinese players tend to do the opposite – as Ctrip has been doing well in the domestic market. Trip.com is also trying to penetrate the market through air ticketing and then channel consumers to the company's other services.
Ctrip did not disclose Trip.com's international air ticketing volume explicitly, but the company mentioned in its first-quarter conference call this year that Trip.com reported a "triple-digit growth" for its international air ticketing for the sixth consecutive quarter. The company said that the growth was based on a comparison with Ctrip's international business operation before the Trip.com acquisition.
Traffic and conversion
Ctrip attributed Trip.com's remarkable performance to Skyscanner's direct booking initiatives that allow airline operators and distributors to upsell ancillary products by 100% and improve mobile conversion by 50%. It is a part of the travel fare aggregator's effort in answer to IATA's New Distribution Capability initiative.

As two key parts of Ctrip's globalization blueprint, Skyscanner and Trip.com play two different roles – Trip.com serves as a one-stop travel service platform while Skyscanner continues as one of the world's largest metasearch sites. Both the China-focused Ctrip.com and the overseas-focused Trip.com act as content providers on Skyscanner.com. While Trip.com is basically targeting Asian travelers from beyond mainland China, the majority of Skyscanner's customers are westerners.
In a recent interview with the Financial Times, Ctrip CEO Jane Sun revealed that 3%-4% of Skyscanner's bookings were contributed to Trip.com and the figure is poised to rise to around 20%-30% in the long run.
To consolidate its positioning as a one-stop travel purchase site, Trip.com has to gain enough traffic for potential customer conversion. To further dive into the Asian and global markets, Trip.com is not just diverting user traffic from Ctrip and Skyscanner, but also increasing external traffic from outside partners. Trip.com is having its inventory available for reservation on Trivago.com, an Expedia-affiliated hotel metasearch site, and then redirecting bookers back to Trip.com pages to complete payments.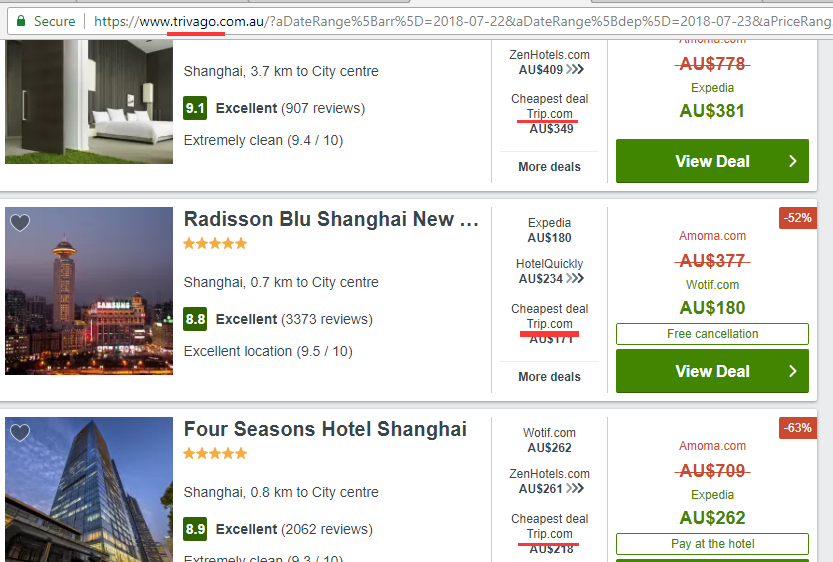 Trip.com may also tap into the traffic of Booking.com, which is testing Booking.basic, a service that introduces third-party availability of hotels and bed-and-breakfasts, including those diverted from Agoda and Ctrip. In the future, a hotel reservation made on Booking.com may very well get a confirmation letter identifying Trip.com as the reservation provider.
Other than online user traffic, the company also needs to improve its global brand awareness through brick-and-mortar presence. Ctrip recently launched its first overseas concept store at the Dubai International Airport, providing travelers with multi-lingual service.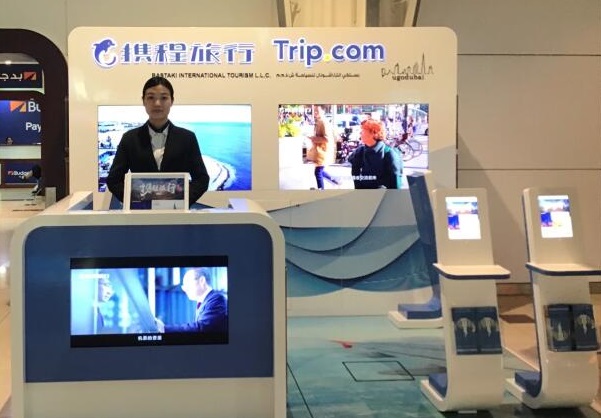 Globalizing inventory supply
Boosting inventory is as important as building traffic and conversion. That means Ctrip has to source global inventory and integrate the supply chains, develop end-to-end services and ensure online-offline connectivity.
In view of resource optimization, Trip.com and its parent Ctrip have to make full use of their local inventory in China to serve more foreign travelers. For overseas inventory, Ctrip is growing its hotel business development team to sign up suppliers in popular destinations in Asia, Europe and America.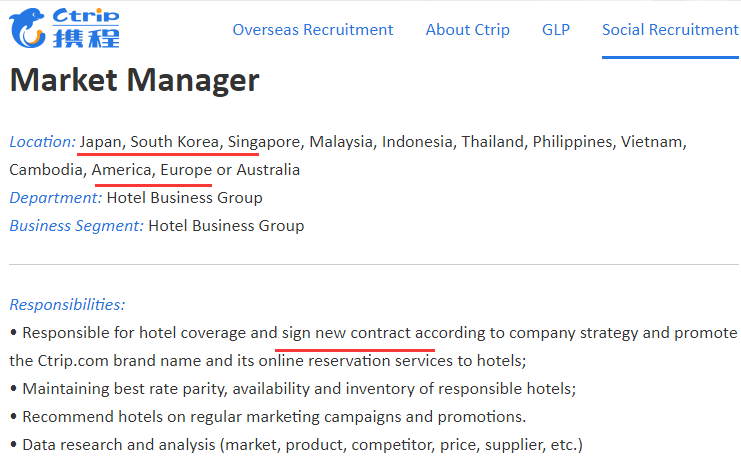 Trip.com also provides airport pick-up/drop-off service in its Hong Kong operation, connecting the offering to its chauffeur service inventory under the brand of Skytransfer. As of May, Skytransfer has expanded its service to 200 airports in 150 cities in Asia, Europe and North America, and aims to cover 800 airports globally by the end of this year.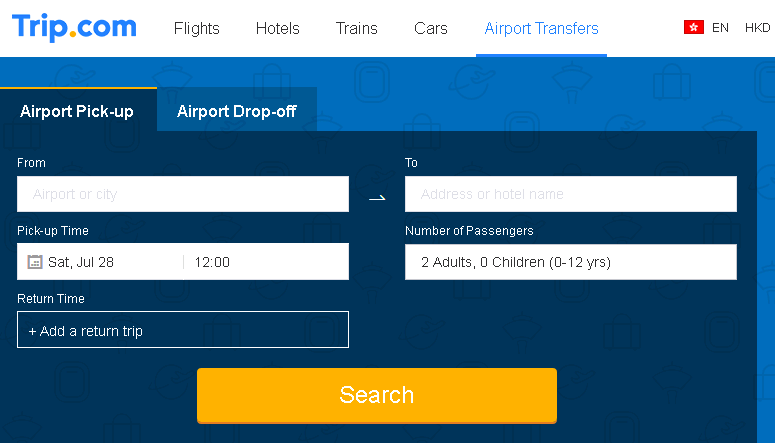 From Asia to the world
The company is blazing a globalization trail through localizing its services in its targeted destinations, starting with the flourishing Asian neighbors. Trip.com was officially presented as "Ctrip's Asia Pacific focused one-stop travel booking service" in a February announcement about the company's distribution partnership with South Korea's railway operator. The deal is to encourage "customers from all over the world" to purchase high-speed rail tickets on the website. The company also plans to set up a call center in South Korea to enhance customer service.
Ctrip announced in May that Trip.com entered the Japan source market with the launch of the Trip.com Global Card in association with the Sumitomo-UnionPay partnership. Ms. Jane Sun, CEO of Ctrip, noted that the company has great opportunities in Japan, the second largest tourism market in Asia with 17.9 million outbound tourists in 2017. The company aims to grow its share of revenue generated from international market to 40%-50% in the next five years and Japanese travelers will be an indispensable customer source for achieving the goal.
But wooing Japanese tourists may prove a formidable task as Ctrip will have to take on local and traditional tourism giants like JTB Group, which has been in operation for more than a century. Since 2017, JTB has been maintaining an inventory agreement with Agoda, Booking Holdings' Asia-based hotel reservation brand. Ctrip strives for a stronger foothold having set up an office in Tokyo since 2014, and forms alliances with local players.
Booking Holdings and Ctrip, as the world's largest and second-largest online travel titans (by market capitalization), are frenemies: Booking Holdings had a 8.5% stake in Ctrip as of March 31, 2018, and injected USD 450 million in Meituan, a major domestic rival for Ctrip, in October 2017. Booking Holdings recently invested USD 500 million in Didi and teamed up with the Chinese car-hailing giant to allow Didi users to book hotels through Booking.com or Agoda.
Compared to Booking Holdings, which boasts an inventory of 1.5 million hotels around the world and has subsidiary brands including Booking.com and Agoda, Ctrip covers more than 1.2 million hotels globally and is determined to expand in Asia and beyond. This could be an uphill battle, as its biggest competitor's key brands, Booking.com and Agoda, have both taken root in Asia for years.