Tucked away in the financial pages at the end of last year was a seemingly obscure, but in fact game-changing, announcement for the Chinese travel industry. This was China (and the travel industry) taking another step in globalisation. However, the news that a raft of major Chinese companies, have been admitted to the MSCI indices was probably either ignored or greeted with 'Yeah what?' by most.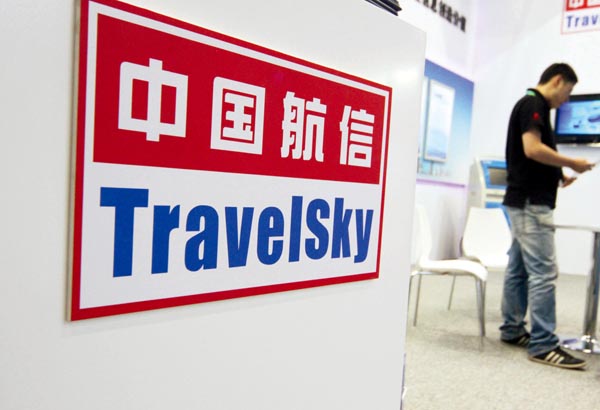 China's GDS TravelSky
Yet for this group, mostly tech companies and many with travel interests, it opens the door to billions and billions of dollars of foreign investment. Opportunities to raise funds for expansion will multiply. Most of the companies are well known, although included is one that rarely features in western headlines - TravelSky, China's answer to Amadeus and Sabre.
While shares in all the companies- Baidu, Ctrip, Qunar, Alibaba and TravelSky Technology among them - are already traded in US and other overseas markets, this gives them clearance for major funds.Listing by MSCI could add new holdings of up to $2.7 billion in ETFs (the heavily traded financial instruments otherwise known as Exchange Traded Funds)that track the MSCI China Index globally. There could be another $52 billion from funds that track MSCI's suite of emerging-market indices, according to research group Morningstar. (MSCI says that overall its indices are tracked by funds worth $9.5 trillion.)
In international financial market terms these companies have now truly 'arrived'. They have joined an exclusive club. The MSCI indices, compiled by US-based MSCI Inc,are research-based and are primary benchmark indices for big investors globally. The China Index is one of several that cover emerging markets and which form the bases for many ETFs. But it is its inclusion into the main MSCI index for emerging markets that is the most important. Their share prices can only rise!
Centre of gravity shifts
The tech sector is growing fast even as other parts of the economy, such as manufacturing, struggle. "This inclusion will be more reflective of the Chinese opportunity with big IT and consumer names being added. That shows the shift in the centre of gravity from old China to new China," said Charlie Wilson, portfolio manager at Thornburg Investment Management told Reuters.
It is worth taking a closer look at TravelSky. Chinese companies seem to have a habit of growing from minnow to whale extremely quickly. Its main stock market is Hong Kong, where it is worth around £3.6 billion, so at the moment still a minnow (certainly when compared to Ctrip's £9 billion or so.)
Like the major GDS companies - Amadeus and Sabre - TravelSky has grown out of the national airline industry. It was founded in 2001 by China's Civil Aviation Computer Information (CACI) Center and all its domestic airlines, and listed in Hong Kong. However, as China's tourism grew it was restructured and strengthened financially in 2008 and refloated. It employs 5,000, has 60 subsidiaries, a hotel business and a fast-growing IT business from its US-based software development centre.
TravelSky, like its Western competitors, has gone international. It entered as long ago as 2011 into an agreement with Atlanta-based Travelport to boost hotel content available to travel agents in China and around the world. The following year it linked with Sabre to make hotel content available to each other's agency customers and consumer travellers.
Opening up China's market to the outside world began in 2013, with the publishing of new regulations from the Civil Aviation Administration of China (CAAC). Thesecracked open the door for bookings to foreign participation by granting two global distribution system (GDS) licences. They went to Amadeus and Singapore-based Asia specialist Abacus and meant the two firms would not have to go through TravelSky. It freed them to deal directly with foreign airlines offering outbound services in China and with Chinese tour agencies. Of course, this being China, this did not actually unroll in a rush, permits having to be applied for first!
No minnow
TravelSky is no minnow operationally! Its 2014 annual report (the latest info), describes its GDS network as comprising nearly 60,000 sales terminals globally, owned by more than 7,000 travel agencies and travel service distributors. It links to all GDS around the world and 116 foreign and regional commercial airlines through SITA networks across 400 domestic and overseas cities.
Offered, too, are technology support and localised services to travel agencies and travel service distributors through more than 40 distribution centres across China and nine overseas distribution centres in Asia, Europe, North America and Australia. The network processed over 335 million transactions during 2014 with its transaction amount reaching RMB350.8 billion (£36.3 billion).
FlightSky has also been investing in developing its IT services, and this is paying off. Its self-service check-in system (CUSS), which has IATA approval, has, it says, "... been launched in 104 major domestic and international airports, and the online check-in service has been applied in 202 airports at home and abroad." Along with its mobile and a newly-developed SMS check-in services, it processed a total of approximately 84.1 million departing passengers. A self-developed mobile application, 'Umetrip', has also attracted over 10 million users.
What is more, it has picked up e-ticketing contracts, national surveillance and car tracking contracts from government and is building data and travel 'cloud' services. Its hotel distribution systems are growing fast.
The shares have gained over 50% in the last 12 months, now standing at HK$12. There is plenty of scope for more good news - according to Baron's financial magazine, airlines servicing 650 million passengers annual are using internal reservation systems or other providers with contracts coming up for renewal this year. Just the sort of expansion FlightSky might go for.
Read original article