Becoming an 100-employee company with a $100 million valuation took time. But not much time.
Three years ago, Agarwal founded Oravel, a clone of peer-to-peer lodging website Airbnb. He then received a Thiel Fellowship that paid him $100,000 over two years to create a start-up.
He pivoted to a new business model called Oyo Rooms, a marketplace for branded budget hotels in southeast Asia.
Oyo Rooms is an Indian virtual hospitality brand. It aggregates budget hotels and guesthouses, making inventory discoverable and bookable online. Its branding provides a franchise-like consistency of product. It's a managed marketplace of properties.
In December 2012, Oyo Rooms received seed funding. This was followed in July 2013 by more seed funding from Lightspeed Venture Partners (LSVP) and DSG Consumer Partners.
In May 2014 it received about $650,000 from Sequoia Capital and LSVP at a pre-money valuation of $60 million.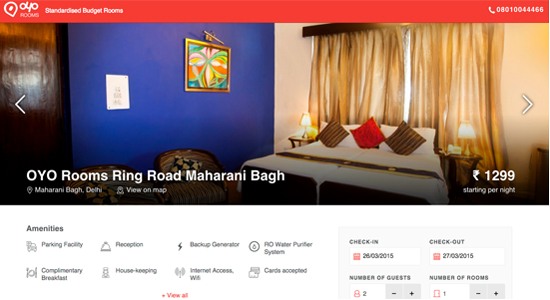 It's unclear how well the business is actually doing.
OYO Rooms told the Economic Times that it facilitated bookings for 45,000 rooms nights in February. But an investigation by MINT claimed that the founder has fibbed repeatedly about the actual performance of his projects. He denies this.
Oyo's site today says that it has 200 properties as of mid-January in 11 cities across India.
Tnooz counted 172 hotels as listing properties on the site today.
Oyo is unique in the market, but its closest competitor is Stayzilla, which has a mixed business model of listing properties and rentals, and which raised $15 million in Series B funding last month.
Read original article