In the third quarter, Hainan Airlines had a net profit of in 1.887 billion RMB. Although this was a drop of 19.94% compared to the Q3 last year, the earnings per share rose four-times on a quarter by quarter basis from 0.039 RMB to 0.155 RMB.
Some reasons for Hainan Airline's good financial performance are: First the third quarter is the peak travel season so this has boosted the company's operational revenue. Secondly, global fuel prices have dropped considerably in the third quarter, which has helped to lower the company's operation cost.
Collaboration between Hainan Airlines and Tencent
Hainan Airlines Group was introduced as a strategic partner at the 2014 Tencent "Global Partner Conference", in Boao Hainan. Hainan Airlines, will offer fast-track booking for conference air tickets and paint advertisements for Tencent on the fuselage of their aircraft's. Tencent will offer Hainan Ailrines its own internet operational resources. This includes Wechat QR code and app marketing, O2O themed cooperation salons, and a usage link-up for Hainan Airline's Fortune Wings Club Members and Tencent QQ Members.
Fuzhou Airlines makes its debut
Hainan Airlines invested 1.2 billion RMB to start Fuzhou Airlines. On the 30th of October Fuzhou Airlines made its inaugural flight.
In the beginning stage, Fuzhou Airline's main operations will be domestic flights. Their first air routes will be flight connecting Fuzhou with: Shanghai Pudong, Xian, Haikou, Taiyaun, Hefei, Kunming, Tianjin etc. After this they will open cross-strait flights departing from Fuzhou, according to market demand.
Recently, Fuzhou has become the sole provincial capital in the Chinese government's "Taiwan-Strait West Coast Economic Development Zone". The city is going through massive economic improvement. The multi-level support base of the provincial and central government offers Fuzhou Airlines a perfect opportunity of growth.
In 2012, Hainan Airlines announced the establishment of Fuzhou Airlines Co Ltd as a 2 billion RMB joint venture. Hainan Airline's joint investors are Fuzhou State Asset Investment Holdings Co.Ltd, Century Golden Resources Group, and Ningbo Ruitong Internet Technology Co Ltd. The capital investment and holdings between the shareholders are as follows: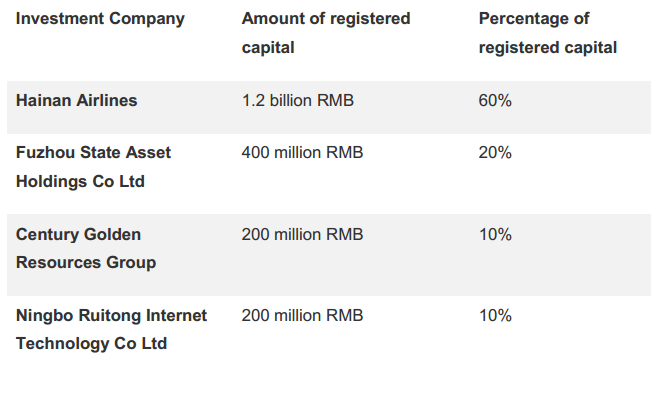 (Translation by David)