In the airline value chain, there is a major transition taking place.
At the moment, two systems are running in parallel:
One is a historically-grown legacy system that the industry has relied on for decades. While it is still relatively strong and necessary, this system was created for an older generation of technology users and is complete with outdated user interfaces and limited flexibility. Some legacy components in use today date back to the 1970s, making them less functional in today's industry and presenting a possible risk for data security and IT outages, see the Southwest failure. Additionally, this system can be challenging to update or replace when newer technologies emerge, requiring significant effort and resources to operate correctly. Finally, this legacy system may not be able to integrate with newer third-party software solutions that airlines need to remain competitive in today's market.
Another is a modern, dynamic, and adaptive system that will enable a better future for airlines and travelers alike. This modern system offers improved usability, scalability, and cost savings compared to its legacy counterpart. It is designed with today's users (airlines) and end-users (travelers) in mind–those who expect intuitive user interfaces and features, such as customization options and detailed analytics. The system runs on modern, cloud-native software solutions that can easily integrate with other business applications so airlines can gain real-time insights into customer behavior or make decisions based on data-driven analytics results. Finally, the new system is easier to maintain than its legacy counterpart, which can save airlines time and money in the long run by avoiding costly repairs or upgrades down the road.
Two major trends are driving this transition
This new system, which doesn't just refer to the airline industry's IT infrastructure, as we will explore later on, is driven forward by two underlying trends that are closely intertwined.
1.New technologies allow airlines to offer products in more flexible ways. One example is NDC, which enables more individualized inventory packaging through indirect channels. However, there are many more instances out there, such as modern software solutions that leverage machine learning and enable better techniques to predict and serve traveler demand. A company like Hopper, for example, analyzes billions of historical price points associated with flights to accurately predict future air travel ticket prices. In turn, such a company outperforms the forecasting abilities of many airlines, which continue to use classical ways of modeling passenger demand.
2.Changing customer needs is another major trend. Nowadays, travelers expect new products, such as CO2 offsetting and cancellation insurances, to be consistently available at the click of a mouse. Today's travelers are used to buying everything they need on Amazon with ease. The airline retail experience, in comparison, feels outdated, and this needs to change. Customers expect to buy airline tickets and related services with the same convenience they find on other e-commerce platforms. This puts pressure on airlines to enable better customer experiences. On a similar note, travelers are no longer willing to accept being stuck in airlines' customer service hotlines for hours in cases of flight disruptions like cancellations to re-book their flights or request reimbursements. The digital traveler of today demands immediate digital self-service.
The right offer at the right time
This paradigm shift towards "Airline Retail of the Future" will ultimately enable a new system, which can be best described as:
Travel Done Right: Creating the right offer at the right time.
What do we mean by this? Here's one concrete example related to this transition, which is specifically tied to airline ticket sales:
Old System: For the longest time, airline tickets and respective ancillary add-ons, such as extra legroom and additional baggage allowance, were historically offered by airlines at one or two pre-defined touchpoints during the travel journey. This happened when people booked their flights (online or in-person) or when speaking to an airline agent at the check-in counter. The available buying options were limited, defined by existing rules in the industry, such as existing network agreements between airlines. This meant travelers could only choose from a limited combination of flight legs.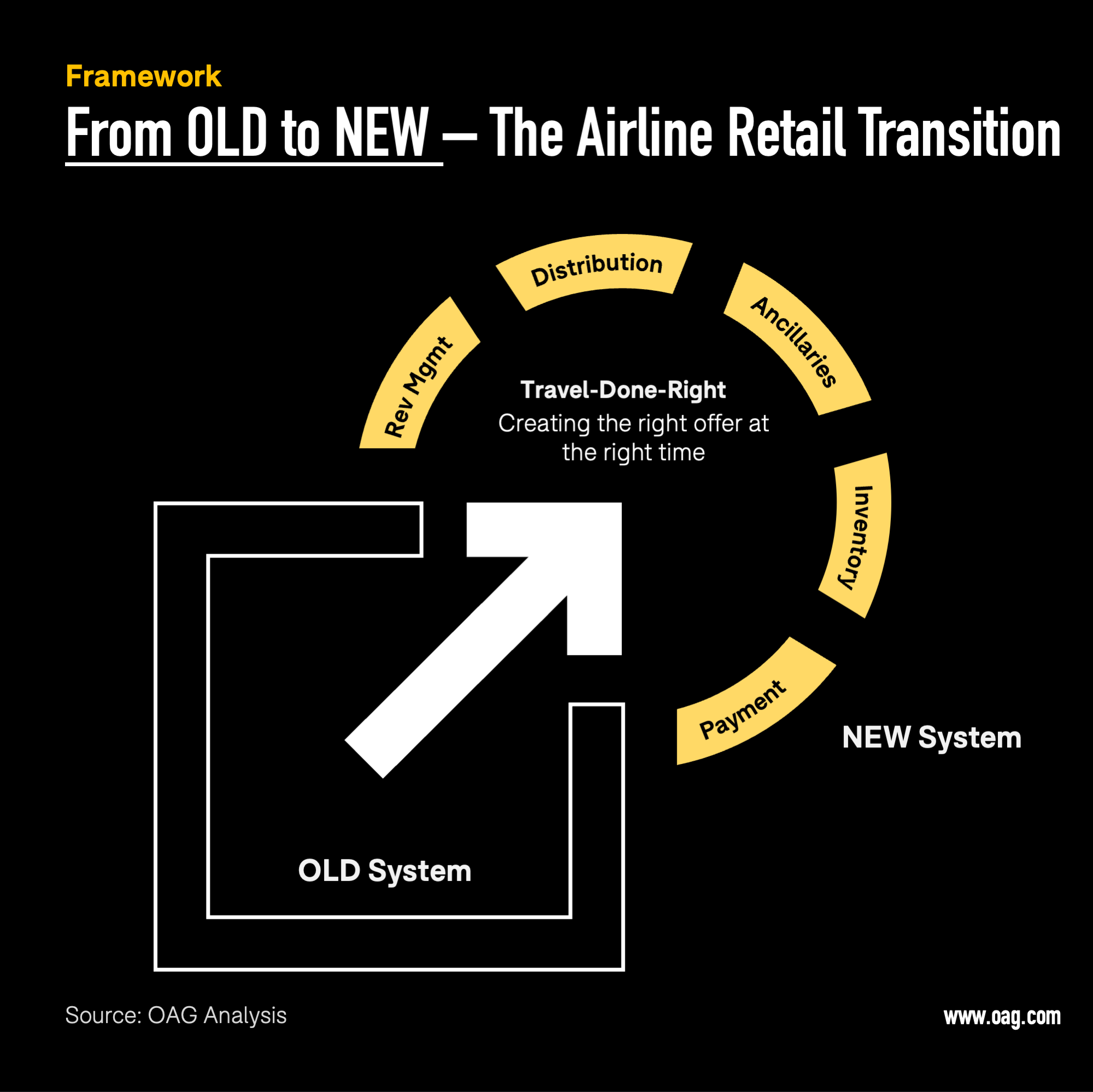 New System: However, since the onset of the Travel Tech Transition, air travel tickets and ancillary services can now be purchased more flexibly during the entire travel journey. This can happen when travelers are at the gate, as in the case of seat upgrades via Plusgrade. As well, it can take place in fully flexible combinations, such as across airlines without a network agreement, which is the case when it comes to Virtual Interlining. The same is true for more flexible payment schemes, such as buy-now-pay-later models, which were unavailable to customers just a few years ago.