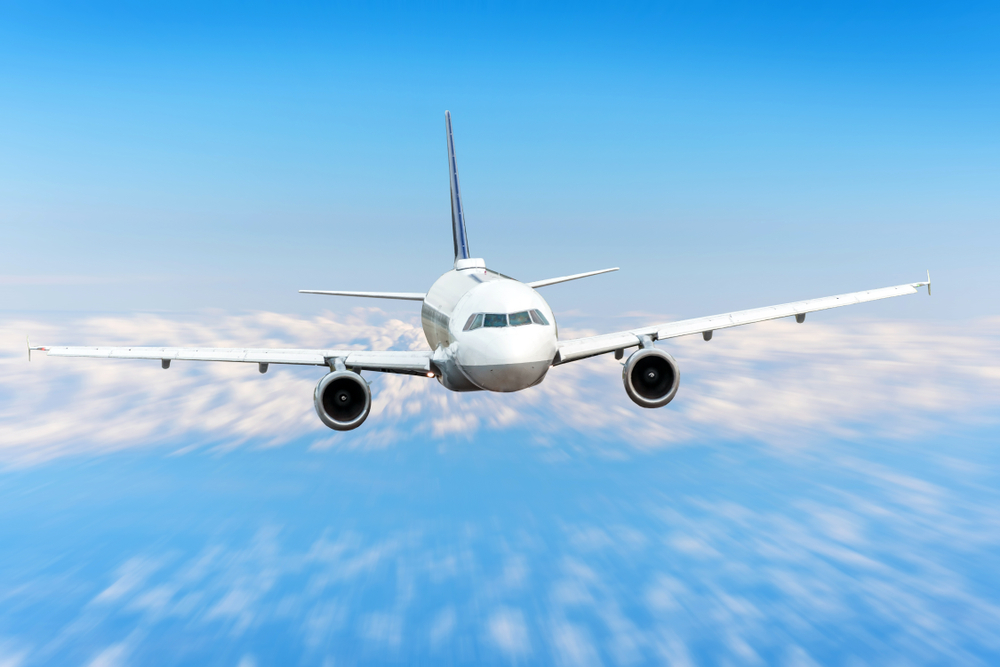 China is back! Well, at least for this week, which highlights how quickly airline capacity can change when travel restrictions are eased. In one week an additional 3 million seats have been added, a 30% increase across the Chinese domestic market.
It's clearly a great seasonal gift and hopefully a sign of things to come, although things change quickly in China and there has been minimal movement in international capacity. With this growth, global capacity has smashed back through the 90 million weekly mark back up to 94.5 million with many airlines around the globe adding more capacity ahead of the seasonal holiday period. The next few weeks will be very busy for most airlines with high load factors, strong yields and hopefully on-time performance if the current weather in Europe changes and the white stuff disappears.
With less than two weeks remaining in 2023 global airline capacity will settle at 4.7 billion for the year (as we had forecast a few months back) Therefore capacity levels for 2022 will be around 88% of the 2019 mark, but 30% up on 2021. How much of the 12% gap will be closed in 2023 is a key question for the industry, it is unlikely to get back to the 2019 level with the current pressure on resources throughout the sector.
Current capacity for the first quarter of next year is 23% up on the 2022 level and 7% down on the 2019 level. Allowing for the normal capacity shakedown it's hard to see any stronger recovery that what we have in place now.
Chart 1 – Weekly Capacity Changes by Region, Forward Quarter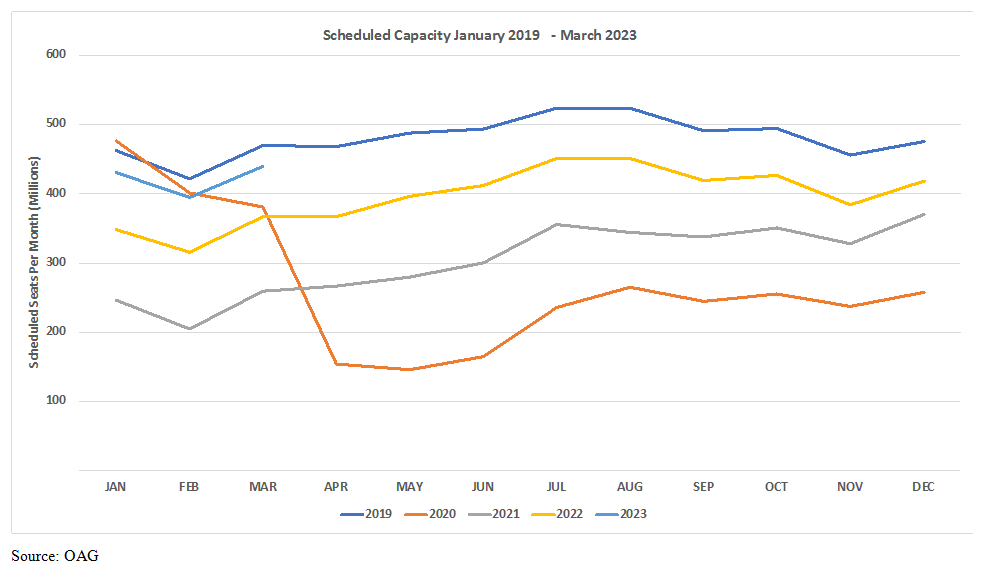 North America Edges Closer to a Full Recovery
At a regional level every region - except Eastern/Central Europe - has reported a capacity increase week-on-week making this one of the strongest weeks for growth. Growth is less than 10% in all regions aside from North East Asia where there is 20% growth week-on-week .
North America continues to edge ever closer to a full recovery standing at 97.8% of the 2019 level, with more capacity growth expected last week and the low-cost airlines adding more capacity through new aircraft deliveries they may just breakthrough the high tide mark in early January. Despite the world cup reaching its inevitable conclusion of a France V's Argentina final and a French win (he said confidently) capacity in the Middle East is holding strong although the "Double D" shuttle between Dubai and Doha is now winding back down before finally finishing early next week.
The seasonal holiday period always sees an increase in capacity to the Caribbean and that is reflected in a near 9% increase in capacity this week with the Dominican Republic the largest benefactor with 16,000 seats this week, suggesting perhaps that many tourists are looking for a Christmas on the cheap compared to some of the more expensive Caribbean destinations. Throughout the pandemic the Dominican Republic has been a success story, capacity this week is 35% up on the same week in 2019 and shows no signs of its popularity dipping having looked at future capacity.
Finally on the regional analysis one last piece of positivity. Every region (aside from Eastern/Central Europe) is now operating with more capacity than this time last year with strong growth being reported in South East Asia (+71%), Central Asia (+52%) and the Southwest Pacific (+44%). As the year ends it certainly feels that every market is now clear of the pandemic and on the path to recovery, that would be a good year end story for sure.
Scheduled Capacity by Region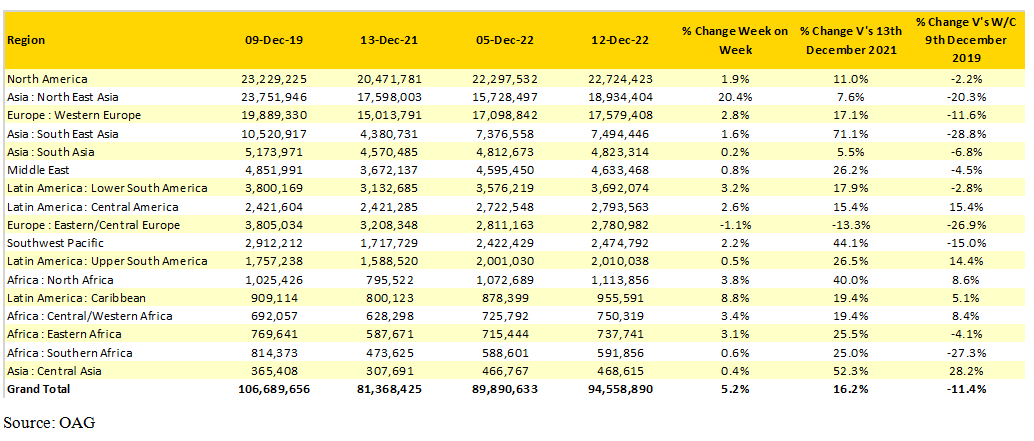 Chinese Airlines Return to the Top 20 Airlines List
Switching back to capacity this week sees the major Chinese airlines claiming back their natural places in the top twenty ranking, ASKs measurements work against those carriers now with their current focus being almost purely on domestic services. Another way to look at the current list of largest twenty airlines is that they are the members of the "Millionaires Club" with them all operating above that number of seats this week. Both British Airways and Air Canada fall out of the chart this week as Wizzair and Alaska Airlines add capacity that nudges them higher and into the table respectively.
Top Twenty Airlines Measured by Capacity

Airport Winners & Losers
While China's domestic capacity as a whole is only 0.2% below where it was in December 2019, individual airports have seen major changes.
Of the three major cities Shanghai has fared best. Shanghai Hongqiao (SHA) and Shanghai Pudong (PVG), between them, are operating with 2.6% more seats than in December 2019 although this is comprised of a 4.1% reduction at SHA combined with a 10.6% increase at PVG. In Beijing, Beijing Capital Airport (PEK) has seen capacity fall by 45.1% compared to December 2019 but this is partly due to the rising share of flights now using Beijing Daxing (PKX) instead. Between them, capacity is now 11.5% below where it was in December 2019, demonstrating the cautious approach to reopening the city.
In the south, in the Greater Bay area, domestic capacity ends 2022 14.7% down on December 2019 at Guangzhou (CAN) and 1.6% down at Shenzhen (SXZ). The difference may be attributable to a loss of connecting opportunities at CAN relative to SZX.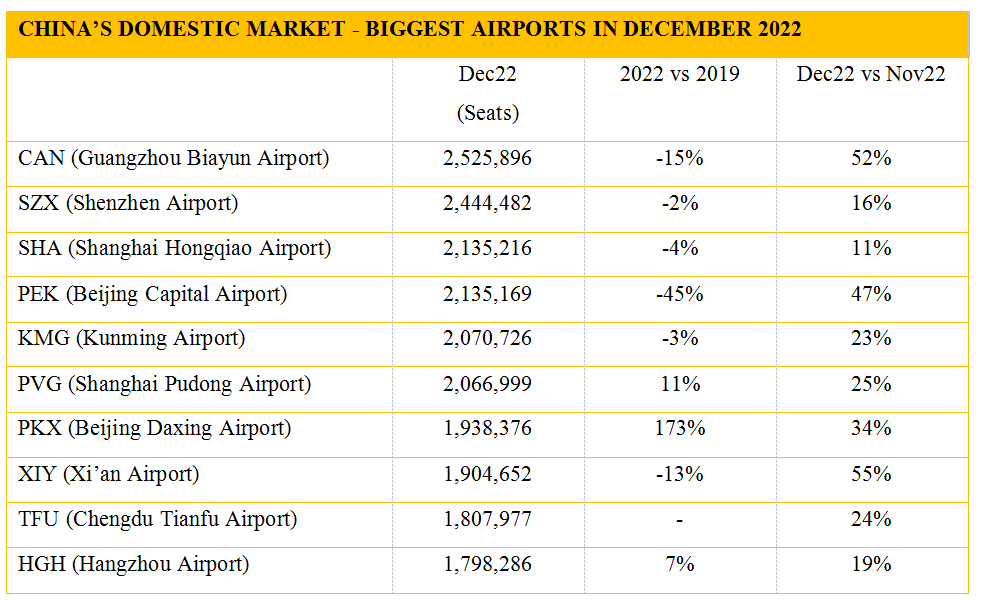 Overall, the Top 10 airports in China handle just over a third of all scheduled departing capacity while another 240 airports handle the remaining two thirds. Among the Top 50 airports by size, the ones that have been able to add the most capacity over the past 3 years include: Hefei (NGB +25%), Quanzhou (WUX +28%), Yantai (SWA +29%).
When we look at the Provinces which have the most scheduled aviation, and compare capacity now with where it was back in December 2019, one Province stands out and that is Sichuan. The volume of scheduled seats has grown by 37.4% between December 2019 and December 2022 as new airports have opened. Chengdu Tianfu opened in June 2021 and is now operating with over 1.8 million seats in a month. While it has cannibalised some of the airline capacity that was using the older Chengdu Airport, overall capacity has risen by almost 10% across the two airports.
Sichuan Province also saw the old Dazhou Airport (DAX) replaced with the new Dazhou Jinya Airport in May 2022, a move that has resulted in capacity growing by 77.8%.