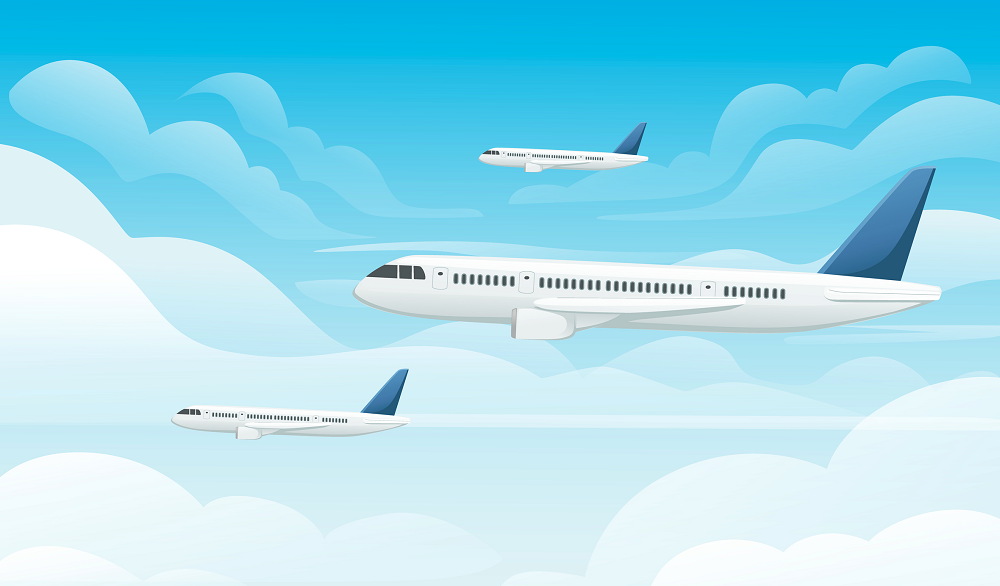 Despite some airports capping airline capacity without consultation in the last week - and the sad, if inevitable, decision of one UK airport to begin the closing process - it has been another week of capacity reaching above 102 million seats, and we should probably enjoy that heat whilst we can.
Unsurprisingly, it is only the larger airports that are capping airline capacity for the peak holiday season, this inevitably means we will see capacity fall in the coming weeks in some key locations. Nevertheless, who would have thought that global airline capacity would be 28% up on last year and in Western Europe some 53% or 8 million seats forward; it seems that the airlines did and the airports didn't!
Autumn Airline Capacity Strong
It may be the hottest week of the Northern Hemisphere, but it is also time to start looking a bit further forward to the autumn and we have now added October to our forward-looking capacity analysis - by which time of course we all hope that the current resource challenges will be behind us. Indications continue to suggest that September and October - at least from a planned capacity perspective - will be strong. Yes, there will be capacity adjustments, but October is currently holding at 93% of the 2019 level, so allowing for the normal adjustment factors it will finish at around 85-86% of 2019 levels.
Weekly Capacity Changes by Region, Forward Quarter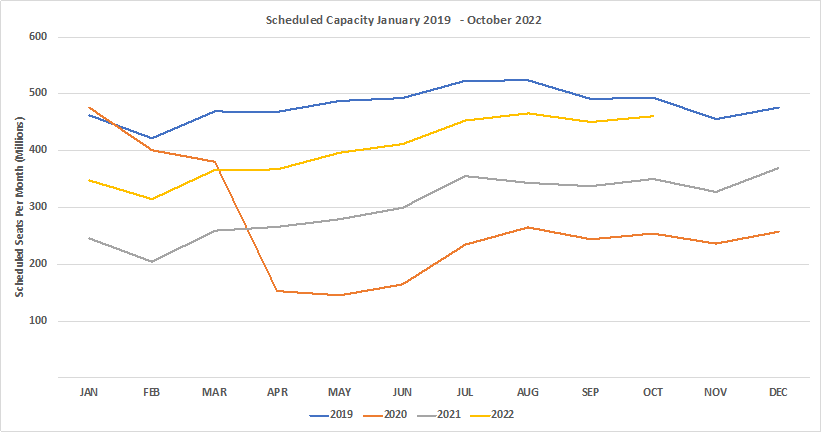 Source: OAG
With just a 0.1% move in weekly airline capacity, and in absolute terms just "some" 93,000 fewer seats this week, there is not much movement of interest across the major regions of the world and perhaps the focus this week should be on the travel recovery compared to this time last year. In that context South East Asia leads the way with a near doubling of capacity – but, of course, we need to remember that many parts of the region this time last year were still in lockdown, whereas Europe and North America (well the United States at least) were on their third recovery phase and had never heard of Omicron.
Central Asia Ahead of 2019 Levels
Looking at 2019 flight data, four of the seventeen regions now offer more weekly airline capacity than in 2019, and many of them we have highlighted in the past. None of the four regions will on their own make a huge difference to the global picture, but this week we are shouting out the smallest of them all, Central Asia, which is nearly 12% ahead of 2019 levels. Kazakhstan is the region's largest market with an 18% increase on 2019 levels and 248,000 seats a week. However, in growth terms, the leader over the last three years is Kyrgyzstan with an impressive 47% growth. Air Astana are by far the largest regionally based carrier with 161,000 seats a week but very quietly Turkish Airlines have been building its presence in all country markets and now offer over 20,000 seats to the region compared to 12,000 in 2019; as my wife reminds me frequently, you have to watch out for the quiet ones...
Scheduled Airline Capacity by Region



Source: OAG
There is nothing significant happening across the top twenty country markets and if the highlight of the week is Japan adding some 4% more seat week-on-week, then it is a very quiet week. After last week's election result, there are hopes rising of in Japan allowing more international visitors, but in truth, the summer season has been missed for a market that in 2019 was hoping for some ambitious increases in tourism after hosting the 2020 (well 2021) Olympics.
Flight Cancellations: Are Things Getting Better?
The subject of cancellations is a red-hot topic at the moment with OAG inundated with media requests from around the world for the freshest data. So, this week we are reporting on the last five weeks' cancellation rates for a selection of the top country markets and airlines.
In summary, things appear to be getting a bit better over the last few weeks, although it may be that delay rates are creeping up at the expense of straight cancellations. In percentage terms, it seems that you are still over three times more likely to have your flight canceled in Germany than in the United Kingdom but things appear to be getting better.
Percentage Scheduled Flight Cancellation Rates 2022



Source: OAG