Expedia Group announced financial results today for the second quarter ended June 30, 2020.
"The second quarter of 2020 represented likely the worst quarter the travel industry has seen in modern history and Expedia was of course not spared. However, after the bottom of the trough in April, we saw consistent improvement in gross bookings through May and June with cancellations moderating. It is clear though that it will be a bumpy and inconsistent recovery with virus numbers being volatile around the globe and country and region restrictions changing all the time," said Vice Chairman and CEO, Peter Kern. "Thanks to the tremendous efforts of our team, I am confident we are on track to come out of the pandemic in a much better place."
Key Highlights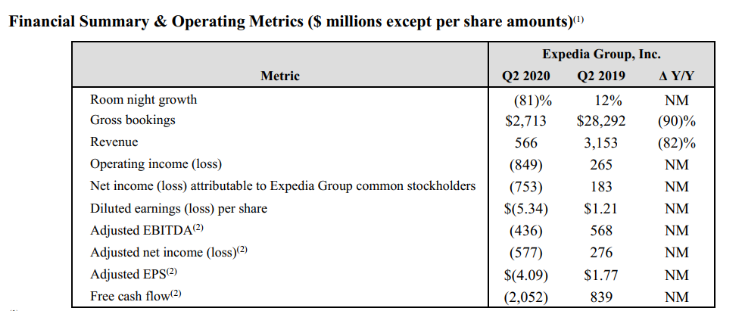 For the second quarter of 2020, total gross bookings decreased 90%. In April, as COVID-19 spread globally, cancellations exceeded new bookings, and as a result, total gross bookings were negative for the month. Subsequently, as the virus was contained to varying degrees in certain countries and certain travel restrictions were lifted, the decline in new bookings slowed and cancellation rates moderated. Total gross bookings turned positive in May and the year over year decline moderated further in June, led by growth at Vrbo, Expedia Group's alternative accommodation business.
For the second quarter of 2020, total revenue decreased 82%. In the second quarter, revenue declined significantly year over year in both April and May, and the decline moderated in June due to the improved trends in the lodging business.
Product & Services Detail - Second Quarter 2020

As a percentage of total worldwide revenue in the second quarter of 2020, lodging accounted for 86%, advertising and media accounted for 4% and all other revenues accounted for 22%, while air was a 12% detriment to revenue.
Lodging revenue decreased 78% in the second quarter of 2020 on an 81% decrease in room nights stayed, partly offset by a 15% increase in revenue per room night.
Air revenue, which is recognized when booked net of an estimate of cancellations, was negative in the second quarter of 2020 due to several revenue offsets that exceeded new booked revenue in the quarter.
Advertising and media revenue decreased 91% in the second quarter of 2020 due to declines at trivago and Expedia Group Media Solutions. Other revenue decreased 72% in the second quarter of 2020.
Expedia Group Recent Highlights
* In July 2020, Expedia Group raised $500 million in 3-year unsecured senior notes and $750 million in 7-year unsecured senior notes.
* In June, Expedia announced the retirement of the HomeAway brand in the U.S., the most recent step in Expedia Group's strategy to streamline its portfolio of vacation rental brands globally, and focus its resources behind Vrbo as its primary global alternative accommodation brand.
* In May, Expedia Group announced a $275 million commitment to aid hotel and destination marketing partners during the recovery from the unprecedented impact of COVID-19. The program has been rolled out to partners in 80 countries thus far.
Read original article