Once again, China's top 3 mainland airports feature among the world's leading Megahubs, according to OAG. Shanghai Pudong Airport was the highest ranked, at 25th, with a Megahub Index score of 163.1. Ranked 33rd, Guangzhou Airport (CAN), scored 141.5 while Beijing Capital Airport (PEK) ranked 36th with a score of 136.6.
Hong Kong (sar), for which flights into mainland China are considered international flights, achieved a Top 10 ranking for the first time although its Connectivity Index score remained the same as last year, a reflection of a slight reduction in connectivity at other airports.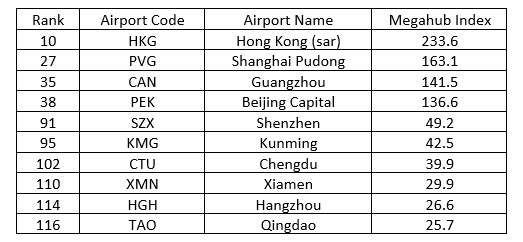 The OAG Megahubs Index considers both the size of an airport in terms of the number of destinations served and also the number of potential international connections which can be achieved on a specific day within 6 hours of the arrival of each inbound flight. As such, it provides a measure for international connectivity which goes beyond a simple measure of how big an airport is.
Mainland airports focus on routes versus connectivity
In the 2019 OAG Megahubs Index, each of the top 3 Chinese airports saw its ranking fall slightly but this can be explained by the rapid increase in the number of destinations being served which means connectivity is spread across a larger number of destinations. The focus of Chinese airports, and indeed the airlines serving then, has been more on expanding their route networks and adding new destinations than in maximising the connectivity that can be achieved at those airports. Between 2018 and 2019 Shanghai Pudong Airport added 10 international destinations, while Guangzhou Airport also added 10 and Beijing Capital Airport added 3.
Some of the next tier of Chinese airports added even more. At Shenzhen Airport (SZX), Qingdao Airport (TAO) and Chongqing Airport (CKG) the number of international destinations has risen by 22 while at Chengdu (CTU) the number has increased by 18. These are large numbers of new destinations for any airport, anywhere in the world.
So, for the moment, China's airports continue to grow rapidly and the focus on developing connectivity is taking second place to the task of managing ever-larger airports. Of course, with China's high-speed rail network also growing at pace, international airport connectivity for China may come to be more about connecting up the vast network of high-speed railway lines with the nation's largest airports.
Click here to view the full index