For two years, Dragon Trail Interactive has tracked official accounts on WeChat for international travel brands and now have two years of data on national tourism boards (NTOs), destination marketing organizations (DMOs) for regions and municipalities, airlines, and cruise lines. From the end of March 2018, we have also tracked two new categories: museums and attractions, and hotels.
Readership Rates
Readership rates for all official accounts (not just travel-related) on WeChat have been falling, and comparing H1 data from 2017 with the same period in 2018, it looked like travel accounts were also following this trend.

However, comparing the full year of WeChat data from 2017 with 2018 shows a more optimistic picture for user engagement with WeChat travel accounts.
NTOs
The top five NTO WeChat accounts in 2018 were the same five that topped the list in 2017, but the order has completely changed, with Canada, Thailand (Beijing Office)*, and Australia each dropping down two spots, and last year's 4th and 5th place Japan and New Zealand in 1st and 2nd place, respectively.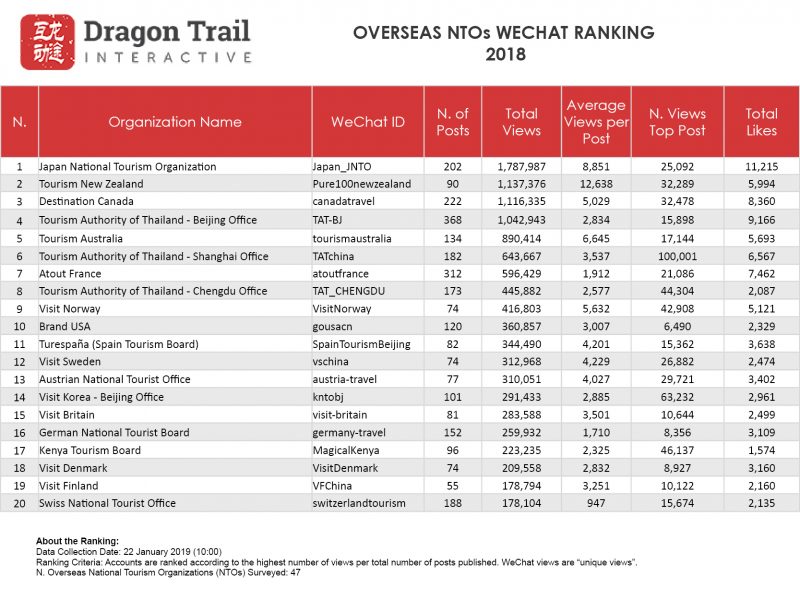 World destinations
In both 2017 and 2018, the top 20 accounts were dominated by European and then Asian destinations, as well as Oceania and North America. In 2018, however, Kenya did reach 17th place, the only African country to make it to the top 20.
DMOs
The top four DMO accounts for 2018 are the same as in 2017, with the only change in rankings the fact that Dubai and Hong Kong have switched places, with Dubai in 1st place for 2018.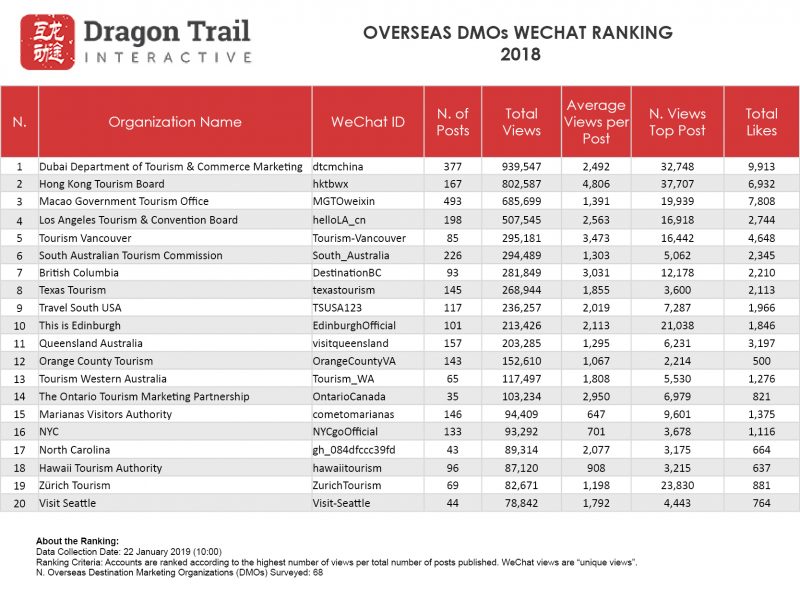 World destinations
North America dominates the top DMO accounts – in the top 20, eight are cities or regions in the US, and three are in Canada. Another three are Australian, and only two (Edinburgh and Zurich) are in Europe.
Airlines
AirAsia remains firmly in 1st place for international airlines on WeChat, getting over 5.5 times the total article views as the 2nd place airline for the year, an even greater difference in total views than in 2017, when it was 5.2 times.
United, on the other hand, dropped down to 8th place, with a 78.6% decrease in average article views.
Cruise Lines
2018 saw significant changes to the WeChat performance of cruise lines, with the exception of Royal Caribbean, which easily stayed in 1st place, though its position is slightly weaker than in 2017. This year, Royal Caribbean had 2.7 times more total article views than its nearest competitor, and 2.3 times the number of average post views.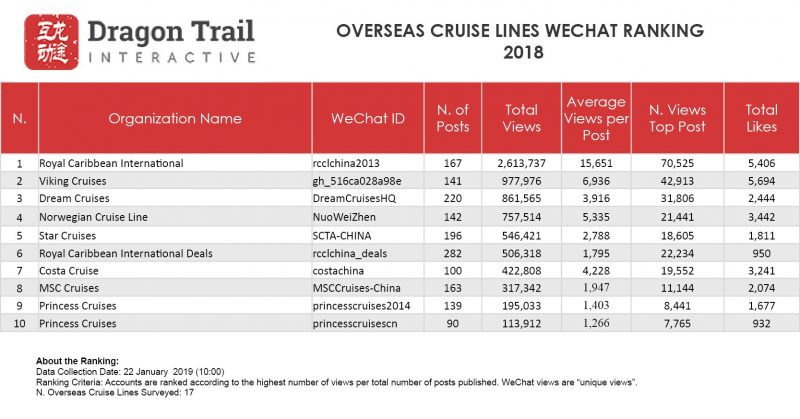 Meanwhile, two other cruise lines have risen up the ranks in 2018 to take the places of Royal Caribbean Deals and Costa Cruises: Viking Cruises and Dream Cruises.
Museums & Attractions
Hong Kong theme parks Disneyland and Ocean Park led the WeChat Rankings for museums and attractions throughout 2018, with Hong Kong Disneyland unopposed for 1st place.
Hotels
Marriott, Starwood, Hilton, and Shangri-la are ranked at the top, but 5th place is a bit more interesting – Pentahotel, a young, mid-range, boutique hotel chain, actually has the highest average views per post of any hotel account tracked, and has made major gains in Q4 as well.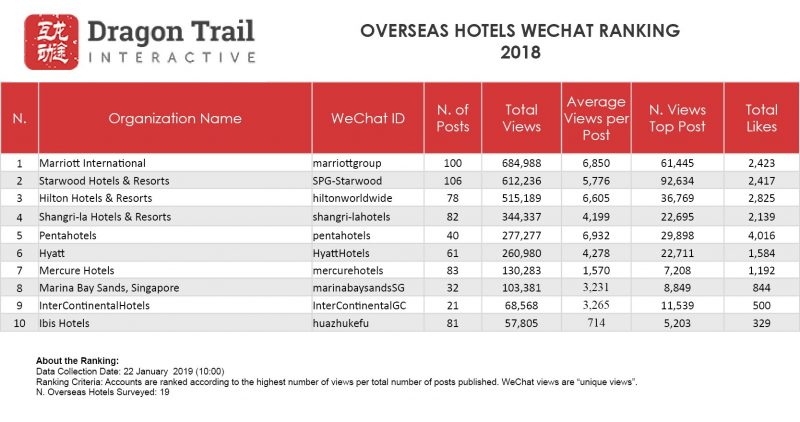 The only single-property account in the top ranking list is the iconic Marina Bay Sands in Singapore.
Read Original Article